Five Questions with Climate and Clean Energy Program Assistant Clare Morganelli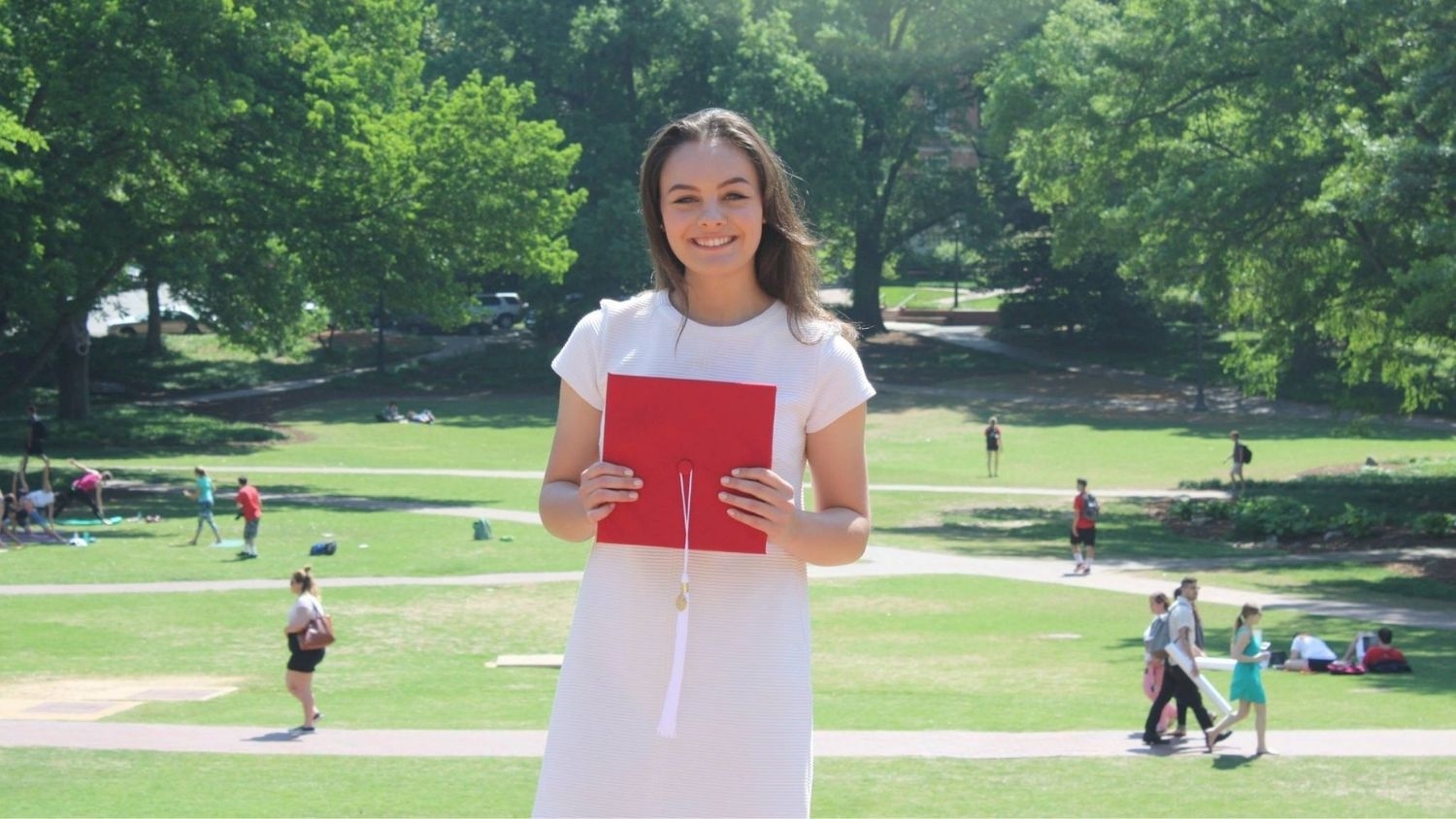 Clare Morganelli graduated with a bachelor's degree in sustainable materials and technology and minors in environmental sciences and graphic communications in 2017. Following graduation, she went on to get a master's of science in energy policy and climate from Johns Hopkins University.
Clare has since been working in Washington D.C. as a program assistant with the Climate and Clean Energy Program at the Natural Resources Defense Council (NRDC), a non-profit environmental advocacy organization. We reached out to Clare to learn more about her time at NC State and work in advocacy.
What is a typical day in your job like?
I support a team of nine advocates, lawyers and policy workers in the Climate and Clean Energy program at the Natural Resources Defense Council, and have been doing so since September of 2017. My day-to-day tasks can really vary. Some days I'm conducting research, drafting blog posts or editing documents and reports; sometimes I'm reaching out to Congressional offices, participating in lobby days or attending hearings on Capitol Hill; other times I'm processing invoices and expenses for my team, managing our budgets and helping to keep schedules in check.
On top of these duties, I'm an active participant in the DC Office's Diversity, Equity, and Inclusion Committee, which collaborates to advance fairness, equity and understanding in the workplace. 
What inspired you to study sustainable materials and technology?
I came to NC State as a prospective engineering student, with a focus on waste management. I wanted to transform our waste system in some way, for the better. But I struggled with the competitiveness and intensity of the major and switched to sustainable materials and technology (SMT) after my freshman year after noting courses on recycling, life cycle analysis and sustainability.
It truly felt like the perfect fit. SMT combined my desire to take hard sciences with more of a sustainability focus, and [it] was a collaborative, personal and warm classroom experience. I also loved having the flexibility to pursue two minors, including one across campus from the College of Education. I'm really grateful for the education I received, and I felt thoroughly challenged by the coursework but supported and celebrated throughout. 
What impact are you making through your position?
NRDC as an institution plays a huge role in the environmental advocacy space, with a strong litigation arm that helps keep policymakers and agencies in line when it comes to protecting our land, water, air and all beings that rely on them. It feels incredible to be a part of such important work and to be supporting such a strong team of advocates and lawyers.
On a personal level, much of the work I do revolves around the intersection of climate change, health and equity. Health is often the most personal way to connect the issue of climate change to people's everyday lives, and we know that climate change impacts marginalized communities first and worst. Working on these topics helps elevate NRDC's advocacy and illuminate their importance in the larger climate change conversation.
How did the College of Natural Resources prepare you for your current position?
While I would say all aspects of the College of Natural Resources and SMT contributed to where I am today, there was one big thing that got me here and one big skill I use regularly. First, the internship requirement. By a major stroke of luck, the Sustainable Materials Management Team at EPA Region 4 came across my resume and I was hired as a summer intern without so much as an interview. It was a fantastic internship, and I think having agency experience before graduation really set me apart from other applicants when looking for a job.
The second was my employment doing pre-editing for BioResources Journal, the College of Natural Resources' online journal dedicated to lignocellulosic materials, chemicals and their applications. My eye for editing is still so sharp, years later, and I'm regularly called upon to review blogs, edit reports and format citations for colleagues.
What advice do you have for current College of Natural Resources students?
My biggest advice for current students is that your professors truly do care about you and your success. If you need help, ask for help. One thing I wish I had done more of was attend office hours. Get involved within the college and beyond; clubs and involvement can make the difference on your resume and in your personal life. Don't be afraid to pursue a minor even if it's totally unrelated to your major. And get to know your classmates. You're all in this together. 
This post was originally published in College of Natural Resources News.