Not Your Average Summer: Supporting Youth Athletes in Houston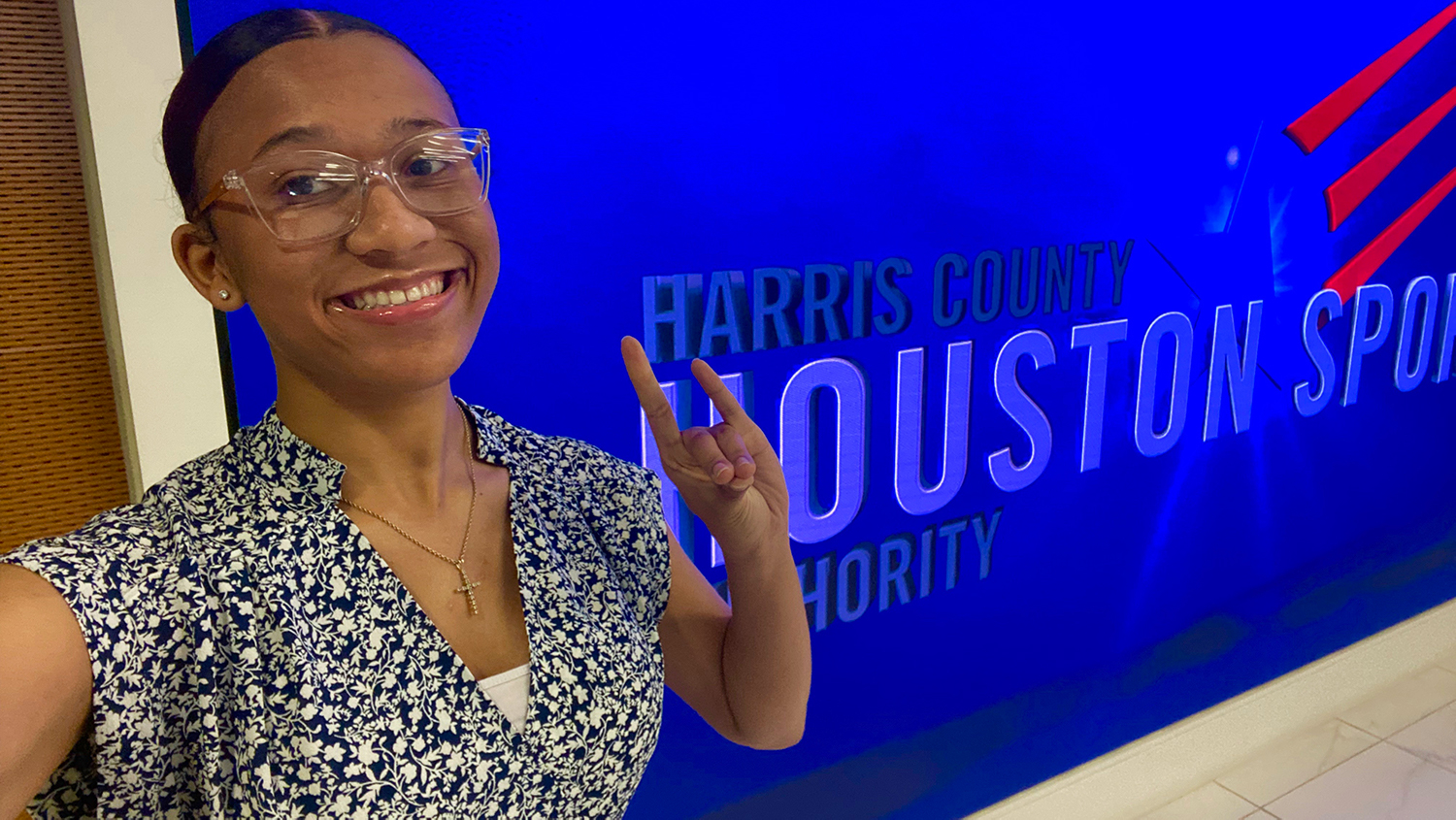 Sydney Jordan is a junior majoring in sport management at the NC State College of Natural Resources' Department of Parks, Recreation and Tourism Management. This summer, Jordan is working as an intern at the Harris County Houston Sports Authority in Texas.
As an intern with the Harris County Houston Sports Authority, Jordan is lending support for the city's 2021 AAU Junior Olympic Games. We recently spoke with Jordan about her internship experience and what she's learned so far. Check it out below.
What is your title or role in this internship and what kinds of things have you been doing?
I am working with Harris County Houston Sports Authority as an athletic affairs intern. My job is to serve as support for the director of athlete affairs during the 2021 AAU Junior Olympics. The AAU Junior Olympics is a youth sporting event that brings in over 15,000 athletes to the city. With that, a lot of my tasks have been focused on this event. So far, I have learned the ins and outs of the host agreement between Houston and AAU. I have been assigned to research various hotels and rental car company logistics for the incoming athletes. Throughout all of this, I have been able to do a lot of professional development such as getting my resume reviewed and revised, as well as having weekly goals meetings with my supervisor to ensure I'm on track.
How did you find out about this internship and why were you interested in it?
Like most students in sport management, I was constantly looking and applying for various internships on Teamworks Online. This is a database of jobs specifically for people who work or are interested in sports. I searched on the website and came across this particular one. I was interested because the description was unique to the ones I had seen in the past. It is very rare to find an internship where you will be able to work hands-on with the athletes while also handling all of the logistical aspects of their visit.
In what ways did the College of Natural Resources prepare you? What new skills or information have you learned?
The College of Natural Resources did a great job of preparing me through the coursework as well as the professional development I have been able to do with the college. A lot of the things I have learned, especially in my finance class, I am using every day at this internship. Given that the organization is government-funded, there is a lot of tax terminology used that was discussed in my finance class, and now I am able to see real-life examples of these ideas. I have learned a lot about host contracts between a city and a sports organization. Lastly, I have been able to learn a lot about the culture of the organization and Houston as a whole.
What are your long-term goals, career plans and how does this internship factor in?
My long-term goals are forever changing, especially with me being exposed to new things every day in the sports world. I would say that my constant goals are to have a job where I am improving the equity and standards of the college athlete and having a strong impact on the students that I aspire to help. In terms of career goals, I would love to work in college football as a director of recruiting operations or academic counseling for student athletes. Later on in my career, I would love to transition into academia as a teaching professor in the sport management curriculum. My internship will be extremely beneficial in all aspects due to the amount of logistical work I am doing, as well as the exposure I am getting to the business side of sport and event management.
What's the most important thing you've learned while at NC State?
The most important thing I have learned while being at NC State is to always persevere. A lot of times in college, it is easy to get let down or to let your failures take over. I have learned that sometimes you will fail more than you succeed, but it is those moments that truly define who you are. Once I learned this, I started to grow from my mistakes and stay diligent and have found that I excel way more when doing so.
This post was originally published in College of Natural Resources News.