Five Questions with Environmental Planner and Biologist Daniel Parobok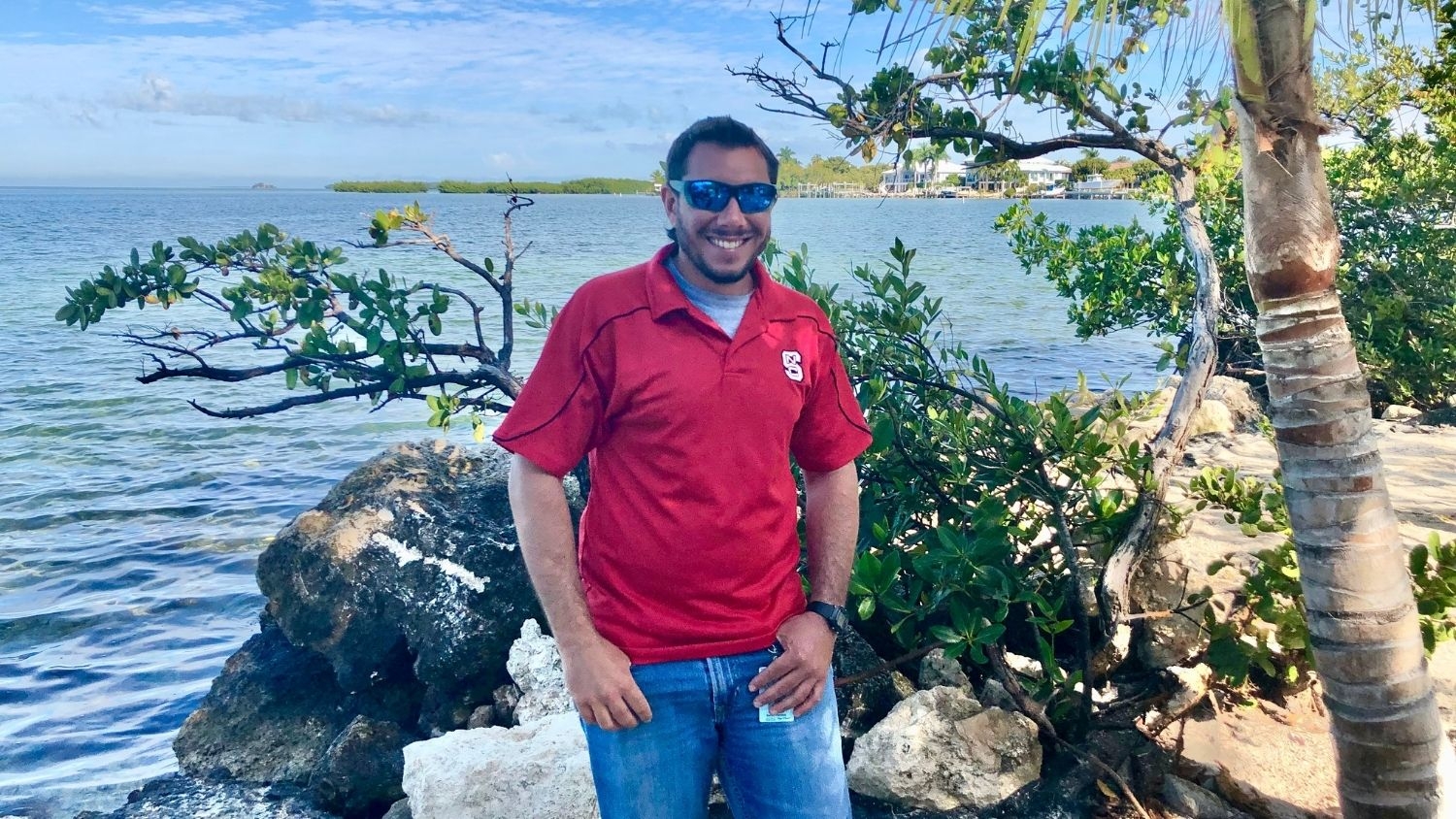 Daniel Parobok graduated in 2012 with a degree in natural resources and a concentration in ecosystem assessment. He now works as an environmental planner and biologist for the village of Islamorada in the Florida Keys.
Located just 90 minutes south of Miami, the village of Islamorada encompasses six of the Florida Keys. We reached out to Parobok to learn more about his work and his passion for the outdoors. Check it out below.
What is a typical day in your job like?
A typical day in my job can vary greatly and includes both office and field work. Core aspects of my job include reviewing proposed development for impacts to the environment such as on native vegetation, listed species and benthic resources. This process usually begins in the office reviewing plans and environmental reports and is followed by field visits.
The field work ranges from conducting tree surveys in tropical hardwood hammocks to snorkeling proposed dock areas looking for seagrass and corals. I also work closely with our code enforcement office in environmental cases to help prosecute violators and prepare restoration plans. I shape local environmental policy as well by evaluating and amending environmental and landscape ordinances on a range of topics from sea turtle nesting beaches to the use of fertilizer.
What inspired you to study natural resources?
From an early age, I found a love of the outdoors through camping, hiking, fishing, hunting and surfing. Going into my undergraduate studies, I had one goal for a career: I wanted to work outside as much as possible. It is no surprise that I landed in the College of Natural Resources. With the diversity of class offerings, I curated a schedule that afforded me a practical, field-based education under the natural resources major.
What impact are you making through your position?
Working at the local government level, I have a direct impact on the local environment in my community. On the smallest scale, I can direct development away from large native trees or environmentally sensitive areas. On a larger scale, I help in the acquisition of conservation lands, develop stormwater plans to protect nearshore water quality and plan nature parks. At the community level, I develop environmental policy to protect natural resources including rare upland habitats, wetlands, listed species, sport fish and benthic resources like seagrass and coral.
How did the college prepare you for your current position?
The College of Natural Resources helped build a great foundation leading into my career. I use specific skills I learned daily, such as GIS, scientific writing and plant identification. While at NC State, I also took several multi-disciplinary classes that have been influential in my current position such as natural resources policy which gave me a baseline understanding of environmental laws that I regularly encounter in my line of work. The College of Natural Resources also has an excellent alumni network and that has assisted me greatly as I charted my career path with the assistance of these connections in the state of Florida.
What advice do you have for the college's students?
Take dendrology. You will learn skills that are applicable to more than just tree identification and you will never be able to look at trees the same again. In general, I recommend that you take as many diverse classes as possible within the College of Natural Resources, even if the subject doesn't particularly interest you or doesn't seem applicable to your planned career path.
I also like to remind students that even if you think you are preparing for a set career path, things can always change. Being from Raleigh, I had no idea that I would graduate and end up working as a municipal biologist in the Florida Keys almost ten years later. Be open to new opportunities, challenging learning environments, and always look to expand your professional network.
This post was originally published in College of Natural Resources News.