Spotlight on our Students: LP Mancini `23 Undertakes the Appalachian Trail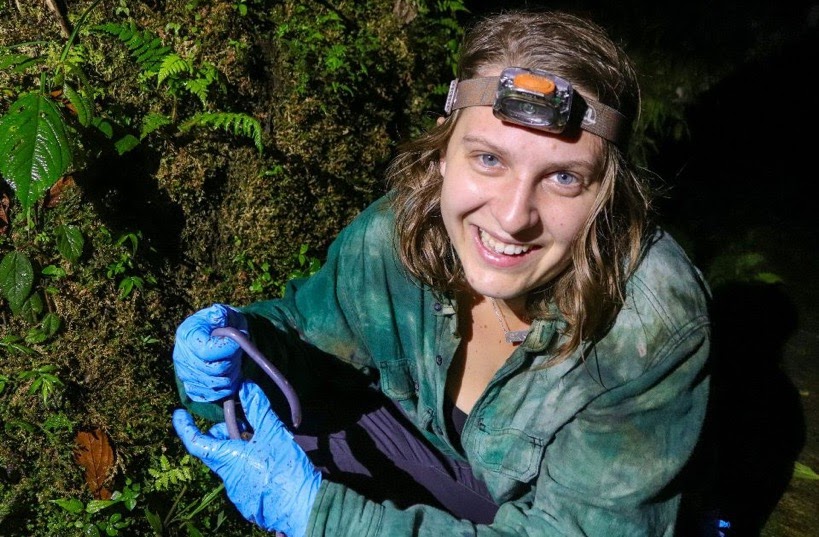 This interview has been edited for length and clarity.
CB: Can you describe for us what you are doing during your summer experience?
LM: This summer, I will be hiking the Appalachian Trail (AT), beginning in Springer Mountain, Georgia, and finishing at the summit of Mt. Katahdin in Maine. This journey will take roughly five months, in which my hiking partners and I will traverse over 2,100 miles across 14 states and the entire Appalachian Mountain range. Along the way, we will be documenting our journey on Instagram and raising money for the Carolina Abortion Fund.
CB: Such a massive undertaking — a mix of exciting and daunting, no doubt. What skills or knowledge do you hope to gain by hiking the AT?
LM: By hiking the AT, I hope to develop a stronger sense of connection to and knowledge of the outdoors. Attuning my inner clock to the rising and setting of the sun, molding my lifestyle around weather patterns, and documenting flora and fauna learned along the way are aspirations I have for my time on the AT. In a broader sense, I hope that I will improve my problem-solving skills and mental toughness as I navigate the logistical, physical and mental challenges the trail presents.
CB: I can imagine so many "teachable moments on the trail." I hope that it treats you well. Can you tell us about how you are applying the skills of servant leadership in this experience?
LM: Servant leadership is leading through serving others, by providing precisely what is both needed and wanted. Servant leadership is best practiced when the servant leader has the precise knowledge and skill set to leverage their unique strengths for the betterment of their community. Right now, many pregnant people face a lack of access to abortion services due to logistical and financial restrictions. The Carolina Abortion Fund directly addresses this by providing counseling, support and funding for those in need.My hiking partners and I hope to leverage our backpacking skills to raise awareness and funds along the way.
CB: That is certainly a bold and potentially controversial goal. Do you think that hiking the AT will challenge any preconceived notions or assumptions you had? If so, how?
LM: I think the AT will challenge preconceived notions about what it is to live in complete harmony with the land. Acceptance of rain, bugs, dirt and all things nature, instead of the continual exercise of control over these factors, will likely challenge notions of comfort, danger and cleanliness. Broadly, I think it will drastically influence my perception of what is important, and what I actually need to live and be happy.
CB: Nothing like some rugged simplicity to help one prioritize things in life. What are some of the challenges you expect on the trail?
LM: I expect to be most challenged by distance from friends, family and the small comforts of normal life. Going days without contacting my sister, in particular, will be a new challenge to face. When the going gets tough, it will be a challenge not to quit. After days of rain, a stroke of bad luck or whatever other obstacles may arise on the trail, it will be important to practice resilience and maintain a strong resolve to continue. A thru-hiker we met on our last trip recommended that we never quit the trail on a bad day because better days will soon come after.
CB: That sounds like advice that might be applied to many experiences in our lives. Tell us a little about what sparked this adventure.
LM: The Appalachian Trail has always been something that I've daydreamed about, and it's crossed my mind particularly during joyous moments outdoors and on previous backpacking trips. It was never something that I seriously thought I would accomplish. The main reason for this self-doubt was that I never wanted to do it alone, and I never dreamed that I would have someone else to do it with me. Funnily enough, Sam, a dear friend of mine whom I've backpacked with for the last three years, approached me with this idea, and I shook off the proposition at the time as impractical and even absurd. But, it was ALL I thought about for the weeks after.My daydreams began to feel like real goals. After talking it over, we realized we were both committed to making this dream a reality despite our fears. Soon after, we discovered that our mutual friend and hiking partner, Emerson, also wanted to join us for as much of our thru-hike as she could. Now, I relish not only the pursuit of this dream but the knowledge that I have two friends I love and trust to pursue it with me.
CB: Just like any challenging goal, it is made much more approachable when we can do it with folks we love and respect. What advice would you give to other students who are considering a similar summer experience?
LM: The main advice I would give to other students who are considering a similar summer experience is to be organized and do their research. Go as light as possible and you'll be able to go the extra mile. Practice using your gear ahead of time, and don't wait until the night before to seam seal your gloves.
CB: How do you plan to incorporate what you learned during your summer experience into your academic or personal life going forward?
LM: I will carry the lessons I learn on the trail with me for the rest of my life. Remaining in tune with the weather and my general surroundings are invaluable skills for a future career in the field. The growth in my resolve, attitude and confidence will be applicable to both my academic and personal life in the future.
CB: Well, thank you so much for taking the time to speak with me before you leave. Best of luck and good weather to you out on the trail. We look forward to hearing from you intermittently.
This post was originally published in Caldwell Fellows.