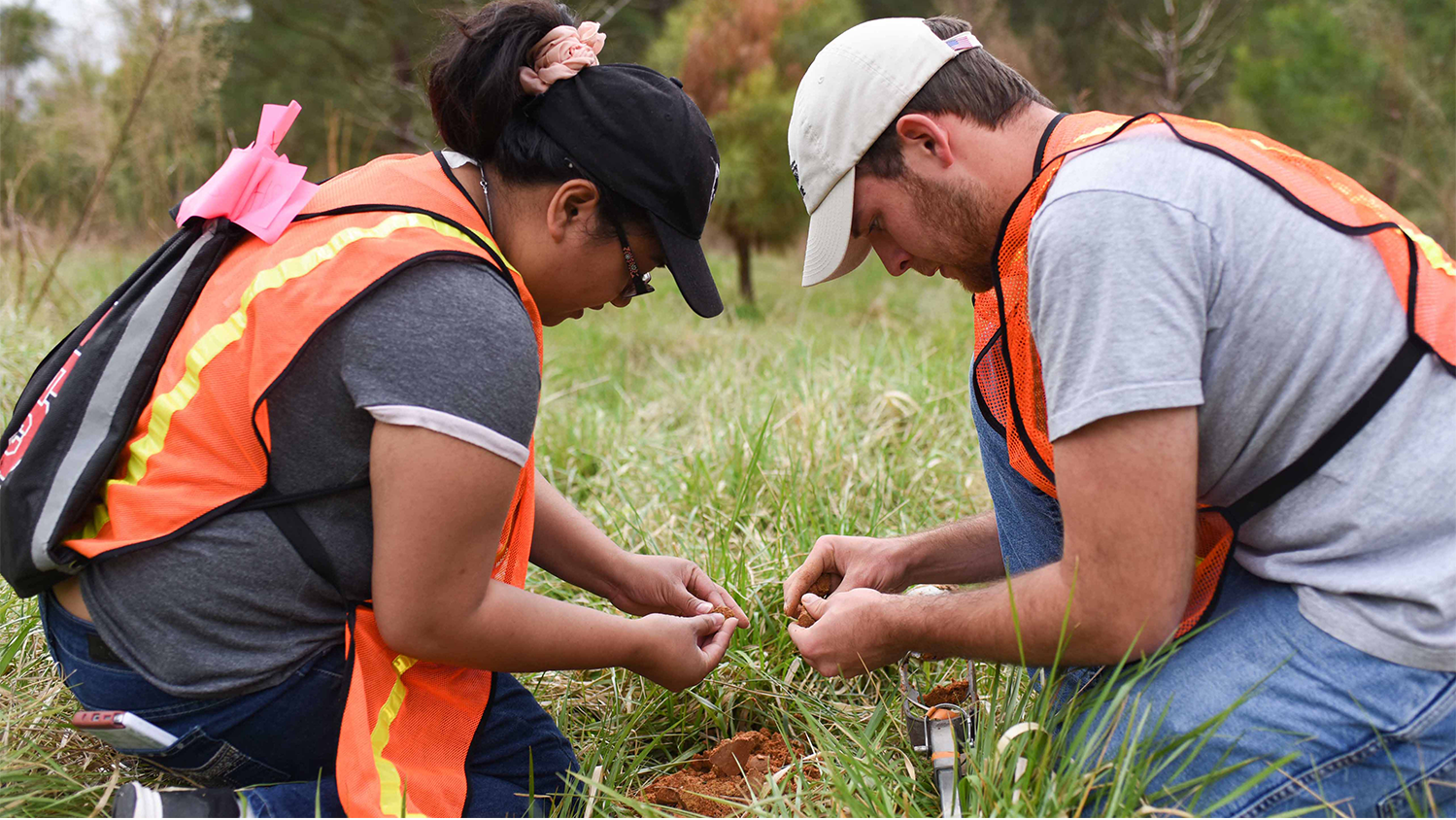 Environmental First Year Program
Discover the interdisciplinary nature of today's environmental careers
What is ENVFY at NC State?
Students who are passionate about solving today's environmental issues will discover a cohort of like-minded peers in the Environmental First Year Program (ENVFY). By bringing students with similar interests together across majors, ENVFY encourages students to consider real-world challenges and the different approaches taken by related disciplines.
As they work together, students may be surprised to find that complex environmental problems can benefit from interdisciplinary knowledge, and in the process they will develop big-picture critical and creative thinking skills that will prepare them for a career after college. For students who have a strong passion for the environment the ENVFY provides the opportunity to discover the breadth of environmental majors, minors and careers they may not have considered.
ENVFY encourages students to explore environmental options at NC State, from global environmental change to sustainable materials, and everything in between. Students develop working relationships with faculty who are not only experts in their field, but passionate about the environment and supporting students. By building on these relationships, and gaining hands-on experiences outside the classroom, students leave the program excited to pursue pathways in fields related to environmental conservation and sustainability.
All incoming first-year students in participating majors will be automatically enrolled in the Environmental First Year Program. This includes participation in ENV 100 and ENV 101 courses.
The ENVFY Experience
The first semester opens up doors to courses, majors, minors and focal areas across the university to help students understand their career options and boost their success at NC State. In the second semester, students will have continued advising and opportunities to participate in student-led co-curricular activities.
Surrounded by a community of environmentally-focused faculty, staff and fellow students, ENVFY participants grow both as individuals and scholars. The community provides social and professional development opportunities, as well as academic support through dedicated academic and faculty advisors. Each class cohort is full of students excited to roll up their sleeves and get to work on some of our greatest environmental challenges.
ENVFY students embody the spirit of #ThinkAndDo
We develop environmentally-conscious citizens who contribute to a rapidly changing world.
ENVFY Courses
ENV 100 – Student Success in Environmental First Year
ENV 100 introduces students to college life and helps them gain skills that will enhance their success at NC State and within their chosen majors. As part of the course, students will learn about campus resources, explore potential internship and career paths, engage in cultural and educational events across campus, and learn life skills such as financial literacy.
As a part of this course, students will:
Gain skills and knowledge necessary to meet common challenges faced in the transition to college, enhance study and learning skills, and integrate into the NC State community as a scholar.
Experience how to approach learning inside and outside the classroom and what factors might influence their college experience.
Create a "strategic plan" for their time at NC State.
ENV 101 – Exploring the Environment
ENV 101 engages students with environmental disciplines through an interdisciplinary perspective, guides them toward commitment to a major, and prepares them for success at the university and beyond. In this course, students think critically about how rising sea levels create "ghost forests," calculate environmental footprints of everyday products, and create maps in ArcGIS to see how environmental policies impact diverse communities.
As a part of this course, students will:
Engage with a breadth of environmental sciences majors, disciplines, and careers.
Examine environmental case studies and work collaboratively to explore and construct outcomes.
Use data management, reporting and quantitative reasoning to evaluate possible solutions to different case studies.
Graduation to Vocation
The unique interdisciplinary nature of the ENVFY program helps students gain a greater understanding of the world around them and how their chosen environmental major will guide the part they play in that world. Gaining a degree is only the fist step. By exploring the many career paths that a student can take after graduation, ENVFY participants can navigate their college expereince with more confidence and direction, leading them to the right career after graduation.
For students still unsure they are in the right major, this program will help them explore their interests and discover the right environmental pathway.
Environmental First Year Degrees and Majors
Environmental Sciences
Environmental Technology and Management
Fisheries, Wildlife and Conservation Biology
Forest Management
Natural Resources