PGA Golf Management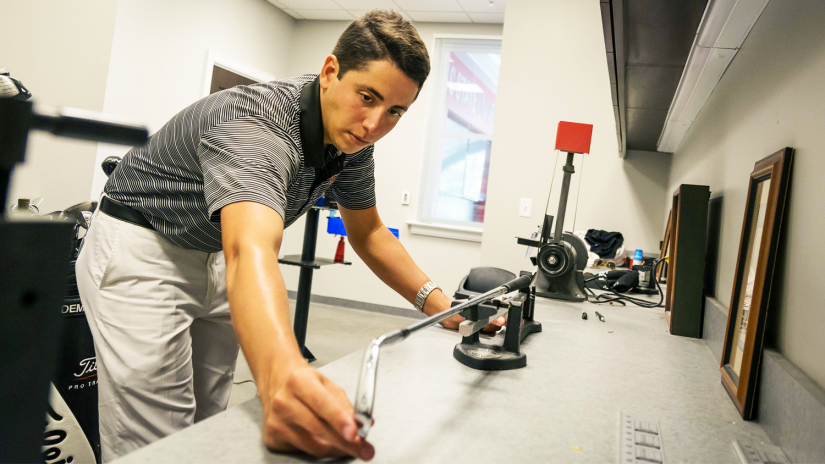 What is PGA Golf Management?
Turning your passion for golf into a life-long career takes more than a great swing. Our PGA Golf Management program prepares students to take on the business side of the golf industry, including marketing, budgeting, merchandising, instruction, golf cart fleet management and tournament operations. Students also develop valuable skills around the social impacts of the sport to help them deliver excellent customer service in the areas of teaching, customer relations and technology. Students must have a handicap of 12 or below to be admitted to the program.
We are the only PGA Golf Management program training students to use all five leading teaching technologies, including TrackMan, Foresight, FlightScope, V1 and BodiTrak.
Not only do our students graduate with a college degree, they also receive PGA membership upon job placement after graduation. Our small classes work specifically with the PGA Work Experience Kit and offer in-class testing and preparation for the PGA tests. Weekly player development sessions are available for students preparing for the PGA Playing Ability Test (PAT).
The state-of-the-art clubhouse at the Lonnie Poole Golf Course located on-campus includes classrooms and working laboratories for our students, including a golf club repair room, swing analysis equipment and golf simulators. Our golf course is one of only two university Audubon-certified golf courses, highlighting NC State's commitment to sustainability and environmental education. In addition to the Lonnie Poole Golf Course, students have access to 11 other golf courses in the local area. They play in weekly nine-hole tournaments and four major events per semester to improve their skills.
Students complete 16 months of required internships at golf facilities around the country and world, such as the Four Seasons Resort in Costa Rica, Pebble Beach Resorts in California, Cape Kidnappers Resort in New Zealand and PGA Magazine. We also encourage our students to join student organizations like the Professional Golf Management Ambassadors, Women in PGA Golf Management, and PGM Student Club to develop leadership skills and participate in professional development opportunities like seminars and networking events. Through innovative service-learning partnerships with Bugg Elementary School, First Tee of the Triangle and SwingPals, Inc., PGA Golf Management students practice their teaching skills on a weekly basis with at-risk and middle school youth.
PGA Golf Management Curriculum
Popular minors include Business Administration and Coaching Education.
We are fully-accredited by the PGA of America.
We are the only PGA of America accredited program available at a public university in North Carolina and one of only 18 colleges and universities in the U.S.
Why are PGA Golf Management graduates important?
Golf is a lifetime sport enjoyed by 25 million Americans, who play 455 million rounds annually at the nation's 15,350 facilities, making the skills of our alumni highly desirable and employable.
Golf has a long history of giving back and provides an annual charitable impact of about $4 billion per year through 143,000 events with 12 million participants. That means, our alumni in the industry help raise more money for charity than the MLB, NBA, NFL and NHL combined.
By supporting player development, exercise and outdoor activity, our alumni help improve the overall health and well-being of players, while advancing a business that enhances local economies and communities.
What can you do with a PGA Golf Management degree?
The U.S. golf industry is growing. In fact, it generates around 70 billion dollars and employs nearly 2 million people annually. This means, our PGA Golf Management students graduate with options. Since they learn all aspects of industry, it's up to them to decide where they want to go and what they want to do.
Sample PGA Golf Management Careers
PGA Director of Golf – Manage and develop all aspects of the golf business and oversee golf operations, including the golf academy, golf shop, golf course maintenance, food and beverage, outside golf services, golf specific sales and marketing and the facility's administration. Recent employers include Country Club of Asheville.
Tournament Director – Oversee general operations of a tournament, including coordinating staff and volunteers, logistics, communications, scheduling, promotions and participant recognition. Recent employers include Bandon Dunes Golf Resort.
Head Instructor or Coach – Provide lessons and advice on swing, club use and putting. Recent employers include Pinehurst Resort.
Sales Representative – Develop and promote membership at a specific location, including customer service and strategic planning. Recent employers include National Golf Links.
Merchandising Manager – Provide customer service and develop sales strategies and retail management. Recent employers include Cleveland Srixon, Mizuno and Epoch.
Golf Equipment Specialist – Support maintenance, repair and operation of golf equipment and club fittings. Recent employers include Golftec.
PGA Rules Official – Enforce golf rules for associations, tours and events. Recent employers include PGA of America.
Majors Related to PGA Golf Management