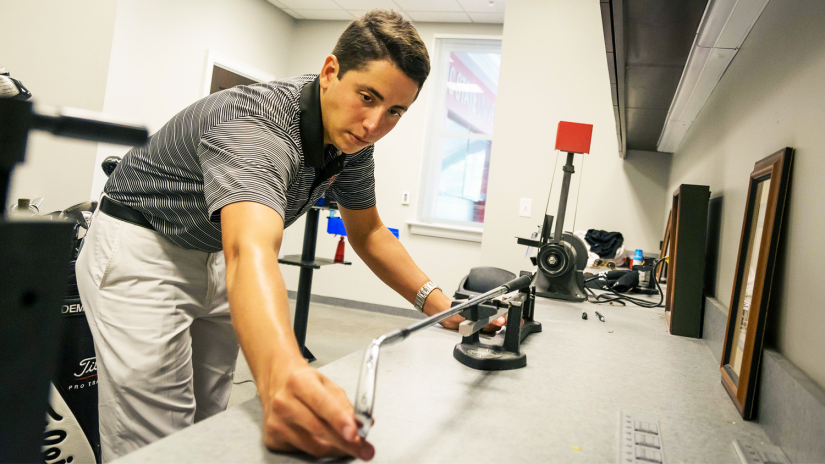 What is PGA Golf Management?
Turning your passion for golf into a life-long career takes more than a great swing. NC State University's PGA Golf Management program is one of 18 PGA accredited university programs nationwide. We are the only program where students receive a Bachelor of Science in Sport Management, one of NC State's top 10 majors, with a concentration in PGA Golf Management. Our graduates receive PGA membership upon job placement.
Through extensive classroom studies and internship experience, our program prepares students to take on the business side of the golf industry, including marketing, budgeting, merchandising, instruction, golf cart fleet management and tournament operations. Students also develop valuable skills around the social impacts of the sport to help them deliver excellent customer service in the areas of teaching, customer relations and technology.
We provide small classes that work specifically with the PGA Work Experience Kit and offer in-class testing and preparation for the PGA tests. Students must have a handicap of 12 or below to be admitted to the program. Weekly player development sessions are available for students preparing for the PGA Playing Ability Test (PAT).
The state-of-the-art clubhouse at the Lonnie Poole Golf Course located on-campus includes classrooms and working laboratories for our students. Our golf course includes a golf club repair room, swing analysis equipment and golf simulators. It is one of only two university Audubon-certified golf courses, highlighting NC State's commitment to sustainability and environmental education. In addition to the Lonnie Poole Golf Course, students can access up to 15 other local golf courses. Our students play in weekly nine-hole tournaments and up to three major events per semester to improve their skills.
Students complete 16 months of required internships at golf facilities around the country and world under the direction of Class A PGA professionals. We work with more than 600 facilities, including the Shinnecock Hills Golf Club in New York, Pebble Beach Resorts in California, Pacific Pine Sports Group in China, NBC's Golf Channel and Stitch Golf. Through innovative service-learning partnerships with Inspiration Golf, First Tee of the Triangle and SwingPals, Inc., PGA Golf Management students practice their teaching skills regularly with at-risk and middle school youth and students with limited abilities. Our graduates receive PGA membership upon job placement.
PGA Golf Management Curriculum
PGA Golf Management students take a variety of courses in different discipline areas, including Sport Management, Business and specified PGA GM topics (i.e. Golf Facility Management and Teaching and Coaching Golf).
PGA Golf Management Careers
The U.S. golf industry is growing. Annually, it generates around 70 billion dollars and employs nearly 2 million people. This means our PGA Golf Management students graduate with options. Since they learn all aspects of the industry, it's up to them to decide where they want to go and what they want to do.
PGA Director of Golf – Manage and develop all aspects of the golf business and oversee golf operations, including the golf shop, golf course maintenance, food and beverage, outside golf services, golf-specific sales and marketing and the facility's administration. Recent employers include Valhalla Golf Club, TPC Dorado Beach Resort, Pinehurst Resort and Lonnie Poole Golf Course.
Tournament Director – Oversee general operations of a tournament, including coordinating staff and volunteers, logistics, communications, scheduling, promotions and participant recognition. Recent employers include TPC Sawgrass.
Teaching and Club Fitting Professional – Provide lessons and club fitting experiences to develop a student's playing ability in all aspects of the golf game. Recent employers include GolfTEC, 1757 Club and Tour Edge.
Sales/Merchandising Representative – Promote products for a variety of clients, from a merchandising or technology company to green-grass golf facilities. Recent employers include Peter Millar, Trackman Golf and Cleveland Golf.
Marketing Representative – Develop and promote the services of a golf facility or company, including customer service and strategic planning. Recent employers include Golf Channel and GolfNOW.