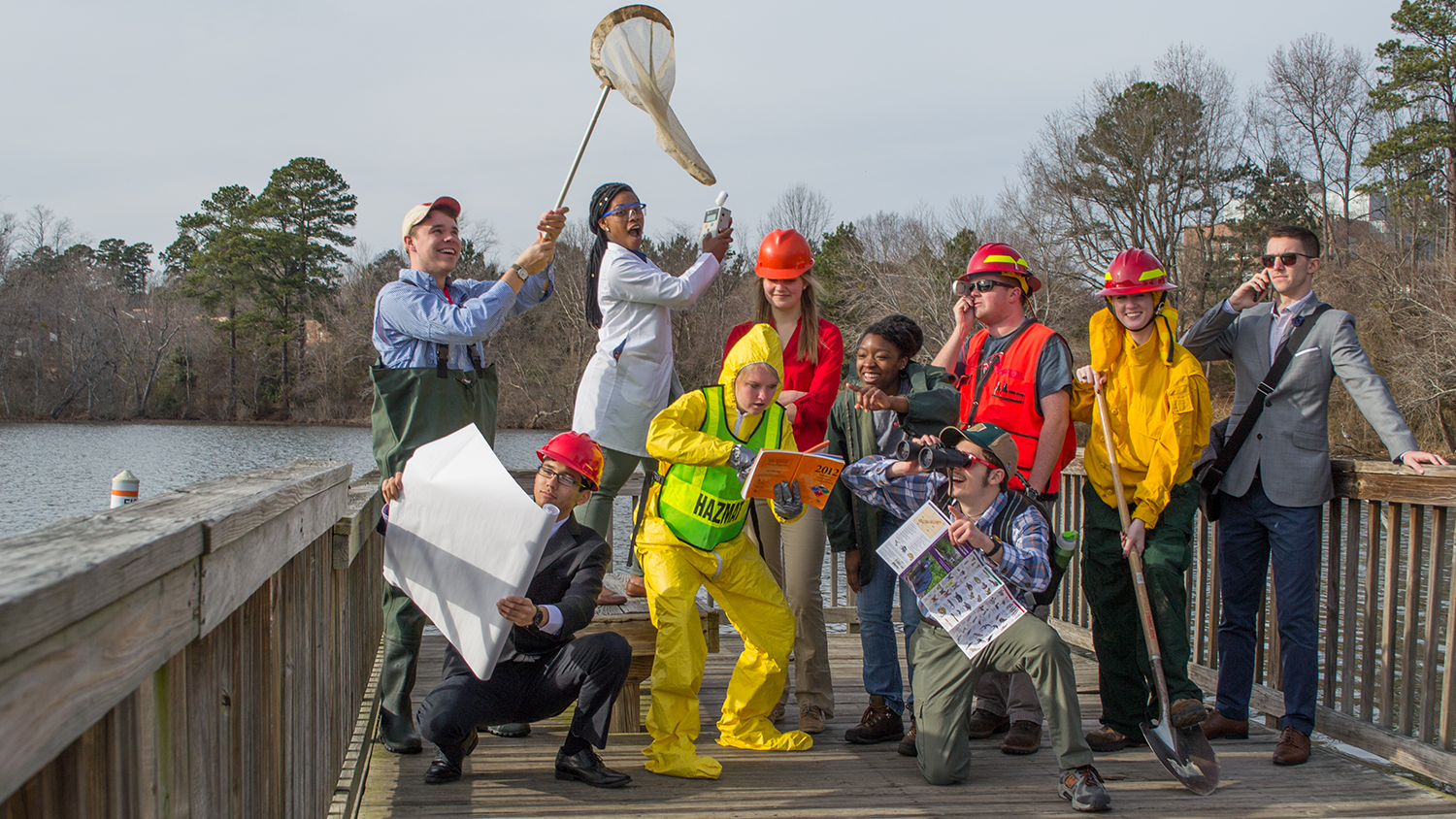 Environmental Career Month
Let's celebrate Earth Day all month long.
Event Details
In honor of Earth Month, we will host a variety of free virtual environmentally-themed events and activities. We will have a wide range of opportunities to keep you and your family engaged remotely while you learn more about environmental careers.
Specific details will be added to this site through April 7, 2020.
Register Today
Register here to stay up to date on Environmental Career Month activities and events.
Throughout the month, attendees can:
Attend our virtual Kick-Off Event on April 7.
Participate in virtual career panels and engage with industry leaders.
Attend one or all of our major exploration hangouts with current students.
Participate in hands-on activities at home for a chance to win NC State prizes.
Win prizes during environmental trivia night.
Who can attend?
Anyone interested in exploring environmental majors and careers. This includes middle school, high school and college students. We welcome parents and other adults who want to learn more.
Scheduled Events and Activities
Environmental Career Month Kick-Off Event
Tuesday, April 7, 2020, at 7:00 p.m. EST
Attend virtually via Zoom
This session will be recorded in case you miss it.
Friday Trivia Night
Friday, April 10, 2020, at 8:00 p.m. EST
Details will be added on April 7 for how to tune into the event.
Join us for a fun-filled night of Environmental Trivia for the opportunity to win NC State prizes.
Virtual Career Panels
Hear what our alumni and other environmental industry professionals have to say about their jobs and careers.
All sessions will be held at 7:00 p.m. EST unless otherwise indicated.
Wednesday, April 8, 2020 – Theme: In the Field and Outdoor Environmental Careers I
Thursday, April 9, 2020 – Theme: Environmental Education, Conservation, and Advocacy Careers
Tuesday, April 14, 2020 – Theme: Engineering and Innovation in the Environment Careers
Thursday, April 16, 2020 – Theme: In the Field and Outdoor Environmental Careers II
Major Hangouts with Current Students
Learn about each of our majors by talking to NC State students in those majors. They will explain what the major is, what their class experiences are like, and the potential careers you can pursue.
See the complete list of major hangouts and additional activities.
Special Events for Parents and Families
We have created a few sessions especially for parents and families, but students are welcome to attend. Hear from our student ambassadors about what being an NC State student is like for them. Learn more about the college admissions process from our recruitment professionals.
Wednesday, April 8, 2020 at 8:00 p.m. EST – Current Student Panel for Parents and Families
Wednesday, April 15, 2020 at 7:00 p.m. EST – Preparing for College 101
Tuesday, April 21, 2020 at 7:00 p.m. EST – Current Student Panel for Parents and Families
At-Home Activities
We will partner with our alumni and campus partners to provide a series of activities that students (and parents) can do at home using common household items or the internet. All activities will be posted on Tuesday, April 7.
During the week of April 28, students will have the opportunity to chat with these professionals live about their activities and advice on how students can stay engaged in these types of projects.
Cost and Registration
Register to be kept up to date on upcoming events throughout April 2020. This event is free to all participants.
Majors We Will Focus On
The majors we will explore in more detail will include:
College of Natural Resources Majors
Environmental Sciences
Environmental Technology and Management
Fisheries, Wildlife and Conservation Biology
Forest Management
Natural Resources Ecosystem Assessment
Natural Resources Policy and Administration
Paper Science and Engineering
Parks, Recreation, and Tourism Management
Sustainable Materials and Technology
100% of students graduate with in-the-field experience that leads to job opportunities.