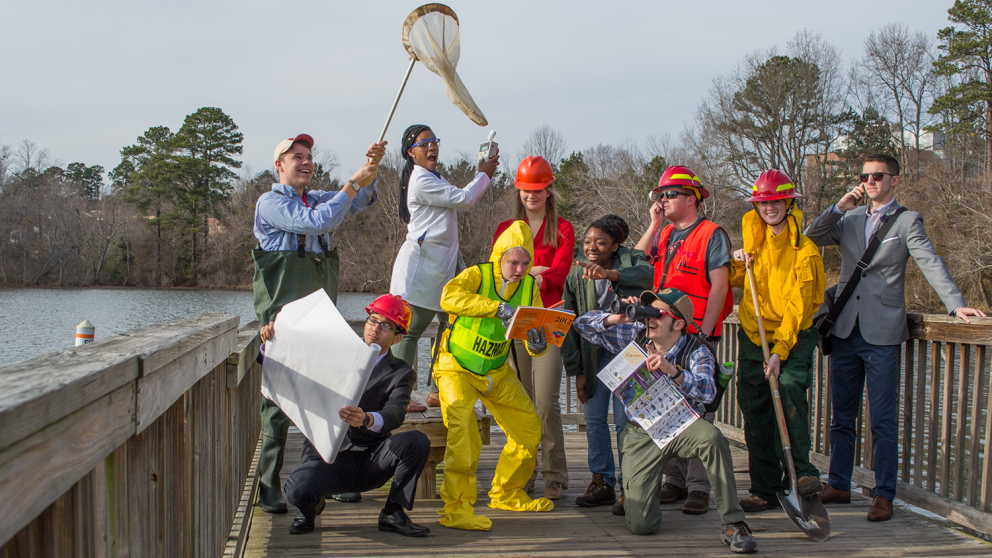 Environmental Career Day
Want to pursue an environmental career? Join us on March 23 to learn more.
Event Details
Date and Location
**Registration will open on January 1, 2019.**
The event will take place is on March 23, 2019
The program will begin and conclude in:
Jordan Hall Addition
2720 Faucette Drive
Biltmore Hall, NC State
Raleigh, NC, USA
For directions, visit https://cnr.ncsu.edu/about/directions/
Who can attend?
Priority will be given to high school students who are considering majors related to the environment are encouraged to attend. Space allowing, middle school students can also attend.
All parents and chaperones are welcome at this event, but not required. To maximize the space available for interested students, we ask that attendees bring only one adult with them to participate in activities.
What other activities are available after this event?
Following the end of our event, we recommend that attendees and their chaperones:
Enjoy lunch at the Talley Student Union
Participate in a Walking Tour of Campus
Tour a model room in a residence hall
Cheer on the Wolfpack at a baseball game that evening
Browse visitraleigh.com for more information on how to make their Raleigh visit fun!
What happens at Environmental Career Day?
2018 attendees chose one of four environmental career tracks for the day:
Track 1 focuses on In the Field and Outdoor related careers
Track 2 focuses on People and Policy related careers
Track 3 focuses on Engineering and Innovation related careers
Track 4 is focused on General Sustainability and for attendees who are undecided about their environmental careers, and will include aspects from all three tracks.
During the day, attendees had the opportunity to:
Engage in hands-on activities directly related to CNR majors
Attend a CNR Majors Fair to explore environmentally-focused career paths
Meet and interact with current students
Learn about the admissions process and requirements
Attend alumni and current-student panels.
Track activities from previous years include:
HAZMAT Relay: Sample Collection, Containment and Decontamination
Wildlife Sampling Methods
Modeling Tree Growth in our Forests
Renewable Energy Industry Panel
Exploring Environmental Policy and Current Issues
Product Redesign Using Sustainable Materials
What are our Environmental Majors?
Our environmentally-focused majors include:
Environmental Sciences
Environmental Technology and Management
Fisheries, Wildlife and Conservation Biology
Forest Management
Natural Resources Ecosystem Assessment
Natural Resources Policy and Administration
Paper Science and Engineering
Parks, Recreation, and Tourism Management
Sustainable Materials and Technology
Our environmental majors lead to productive environmental careers. Our alumni graduate with jobs in all three tracks, including:
Track 1: Conservation and Outdoor related careers
Forester
Park Ranger
Wildlife Biologists
Ecotourism Guide
Wildlife Enforcement Officer or Game Warden
Track 2: People and Policy related careers
Environmental Educator
Lawyer
Lobbyist
Researcher
Environmental Justice Advocate
Track 3: Engineering and Innovation related careers
Environmental Engineer
Environmental Consultant
Paper Science Engineer
Renewable Energy Installation
Product Developer
100% of students graduate with in-the-field experience that leads to job opportunities.