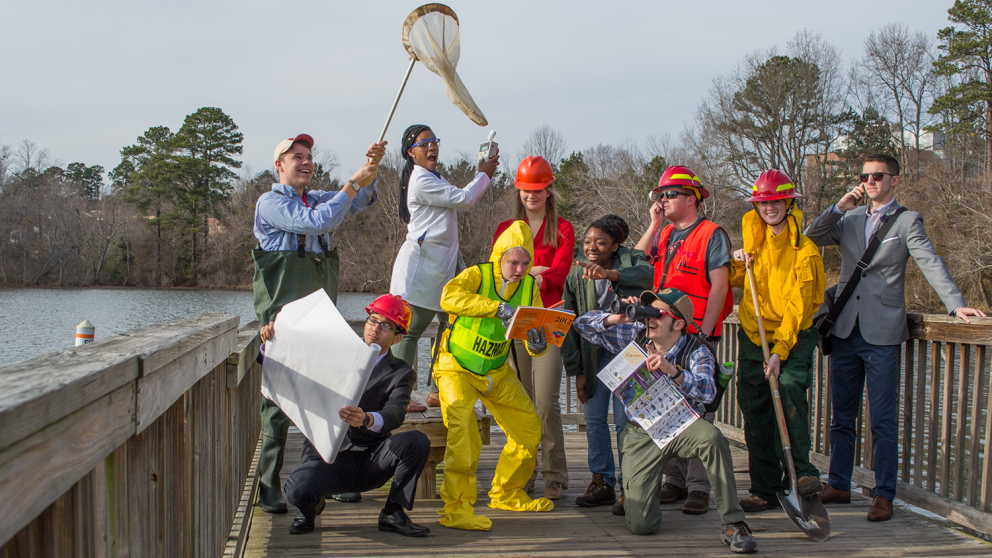 Environmental Career Day
Come explore environmental careers on March 23.
Event Details
We invite high school freshman, sophomores, and juniors to explore environmental majors at NC State through this unique experience. Join us on Saturday, March 23 for a day designed for those seeking a career solving our greatest environmental challenges.
During the day, attendees will:
Attend a majors fair to explore environmentally-focused degrees at NC State
Engage in hands-on activities directly related to College of Natural Resources (CNR) and College of Agriculture and Life Sciences (CALS) majors
Meet and interact with current students
Learn about the admissions process and requirements
Attend alumni and current-student panels
Attendees will choose one of three environmental career tracks for the day:
Track 1 focuses on In the Field and Outdoor related careers

This includes careers such as forester, park ranger, wildlife biologist, ecotourism guide, water quality specialist, and environmental consultant

Track 2 focuses on Engineering and Innovation related careers

This includes careers such as environmental engineer, environmental consultant, paper science engineer, renewable energy installer, and product developer

Track 3 is designed for students passionate about the environment, but are Undecided on a type of environmental career.

This track will include an overview of the wide range of environmental careers and types of majors available at NC State
Who can attend?
Priority will be given to high school students who are considering majors related to the environment. Due to limited space, middle school students will be unable to attend. However, registration for a special middle school visitation will take place on April 6, 2019. Click here for additional details.
All parents and chaperones are welcome at this event, but not required. To maximize the space available for interested students, we ask that attendees bring only one adult with them to participate in activities.
Date and Location
The event will take place on March 23, 2019 from 8:30 a.m. until 1:30 p.m. (time is tentative).
The program will begin and conclude in:
Jordan Hall Addition
2720 Faucette Drive
Biltmore Hall, NC State
Raleigh, NC, USA
For directions, visit https://cnr.ncsu.edu/about/directions/
Cost and Registration
This event is free for all students and their guests. The event is currently FULL. If you would like to be added to the Wait List, please click here. All wait list students will be notified by March 20 if they can attend.
What other activities are available after this event?
Following the end of our event, we recommend that attendees and their chaperones:
Enjoy lunch at the Talley Student Union
Attend EASE Your Mind, a Mental Wellness Event, hosted by the College of Natural Resources
Engaging Leaders Program
Browse visitraleigh.com for more information on how to make their Raleigh visit fun!
Majors We Will Focus On
The majors we will explore in more detail will include:
College of Natural Resources Majors
Environmental Sciences
Environmental Technology and Management
Fisheries, Wildlife and Conservation Biology
Forest Management
Natural Resources Ecosystem Assessment
Natural Resources Policy and Administration
Paper Science and Engineering
Parks, Recreation, and Tourism Management
Sustainable Materials and Technology
College of Agriculture and Life Sciences Majors
Agroecology & Sustainable Food Systems
Horticultural Science
Soil Science
100% of students graduate with in-the-field experience that leads to job opportunities.