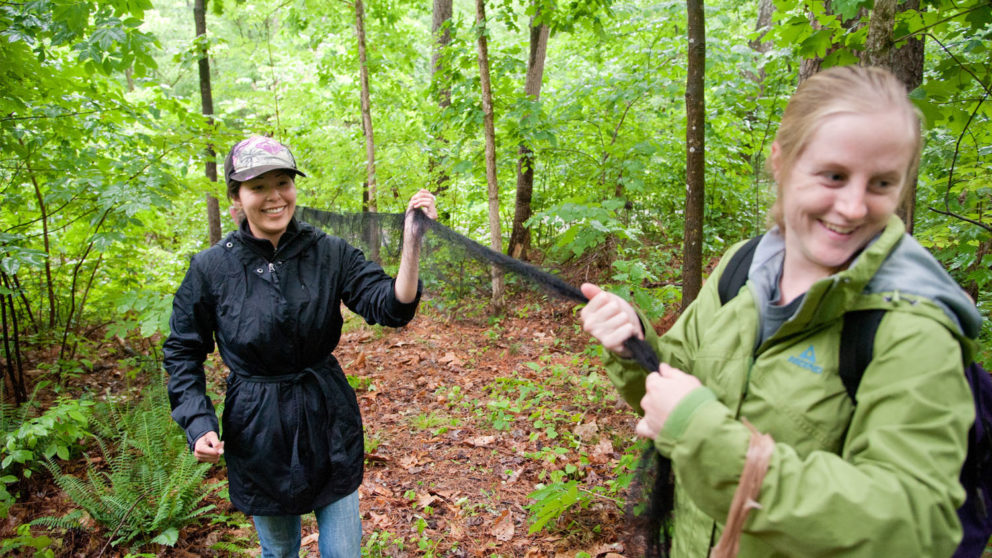 Women in the Environment Conference
Inspiring young women to become environmental leaders of tomorrow.
About the conference
The inaugural Women in the Environment Conference is an innovative educational event designed to introduce young women and non-binary identified individuals to potential careers in the environmental field, from forest management to paper science and engineering. Attendees will leave the conference powered with the tools, knowledge and insight to be leaders for change and progress in a rapidly evolving world.
Attendees will:
Meet keynote speaker, Dr. Zakiya Leggett, and learn about her journey from sustainability scientist to NC State professor. 

Attend "Hot Topic" environmental presentations led by women working in the fields of climate change, sustainable materials, urban wildlife, renewable energy and more. 

Hear from women working in the field of natural resources, environmental science, engineering, community outreach and more. 

Have lunch with current students and young alumni passionate about sustainability.

Participate in optional hands-on activities. 
Cost and Registration
Registration will be open until June 19th or when space is filled. This event is free for all students. 
Register

Now
Want to let others know about this event? Share the event on Facebook.
Conference Schedule
7:45-8:30 a.m. –

Registration

8:30-9:00 a.m.

–

Welcome and Overview by Dr. Mary Watzin, Dean of NC State's College of Natural Resources

9:00-9:30 a.m.

–

Keynote Presentation by Dr. Zakiya Leggett, Associate Professor of Forestry and Environmental 

Resources at NC State's College of Natural Resources

9:30-9:40 a.m.

–

Break

9:40-10:10 a.m.

– Environmental Hot Topic Presentations (Rotation 1)

10:15-10:45 a.m.

– Environmental Hot Topic Presentations (Rotation 2)
10:45-11:00 a.m. – Break
11:00-11:45 a.m. – Environmental Justice Panel
11:50 a.m.-12:55 p.m – Lunch with Current Students, Faculty and Young Alumni
1:00-1:45 p.m. – Career Panels
2:30-3:30 p.m. – Optional Activities
Click here to view the full conference schedule with presentation details.
Who can attend?
Priority will be given to community college students and rising 10th-12th grade students who are considering majors related to the environment. Due to limited space, middle school students will be unable to attend.
Date and Location
The conference will be held on Friday, June 28 from 8:30 a.m.-3:30 p.m. at the James B Hunt Jr. Library at 1070 Partners Way, Raleigh, NC 27606. For directions, visit https://www.lib.ncsu.edu/parking.
Optional Activities
Following the conference, attendees will have the unique opportunity to engage in hands-on activities with some of NC State's most prestigious faculty members. Registration is on a first-come, first-serve basis and will open on May 13. Confirmed activities include:
Sustainability Tour of NC State's Centennial Campus
Paper versus Plastic: Which is More Sustainable?
Lake Raleigh Biodiversity: Conserving an Ecosystem
Wildland Fire Training: Helping Protect Our Forests

Questions about the conference
What are my lodging options?
To view NC State's list of recommended hotels, click here.
Where do I park?
Parking information and directions will be sent in final confirmation documents.
Interested, but can't attend?
Join our mailing list to receive more information about our majors and other upcoming events and visit opportunities.
For questions about this event, contact Alex Loflin at 919-515-8659 or cnrrecruitment@ncsu.edu.