Find Your Fit
For students who have a passion for the outdoors and working with people, discovering the right educational path can open a world of career options.
Whether your interest is in creating recreation and tourism programs in local communities, working in the park system, shaping environmental policies, studying wildlife, managing land for timber, ensuring clean water, or engineering everyday products from natural resources, a degree from the College of Natural Resources will help you pursue your passion.
Intern to New Hire
Durham Castellaw credits the experiences he gained while earning a B.S. in Parks, Recreation, and Tourism Management in the College of Natural Resources with his success as a recreation programmer for the City of Hickory.
"Any alumni from the College of Natural Resources will tell you that our studies often have us traveling throughout the Triangle for different learning experiences and class projects. These hands-on trips by far had the biggest impact on me and my learning experience."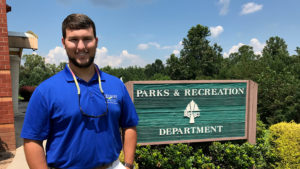 He also gained real-world exposure as an intern in web-based and social media marketing agencies, as well as program and risk management at a scouting and adventure center managed by the Boy Scouts of America.
"The College of Natural Resources prepares all students for life after graduation in amazing ways. The professors are second to none and care about you like you're family. They offered me insight into any challenge I might face in future positions while teaching me how to overcome and excel during times of struggle. They taught me how to work with budgets and be fiscally responsible for small programs, all the way up to handling an entire department's assets. Without their help, I would not be where I am today."
#6 in the Nation.
USA Today ranks us among the top colleges in the country for the study of natural resources and conservation.
Education that Leads to Vocation
In the College of Natural Resources, students find a home that provides a hands-on educational experience that prepares them for success after graduation.
All of our students, regardless of major, benefit from experiential learning through internships, immersion summer programs, study abroad and undergraduate research opportunities. These real-world experiences help them become the well-rounded graduates that employers are seeking.
Although NC State is located near thriving downtown Raleigh, students complete many of their classes in the 85,000 acres of college-owned forest that provides a living laboratory. With reduced class size and direct access to faculty and staff support from application to graduation, we're proud to offer our students an intimate community in a large university, providing the best of both world.