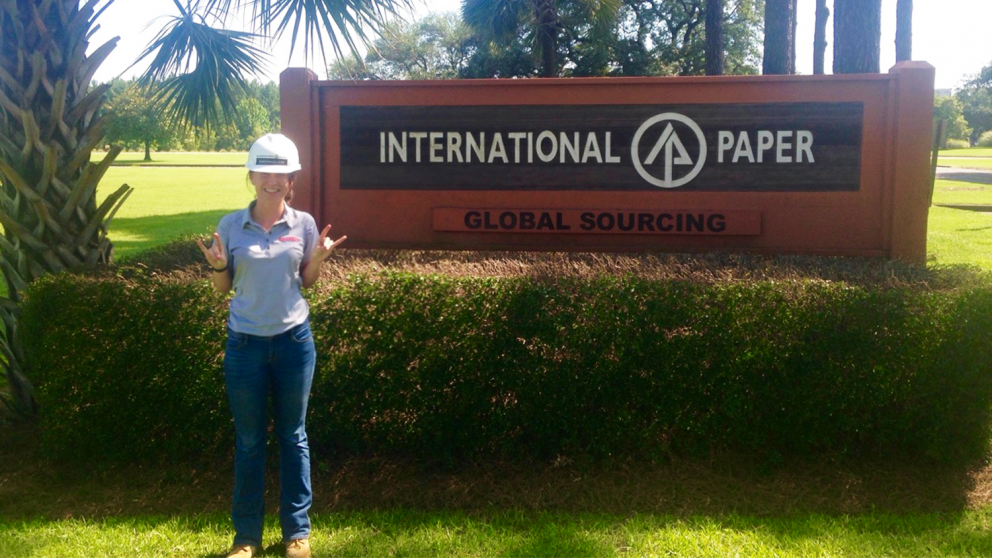 Ever looked at your Starbucks cup and wondered what the company name, International Paper, printed in tiny letters on the lid is all about? Paper science and chemical engineering double major Manon MacAllister does every day at her summer internship with the company's plant in Georgetown, S.C. As a global leader in paper, packaging and pulp products, International Paper creates everything from paperboard and food containers to corrugated cardboard packaging and copier paper. The company regularly recruits Paper Science and Engineering (PSE) students for internships and jobs post-graduation. Check out MacAllister's hands-on industry experiences this summer:
Tell us about your internship experience. I am currently a process engineering intern with International Paper in Georgetown, SC. This internship has exposed me to a lot of firsts: first full-time job, first apartment, and first experience in a paper mill. It forces me to test my boundaries every day and pushes me along a steep learning curve—I work in the pulp mill with a focus in the caustic plant, an area that I know very little about, so every day is a challenge! But, these challenges are helping me become a stronger critical thinker, a more effective leader, and a better engineer every day.
Why would you recommend your majors to incoming students? My attraction to the industry stems from the sheer fact that it's an industry for innovators. This industry is constantly having to adapt because of external pressures, but for those who seek a challenging career and a job that will allow them to push their limits, paper engineering is right for them.
Any advice for students thinking about your majors? Do not be afraid to ask for help. The faculty are devoted to the success of the students and will go above and beyond to assist you. So if you are interested in research or just have a general question, reach out! There will always be someone there who is willing to answer or direct you to the proper person.
What do you plan to do after graduation? Graduation feels like forever away, but I would like to work full time for a paper company in the Southeast. I've really enjoyed my time with International Paper, so I would love to stay with them if I got the opportunity to!
How do you feel PSE has prepared you for life after graduation? By encouraging the PSE students to pursue internships and co-ops, CNR is helping prepare me for the adult world. The "real" world is very different than college, and there is no better way to prepare for it than by experiencing it in short periods during the summer. If I hadn't experienced this before graduation, I think I would probably start drowning in responsibilities!
What organizations or student groups are you involved in? I am an Engineering Ambassador, an Engineering Career Fair Volunteer and Publicity Coordinator, a member of the Pulp and Paper Student Advisory Committee, a Brother of Alpha Phi Omega service fraternity, and I am involved in the University Scholars Program.