On March 18, 2017, several members of  TAPPI helped celebrate Arbor Day at the NC State Farmers Market. The annual event is held to encourage people to plant and care for trees in their local neighborhoods and environments. Arbor Day began in 1872, in Nebraska City, Nebraska, with the help of some pioneers led by Julius Sterling Morton. Soon after the tradition was started, it spread across the United States, and by 1920, 45 states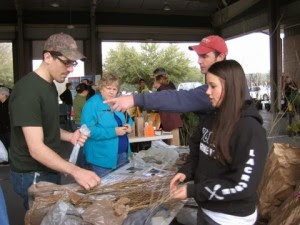 were celebrating Arbor Day. Now a worldwide holiday, it is usually held in the spring time since it is the most suitable planting season.
TAPPI takes a Moment to Teach PaperMaking
Many groups attended the event to inform the public about trees and how to care for them. TAPPI brought pulp made in our pilot plant and handsheet molds to teach people about the papermaking process, as well as how the paper industry supports sustainability. A wide range of ages of people stopped by the table to make their own sheet of paper, as well as learn about paper. They were taken systematically through the process by TAPPI members that volunteered their time on a Saturday morning. Each person began with a scoop of wet pulp that was placed in the submerged handsheet mold. After distributing the pulp well, the mold was slowly lifted from water so that gravity could draw water out of the newly made sheet. Blotter papers were then added to the sheet to press more water out. Last, the sheet was taken off the blotter papers and placed on the speed dryer to dry the rest of the water out of the sheet. Finally, a sheet of paper was made, to the delight of everyone that stopped by.
Sharing what the Program Offers
It was a great opportunity for the program to spread awareness of how the paper industry sustainably uses trees to make paper. Also, those coming by the table learned about the NC State Paper Science and Engineering Program and the vast amount of opportunities the program offers. The student TAPPI looks forward to contributing to the Arbor Day celebration again in the years to come!
By guest blogger Ryan Lee