Chemical Analysis and Spectroscopy Laboratory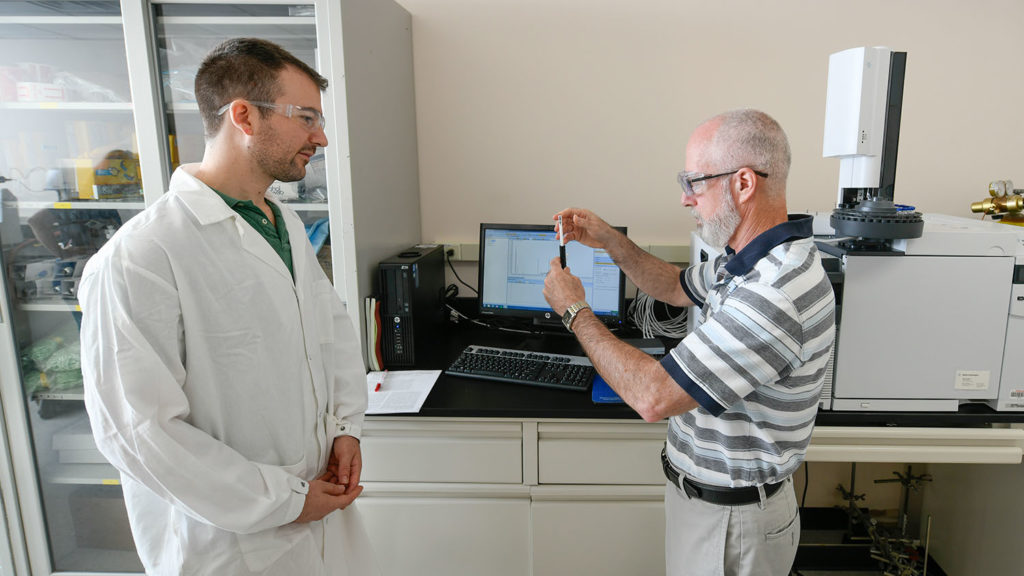 The Chemical Analysis and Spectroscopy Laboratory (CASL) has suspended operations due the pandemic.
The Chemical Analysis and Spectroscopy Laboratory (CASL) has suspended operations due the pandemic.
However, Wood Products Extension may be able to assist you. For more information, contact David Tilotta at dave_tilotta@ncsu.edu or 919.515.5579.
Routine tests that can be performed include, but are not limited to:
Environmental assessment of effluent streams and water quality
Identification of chemicals or contaminants,in liquid and solid products
Thermo-analysis of wood, thin films, foams, gels, surfactants, and biopolymers
Compositional analyses of pulps and other polysaccharide-based materials
Molecular weight distribution determinations of polymeric systems
Analytical instruments and capabilities currently available in the Department of Forest Biomaterials include:
Fourier Transform Infrared Spectrometry (FTIR)
This instrumental technique allows for the detection of functional groups and the characterization of covalent bonding. It can provide information on the molecular structure of material.
Gas Chromatography (GC) with FID or MS Detection
Gas chromatography is an analytical technique used for the determination of organic components in mixtures that can be volatized. Several detectors are available in the department including a Flame Ionization Detector (FID) that is capable of easily quantifying separated analytes and a mass spectrometer (MS) which is useful for identifying components.
Gel permeation chromatography (GPC)
Gel permeation chromatography is essential in polymer chemistry for measuring the distribution of molecular weights in mixtures. The Shimadzu GPC in our department consists of an LC-20AD, CTO-20A, SPD-20A (Diode Array Detector), RID-20A (Refractive Index Detector), and LabSolutions GPC Software.
High Pressure Liquid Chromatography
High-performance liquid chromatography (HPLC, formerly referred to as high-pressure liquid chromatography) is a technique used to separate, identify, and quantify components of high boiling point mixtures. Our Agilent HPLC consists of a pump, autosampler, thermostatted column, and a multiwave/refractive index detector that allows for the analyses of various liquid samples.
Thermogravimetric analysis (TGA)
TGA is a method of thermal analysis in which changes in physical and chemical properties of materials are measured as a function of increasing temperature (with constant heating rate) or as a function of time (with constant temperature and/or constant mass loss). TGA is an especially useful technique for the study of polymeric materials, including thermoplastics, thermosets, elastomers, composites, plastic films, fibers, coatings and paints.