Five Questions with Laboratory Technician Shane Page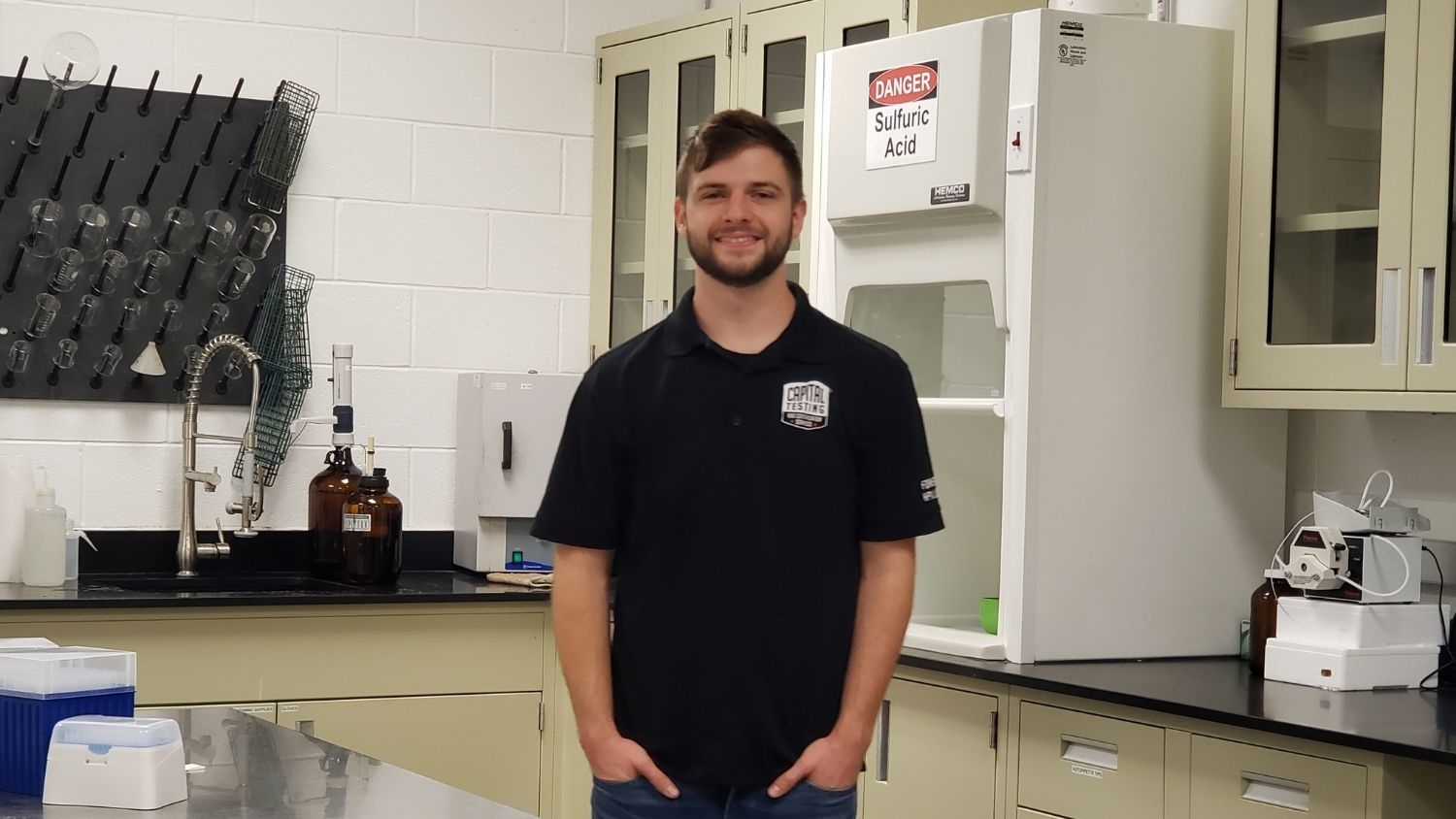 In May, Shane Page graduated with a major in sustainable materials and technology and a minor in environmental sciences. He's now putting the skills to work as a laboratory technician for Capital Testing and Certification Services in Virginia.
We recently sat down with Shane to learn more about his experience at NC State's College of Natural Resources and his current position. Check it out below.
What is a typical day in your job like?
For starters, I do a large amount of formaldehyde testing. Formaldehyde is a carcinogen, and being one of the ingredients in common resins used in wood products, only a small amount is allowed to be emitted throughout the lifetime of the product. I use different test methods to find out how much formaldehyde is emitted within a set time period, type up reports, and send them to my boss to be finalized. These reports let clients know if they are within the allowable limits.
I also condition samples before they can be tested. Some tests only require a day of conditioning, others up to a week. Another common task for me is dimensional tolerance for engineered wood flooring. This consists of many tests to ensure that all boards within a box of wood flooring are dimensionally similar to prevent gaps between boards once installed.
What inspired you to study sustainable materials and technology?
Growing up, I always enjoyed being outside and in nature. I've always been an avid plant owner. In middle and high school I was in Future Farmers of America. So naturally, I knew my college experience would reflect all this.
I didn't know exactly what program I wanted to be a part of, but I knew it was going to be related to the environment in some aspect. After reading about sustainable materials and technology, I was hooked. Material science, environmental studies and engineering sounded like the perfect blend of everything I enjoy.
Wood anatomy was my first experience with the program. From day one I knew I made the right choice. Sustainable materials and technology was filled with interesting and useful classes, great professors and even better peers. The tight knit feel of the program made a four year university much less intimidating and enjoyable. Everyone was easy going and a pleasure to be around.
What impact are you making through your position?
Through my position, I am making a positive impact in consumers' lives. Without testing wood products for formaldehyde emissions, an individual could purchase plywood or wood flooring that could cause health issues to anyone living within the home. This is especially true for children, who are much more susceptible to the negative health effects of formaldehyde. Because of this, it is vital that testing is done to prevent potentially fatal consequences of bad production practices.
How did the College of Natural Resources prepare you for your current position?
The College of Natural Resources helped prepare me for this position in two ways. For starters, the classes I attended while at NC State focused on many things that are relevant to my position, from wood product production to resin types. The transition from college to career was extremely smooth due to the fact that I already had a great understanding of the products I was testing, how they were produced, and how their production can impact the lives of those making them as well as purchasing.
Another way the College of Natural Resources prepared me for my current position was through working within the program. While attending, I worked for Guillermo Velarde and the Wood Product Technical Services at NC State. I was responsible for conditioning and testing samples much like I do today. Although the tests focused on mechanical and physical properties of the materials, this knowledge translates to my current position. I was already accustomed to following strict standards and using my knowledge of the products to make assumptions on how they will behave during certain tests.
What advice do you have for current College of Natural Resources students?
If I could give any advice to current students it would be to get involved. Whether it's research, a job or a group within the college, getting involved helps broaden your horizons as well as make connections. I wouldn't have the position I have today if I didn't work for Guillermo. I discovered how much I enjoy working with wood products and made great connections while working for him.
At the beginning of my college career, I had absolutely no idea what I wanted to do after I graduated. One of the graduation requirements for sustainable materials and technology involves an internship in a related field. I applied to the position at Wood Product Technical Services just to complete the requirement and ended up finding a career path I truly enjoy. I can't imagine a career I would be happier in, and I had never even considered it at the beginning of my college experience.