Meet Our SMT Technical Analysts
There's so much to learn in Hodges Wood Products Lab. Recently, we had the opportunity to meet with Skye Pham, Melzer Morgan, and Ben Helms, a group of students in the Sustainable Materials Technology (SMT) program, working for Lyndsey Campbell, Wood Products Technical Researcher/Program Manager, as undergraduate lab technicians. They shared with us some of the tests they conduct and how this experience prepares them for the future.
The team receives samples from companies within the wood products industry, especially laminate flooring and thermally fused laminate (TFL). As you walk into the testing room, your eyes are drawn to the lab benches, which are stacked with various types of product samples. "As of late," Melzer explained, "the samples have mostly consisted of laminate and engineered wood flooring."
There are a variety of test methods the technicians perform per request of the customer. In the pictures below you can see them at some of the many tasks Skye, Melzer and Ben perform under the supervision of the program manager.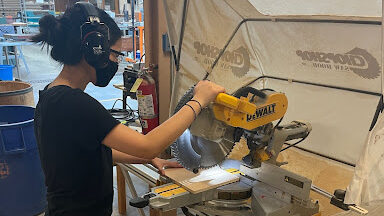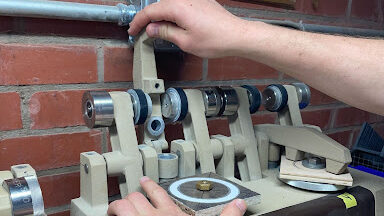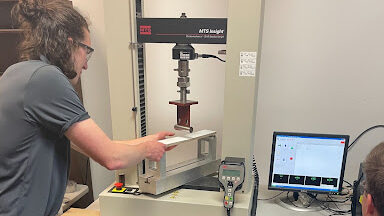 By working closely with these companies and conducting the trials, Ben, Melzer and Skye have learned how to communicate with industry professionals and structure testing as they would in the industry. The students have gained invaluable experience with time management, as they  work together to test and to return the samples back to the supplier in the expected timeframe while managing busy class schedules. Further, they learn more about the quality of wood materials from every test they perform, which makes it a wonderful supplement to the theory learned in the classroom.
Author: Allie Temple, PSE student