Alumnus Spotlight: Matthew Byington
Matthew Byington is from Apex, NC, and earned a Bachelor's degree in Sustainable Materials and Technology in 2016 from NC State. He went on to earn a Masters in Forest Biomaterials in 2022. He worked with Dr. Sunkyu Park to research "The Analysis of Exfoliated Graphite as used in the Fabrication of Graphite Foil With Biomass-Derived Synthetic Graphite Considerations." We recently had the chance to catch up with Matthew and ask him about some of his experiences here at NC State.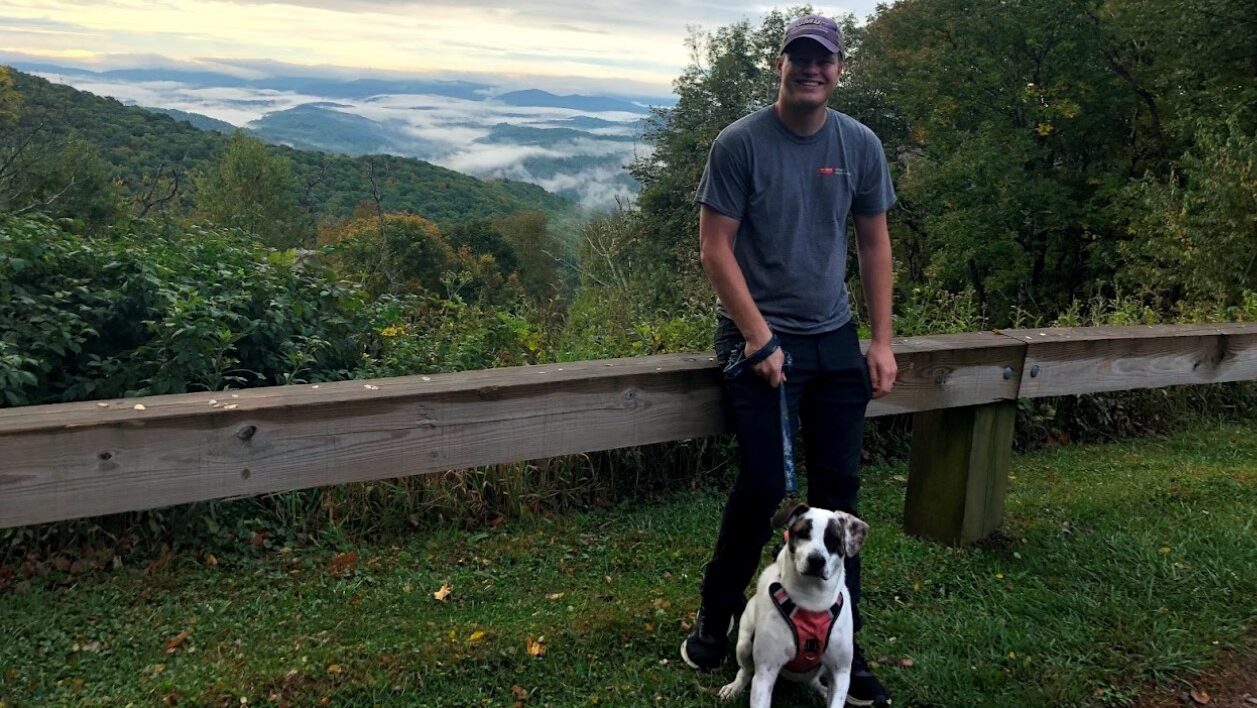 WHAT INSPIRED YOU TO PURSUE A GRADUATE DEGREE IN FOREST BIOMATERIALS?
I wanted to broaden my understanding of material science, specifically biomaterials. Graduating undergraduate school in the middle of the pandemic did not leave me with many job opportunities, but I was fortunate it did give me the chance to go to graduate school.
WHAT WAS YOUR FIRST JOB AFTER EARNING YOUR GRADUATE DEGREE?
I serve as the Sustainability Manager at Mattamy Homes in the Raleigh Division. I just graduated so I am still getting in the swing of things. So far I have developed our pathways for waste reduction and tracking, lowering our land development impacts, analyzing building sciences, and worked on making sustainable solutions more available to our future homeowners.
WHAT ASPECT OF YOUR CAREER ARE YOU MOST LOOKING FORWARD TO?
There are a lot of challenges in sustainability, especially in an industry that is known to not prioritize it. Every little improvement we make in sustainability gets multiplied by the number of houses we build, so it'll be exciting to see the differences.
WHAT WAS YOUR FAVORITE THING ABOUT FOREST BIOMATERIALS AND/OR THE COLLEGE OF NATURAL RESOURCES?
I think Forest Biomaterials is full of people that want to learn and develop cutting-edge research. The amount of publications and cutting-edge research coming from the department is unmatched.
LOOKING BACK, WHAT ADVICE WOULD YOU GIVE TO AN INCOMING GRADUATE STUDENT?
I think one of the best things you can do in grad school is make a schedule as soon as you can and tell your advisor so they can work with you to keep you on track. There are so many things you have to juggle including classes, research goals, publication submissions, qualifying exams, etc. There is nothing wrong with scheduling and organizing as much as you can.
LOOKING BACK WHAT IS SOMETHING YOU WISH SOMEONE HAD TOLD YOU IN GRADUATE SCHOOL?
You have to become an expert on your topic in a short amount of time so get ready to read. I had no idea how much I'd learn about graphite in such a short amount of time. You may not understand what you are reading at first, but the only way to learn is to keep reading.
WHAT WAS YOUR BIGGEST CHALLENGE AS A GRADUATE STUDENT?
The biggest challenge was trying to figure out your next research step. Do you need to read more? Or redo your experiment? Or try another experiment? More testing? Sometimes things go according to plan while other times you're several trials in without it working. It helps to have a good advisor and lab group that can help at these points.
WHAT DOES YOUR IDEAL DAY OFF LOOK LIKE? IN OTHER WORDS, WHAT DO YOU ENJOY DOING OUTSIDE OF WORK?
Outside work, I try to get outside as much as possible. I love walking my dog, Maple, hiking, kayaking, or woodworking. I like to keep moving and work with my hands. In 2021 my wife and I were able to visit every NC State park and complete the passport program.
WHAT IS THE BEST CAREER DECISION YOU'VE MADE?
The best career decision I have made has honestly been constantly finding mentors. Starting my freshmen year I was able to find mentors and I have found them every step of the way since then. It helps having people that know you and are in your corner to help you as challenges come up.