Richard Thomas Endowment Lecture Series
In 2019, Dr. Richard Thomas, alumnus, former professor and department head in the College of Natural Resources, generously established an annual lecture series in Forest Biomaterials. When it was founded, the Richard J. and Margaret M. Thomas Endowed Lecture in Natural Resources aimed to highlight notable research from across the country or world.
The first event was held on March 8th and 9th, 2022, at Talley Student Center and the University Club. The event kicked off with a lecture series from visiting professors from the University of Natural Resources and Life Sciences, or simply BOKU, in Vienna, Austria. Professor Antje Potthast spoke on the "Analysis of Lignocellulose – Adding Some New Methods to an Old Case" and Professor Thomas Rosenau on "Towards a Better Understanding of Cellulose Swelling, Dissolution and Regeneration at the Molecular Level." Industry professionals, students and faculty members from NC State and BOKU attended the event. NCSU students saw it as an opportunity to learn what other research is being done around the world, and how their own works compare to it.
Following the lectures, NC State and BOKU graduate students hosted a poster session and reception at the University Club. When the endowment was established in 2019, Thomas emphasized the importance of research and how supportive NC State was when he was a graduate student. Dr. Hasan Jameel, who helped organize the event, explained that, "the poster session and reception was an idea he came up with to supplement the lecture series so that students were part of the event." Amelys Brito is an NC State student that presented at the poster session. She really enjoyed the experience and felt that, "the relaxed atmosphere made it easy to connect with other students outside of work, and understand each other's research." The session gave current graduate students an opportunity to expose their own research and gain support from their colleagues.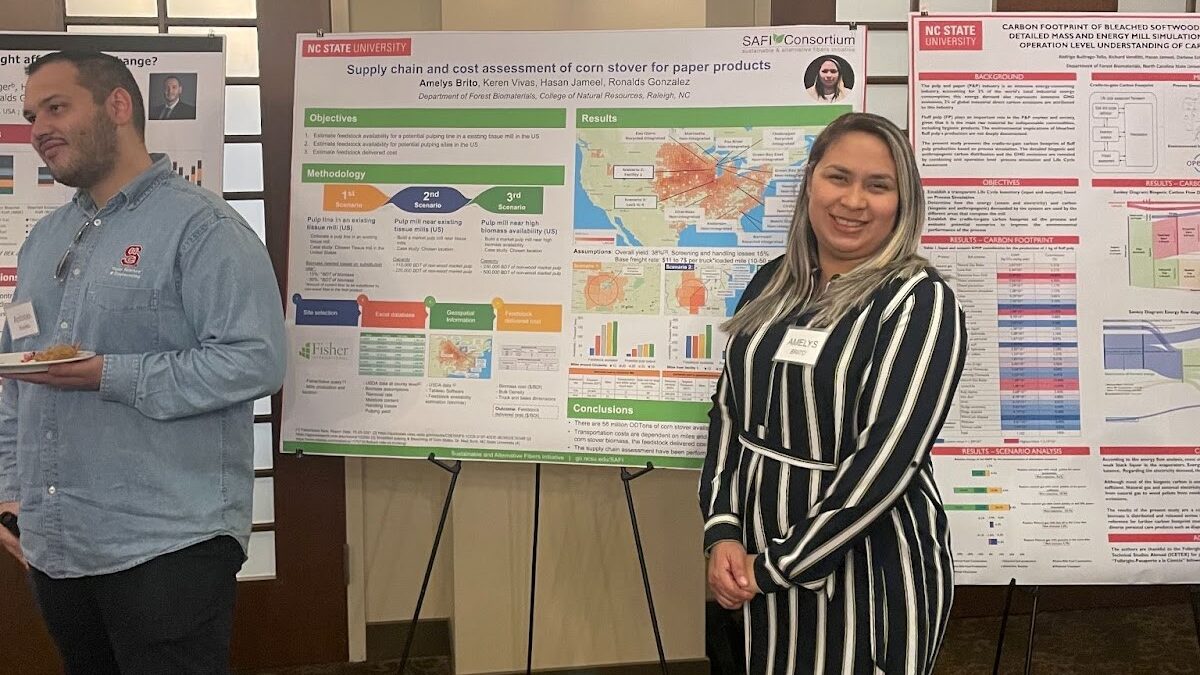 The last event of the day was a dinner for all the attendees. Amelys was very excited to sit at tables with people she had never met before. She made connections with industry professionals from Eastman and even Finland. It was a great opportunity to reflect on what was learned throughout the day.
On the second day of the event, two students from BOKU and two from NC State presented their research. These seminars were another way to make everyone feel a part of the originally established lectures. It was wonderful for students to share their work to the whole audience. Further, it was a great way to close the event and allow students to share similarities between their research and what had been shown by the BOKU professors and the other presentations.