History of Our Department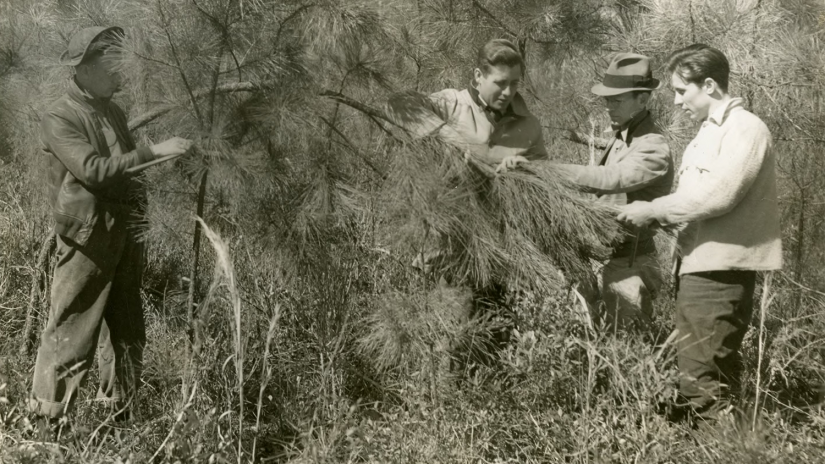 Our Beginnings
The Department of Forestry and Environmental Resources (FER) was founded in 1929 as NC State's Department of Forestry. Since then, we've grown steadily in scope and global reach to reflect evolving industry and environmental concerns. Our history reveals a timeline of breakthroughs in forestry and natural resource management achieved by many of the industry's most respected academic and research leaders.
Originally established to aid North Carolina's forestry industry, NC State's Department of Forestry drew much of its founding faculty from the Pennsylvania State Forest Academy at Mont Alto, home to the nation's first forestry school, when it closed. We absorbed much of the faculty and students, making NC State heir to the oldest forestry program in the nation.
Initially, we focused on training students to grow, harvest and sell timber, while seeking new ways to protect the state's forests against threats like fires and pests. The Department of Forestry quickly began to acquire tracts of forest land to provide hands-on training to students and work with industry to pursue new techniques in breeding, harvesting and land management.
An Expanding Focus
In 1950 the Division of Forestry was elevated from a Division of the NC State School of Agriculture to become the School of Forestry. Its focus expanded rapidly in subsequent decades, keeping pace with forestry industry developments. A number of joint degree programs, sponsored in conjunction with other NC State units, were added to the school's academic offerings, allowing students to explore emerging fields in forestry sciences, wildlife management and the new area of natural resource management. Enrollment within FER kept pace and rose dramatically, as the number of endowments grew and expanded the school's ability to fund activities.
Industry, government partnerships and extension efforts also grew as the obvious benefits of placing faculty and students on the frontline of the industry became standard practice. Our long list of NC State alumni leading related industries also became noticeable worldwide.
In the 70s and 80s, our international reputation spread as new partnerships were forged on new continents. Environmental concerns took hold worldwide and we added natural resource management as a primary area of focus. Our long list of contributions to forestry, such as enhancing the productivity and hardiness of critical commercial tree species; pioneering silvicultural techniques to enhance forest productivity; increasing seed production; charting major advances in understanding genetic variations in species; developing more efficient and cost-effective breeding strategies for forest trees; integrating new biotechnologies into conventional breeding strategies; and creating a library of hundreds of key scientific articles that shared the knowledge our faculty had uncovered; also began to draw international attention.
In the early 90s, we added the restoration of ecosystems to our responsibilities, mounting efforts to identify challenges, repair damages caused by humans or natural disasters, and integrate ecological restoration practices with economic and cultural practices. Technological advances in the 90s also fueled new research initiatives built around genetic engineering and other state-of-the-art techniques that made a whole new level of discovery possible. In 2004 we assumed our current name, Department of Forestry and Environmental Resources.
Future Forward
As the 21st Century dawned, our continuing focus on the practical education of our students created a unique school of forestry and environmental resource management — one where students, faculty, researchers and outside partners can work together in a results-oriented environment on the frontline of rapidly-changing fields. This approach makes it possible not only to produce well-trained graduates ready to take advantage of the best job opportunities available each year, but to continually adapt quickly to new developments in forestry and environmental resources, often leading the way to tomorrows full of innovative ideas and future-forward thinkers.
Read More About Our History