Courtney Kirberger: Meet the Millpond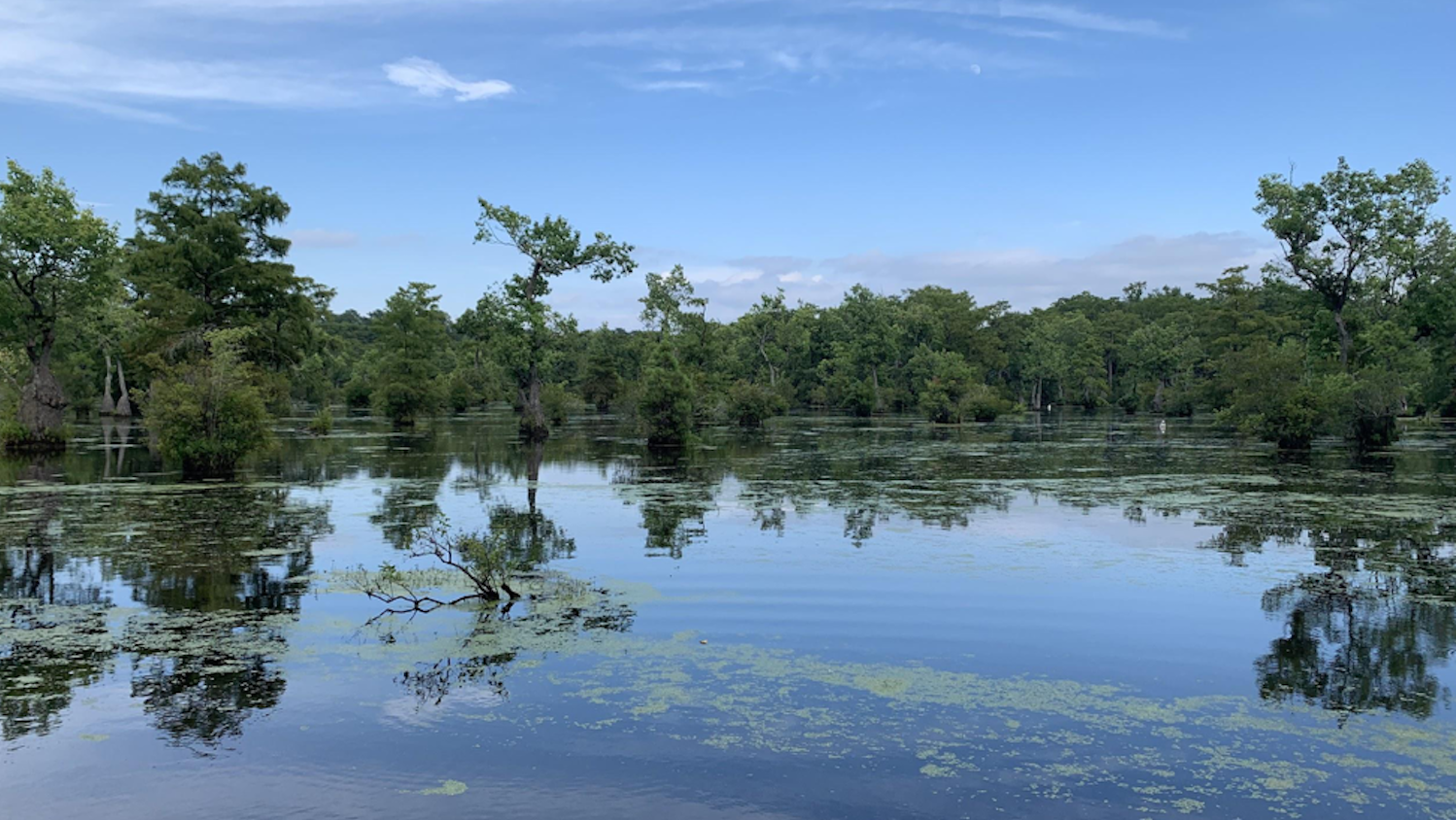 How would you like to do something different everyday? While this wasn't what I expected, that was exactly what happened during my time at Merchants Millpond State Park – and I could not be more grateful for the diverse and exciting experience I never anticipated. Merchants Millpond State Park is located in Gates County, NC and is known for its historic millpond and the American alligators that call the waters home. The pond was originally built in the early 1800s where it became a central hub for trade in the area, earning its name Merchants Millpond. Through the 1900s, the pond was sold to developers and then bought by A. B. Coleman who donated the land to the state so that the magnificent pond might never be lost. While I had anticipated spending the majority of my internship working on their Environment Education programs, COVID-19 made programming essentially nonexistent. Instead, Steve Rogers, the Park Superintendent asked me to work on the invasive Chinese privet that had turned into large groves which shaded out ground level native vegetation and provided little wildlife benefits.
Working on invasive species was not something I had any experience in, and I later found out that this assignment was meant to see how I would approach a challenge. While I did not know much about the practice of managing invasive species, I had some direction about what needed to be done in preparation for the actual application of techniques. I worked to map the areas of privet using ArcGIS, which I would later end up sharing with Jonathan Short, a Natural Area Biologist/Invasive Species Specialist that works for the State. I also submitted reports to EDDMapS for review, where they would hopefully end up on a public database for invasive species. As I was working on the privet, Mr. Rogers and Park Ranger Emily Bunyea identified other invasive species such as Asiatic dayflower, Japanese stiltgrass, and parrot feather which I continued to note the location of and submit reports to EDDMaps.
After having mapped the species, I was able to reach out to Mr. Short in order to set up a time and date for himself and his invasive species team to come out and go over different management techniques and get to work on treating the groves. In the interim, Head Ranger Jeff Turner and I tested out our own treatment method on an area of privet, shaving off the bark and applying an herbicide.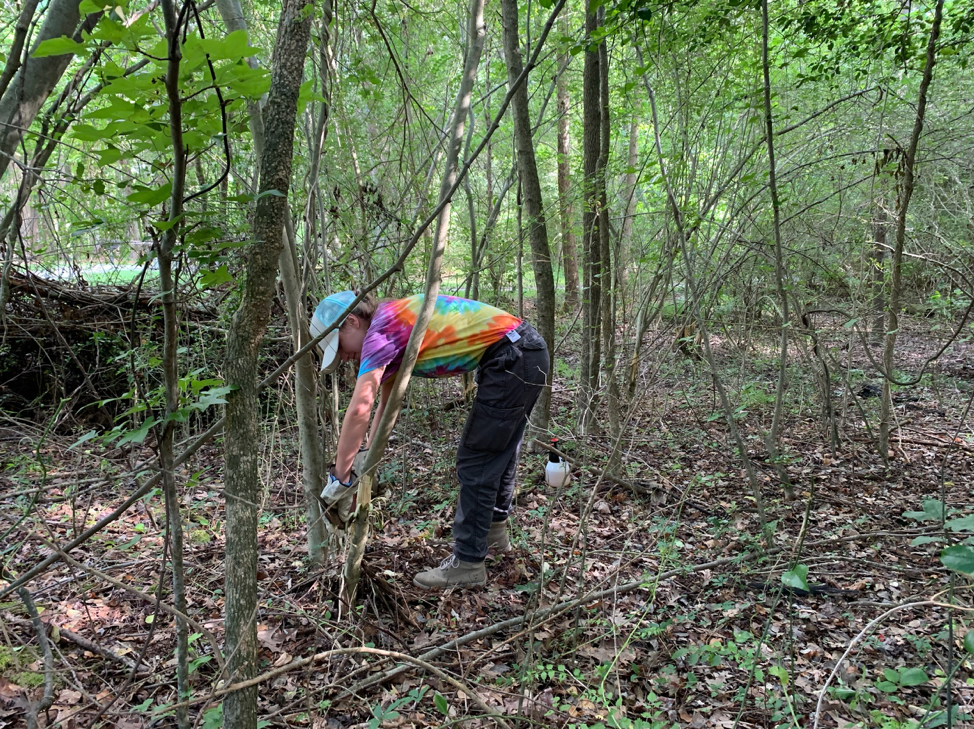 Upon their arrival, Jonathan Short and his team took us through different management techniques including hack-and-squirt and BASAL bark treatments. While my internship did not last long enough to see the impacts of their work, I have kept in touch and the Chinese privet groves have shown an extensive decrease in health and with any luck will not return next spring.
Although my main project was focused on invasive species, my experience was hardly limited to working on the Chinese privet. One of the most unexpected things that I was able to participate in was a prescribed burn at the park. Even though I did not have the qualification to actively participate in lighting the fires, I was able to shadow the paperwork process and got to use a Kestrel in order to monitor the relative humidity and the temperature right at the site!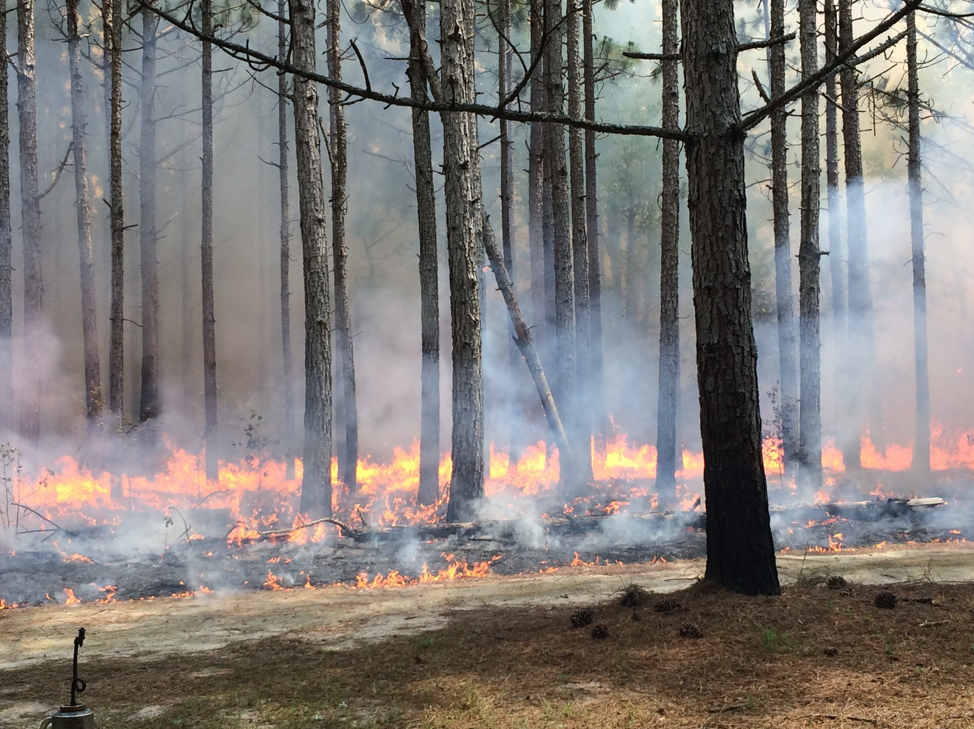 This was an experience I will not likely ever forget. I learned a lot about the importance of prescribed burning in managing land and ecosystems, as well as all the safety and precautions that take place during a burn. Following the day of, we went out and checked the site frequently, hoping that the number of trees would be thinned and more grassy vegetation would be able to take its place. This would allow for more species to be able to grow and therefore support more diverse wildlife. We were not disappointed in the results of the burn, and I also learned that getting an accurate temperature reading is not as easy as it seems when you're right next to a forest aflame.
Throughout my time I also replaced boardwalk boards, cleaned, put up park property signs, filled gas cans, and mowed where I lost all lawn mower races against the exuberant Ranger Wilkins, though my grass cutting skills were deemed admirable. Although work was ever present, it was not without fun. My favorite experience was an early morning canoe trip through Lassiter Swamp, the upper portion of the millpond characterized by the cypress tree forests you get to paddle through. While this trip started off with a swarm of yellow flies, it was well worth the bites. I got to see a pair of baby deer curled up together, their spots evident, a young beaver, a perched owl, otters, two young black bears romping in the water, and a Merchants Millpond signature – an alligator which swam far up ahead of us. I had never had such a rich experience seeing wildlife, and I imagine I will be hard pressed to come across another canoe trip as fruitful.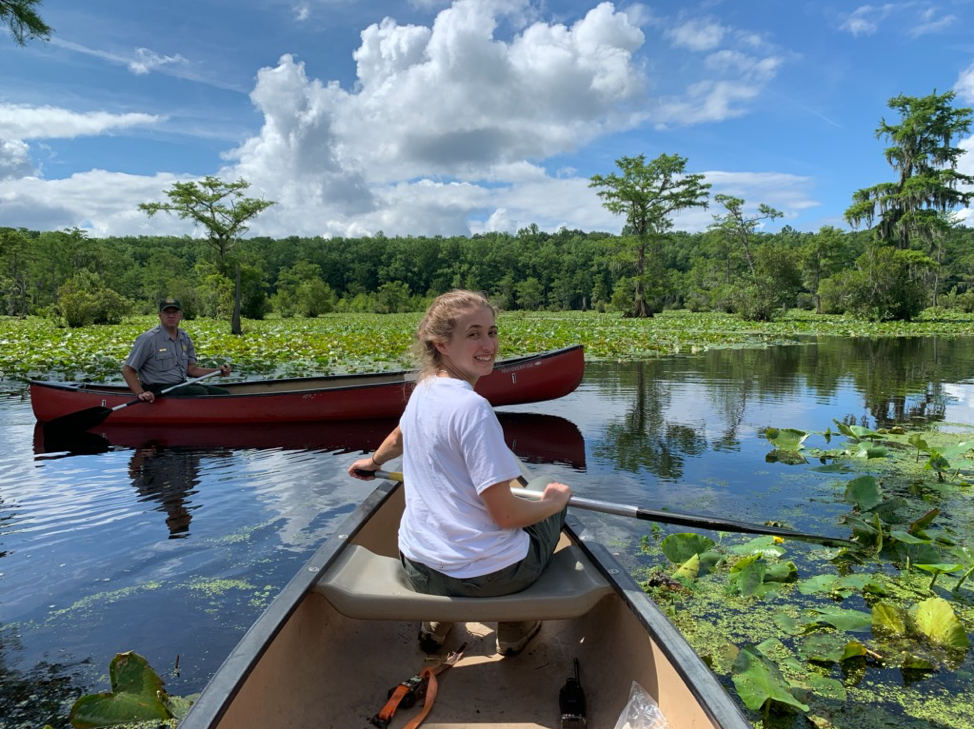 Overall my internship at the park was a perfect balance of challenges, learning, contributing, and enjoying my time during an otherwise tumultuous period for the world. It made me realize that moving into my career I won't always be prepared for everything that's asked of me, but that doesn't mean I cannot still complete the task at hand. I hope to be able to take what I've learned at this internship and follow a career path involved in environmental management and working with the parks. I know that wherever I end up, I will not forget the relationships I made and the experiences I gained while at the Millpond.