NC State's Christmas Tree Genetics Program: Keeping Our Christmases Merry and Bright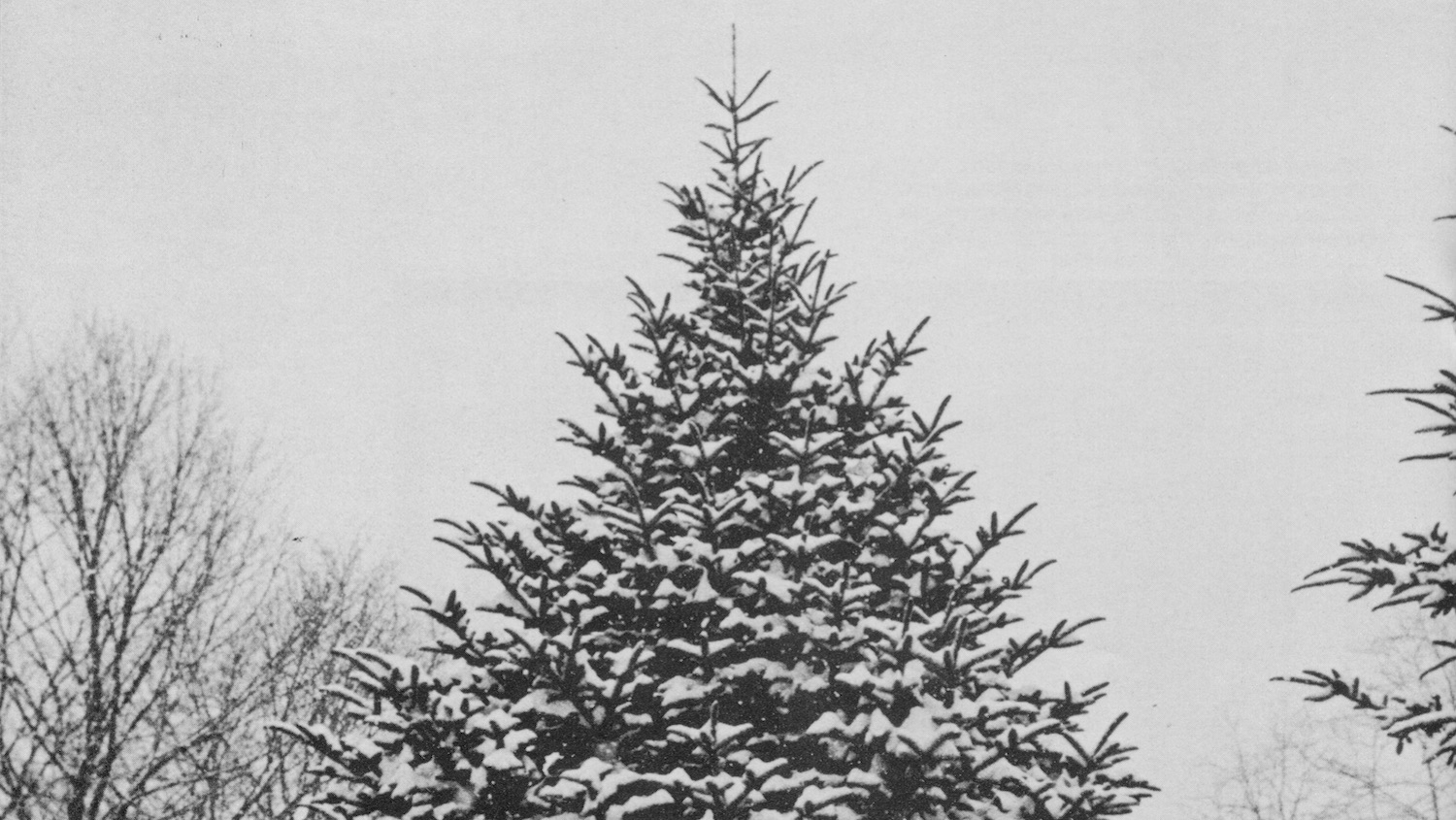 At one time (late 1800s-early 1900s) most Christmas trees sold in Southern states were grown and shipped from Northern states and Canada. Even into the mid-1900s, millions of Christmas trees were shipped primarily from Canada. Now, the North Carolina Christmas Tree Industry is second in the nation. North Carolina grown trees are consistently selected as the best of the best and are given the honor of adorning the White House Blue room. The Blue Room is primarily the home for Christmas trees in the White House, a tradition initiated by First Lady Mamie Eisenhower. So, how did North Carolina become known for Christmas trees? North Carolina's success can be traced back to a tree that is only found in a few locations throughout the southern range of the Appalachian Mountains of North Carolina – the Fraser Fir.
Fraser fir has soft needles and a comforting aroma, and an unmatched ability to retain its needles after harvest. Fraser fir represents ~98% of all Christmas trees grown in the state. However, other popular Christmas tree species include the Virginia Pine, Leyland Cypress, eastern White Pine, Eastern Red Cedar, and Arizona Cypress. These species are more readily available to North Carolinians living in the Eastern part of the state.
The North Carolina State University Extension Forestry team plays a central role in providing scientific support to the North Carolina Christmas tree industry through the NCSU Christmas Genetics Program. We spoke with Dr. Justin G. A. Whitehill, Assistant Professor in the Department of Forestry and Environmental Resources and newly hired Christmas Tree Genetics lead about the program's goals and successes.
Dr. Whitehill inherited the Christmas Tree Genetics Program from NCSU FER Professor Emeritus, Dr. John Frampton, who was the first official Christmas Tree Geneticist for the state and helped to establish the program starting in 1996. Dr. Frampton left a legacy through his genetics research that will benefit the NC Christmas tree industry for generations to come. One of his achievements includes the establishment of an elite Fraser fir seed orchard that will serve as a genetic resource for the industry and provide the best of the best genetics to growers in the state for generations. Dr. Frampton and his team analyzed tens of thousands of Fraser Fir trees representing genetics from all over its natural range. The best of the best trees with elite genetic traits like soft needles, a pleasant aroma, strong branches, fast growth, high value as a Christmas tree, and the best at keeping their needles after a tree was harvested were selected from these tests. These trees will serve as a unique and elite resource for the industry and will ensure North Carolina stays at the top of the pack.
Dr. Frampton also studied pests and pathogens that negatively impact Fraser Firs. Dr. Whitehill says he looks forward to build upon the extensive accomplishments of the NCSU CTG Program and is humbled to be able to lead the program into the future. Dr. Whitehill notes that climate change will be a significant challenge for trees of all species due to increasing temperatures. Dr. Whitehill plans to apply modern methodologies to generate pest and pathogen resilient Christmas trees that are better prepared for a changing climate, which will be critical for the continued success of North Carolina's Christmas Tree industry. One exciting modern approach Dr. Whitehill looks forward to apply to his research is CRISPR-based technologies for genome editing. Dr. Jack Wang (Assistant Professor in the Department of Forestry and Environmental Resources) has pioneered the application of CRISPR-based technologies to Fraser fir. Dr. Wang, who serves as the director of the Forest Biotechnology Group, has invited Dr. Whitehill to co-direct the group with him. Dr. Wang and Dr. Whitehill have combined forces and are excited for the endless possibilities that exist to help usher forestry into the 21st century. Dr. Whitehill's research will focus on the identification of favorable traits and genes in Fraser Fir trees, which will then be targets for the use of CRISPR to edit the genome and enhance traits in trees for the industry.
Some of the pests and pathogens addressed by the Christmas Tree Genetics Program include:
Deer are one of the pests that can seriously disrupt Fraser fir survival in the early stages of the trees life cycle. Herds of deer will browse and ingest the young tender shoots of Fraser fir Christmas trees in newly established plantations. Damage from deer browse and other grazing ungulates is a common problem for young trees all over the world. According to Dr. Whitehill, the specific compounds that contribute to a trees aroma can deter deer browse and prevent devastating young tree stands. These traits are all under genetic control.
Fraser Fir has been decimated throughout its natural range due to an invasive insect pest called the balsam woolly adelgid first introduced into North America from Europe sometime in the 1950's. The realization that Fraser Fir was a superior Christmas tree helped to save this species from extinction. However, the balsam woolly adelgid is still a problem for Fraser fir. Its thought that some Fraser fir trees are resistant to the balsam woolly adelgid. However, no mechanism is currently known. A major goal for the future of the CTG program is to understand resistance traits so insect resistance can be introduced in future generations of trees in order to fight this pest through natural means.
Phytophthora Root Rot is a disease caused by a species complex and is extremely difficult to eradicate once it has been found in a field. The pathogen likes slightly cold and wet environments. Several strategies have been developed to reduce damage from this disease. However, most methods are very labor-intensive and expensive which makes them impractical for most growers. The NCSU Christmas Tree Genetics Program is continuing to develop more economically feasible control methods. Ultimately, the best approach to mitigate damage from this pathogen is through the introgression of genetic resistance into elite genotypes.
How has COVID affected this year's Christmas Tree season?
The National Christmas Tree Association has sent guidelines out to growers on how to proceed and protocols to follow during this time. North Carolina growers are paying close attention to these guidelines and follow them precisely in order to ensure that their customers are safe. There is, however, a silver lining to the global pandemic this Christmas season. Seasonal crops like strawberries and pumpkins experienced a great year in 2020, and Christmas tree growers are already seeing that trend continue. Since many are staying home, a Fraser Fir Christmas tree may be what North Carolinians need to bring some joy to their holiday season. Finding a perfect Christmas tree, setting the tree up, and decorating is a great family activity to brighten homes this holiday season.