LaRon Locklear: A Wonderful Summer in Mooresville
This summer has been one of my greatest experiences since I have been in college. I am interning with the Town of Mooresville North Carolina. Mooresville is in the southwestern part of Iredell County and is a part of the rapidly growing Charlotte Metro area. Also, Lake Norman is located just west of Mooresville. The town has a population of nearly 40,000 people and is expected to reach 50,000 people within the next few years.
With the Town of Mooresville, I serve as the intern for the Public Utilities Department. The utilities department consists of the water treatment plant, wastewater treatment plant, water and sewer maintenance, stormwater maintenance and the administration for the department. The water treatment plant treats roughly 8 million gallons of raw water from Lake Norman daily. The wastewater treatment plant treats around 5 to 6 million gallons of wastewater daily and discharges it into the Rocky River. All of which is connected to approximately 600 miles of water and sewer lines which the utilities department maintains. I have worked on several projects including since I have started my internship.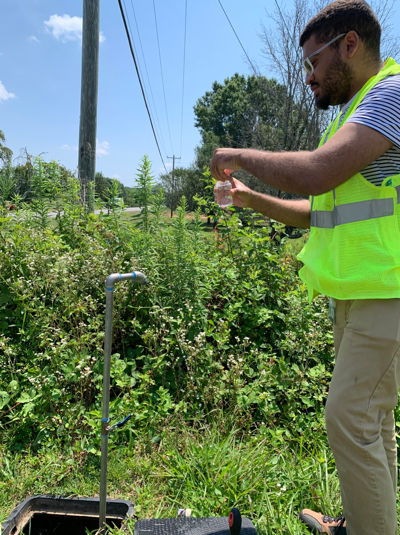 My internship role has varied based on the two sites that I have worked at. For the first six weeks of my internship, I worked at the wastewater treatment plant. Here most of my responsibility was to help the lab analyst run lab bench tests such as pH testing, settleability, total suspended solids, total fecal coliform, and biological oxygen demand. Also, I helped the environmental compliance staff with data for the plant's NPDES permit, Industrial Waste Survey data and I worked with the groundwater monitoring project for the plant's on-site monofill containing sludge.
Now, I have been moved to the water treatment plant site and will spend the remainder of my four weeks there. Here, I will be running drinking water lab bench tests and learning how to properly operate a water treatment plant with supervision. Also, I will go out weekly with environmental compliance staff to sample various drinking water sites across the town. Lastly, I will help stormwater staff members with various projects across the town, including inspecting stormwater outfalls.
My internship is great, and I have been enjoying it to the fullest. First and foremost, I enjoy the people that I work with. Every one of my co-workers has been welcoming and very kind. They are willing to answer any questions that I have, and they teach me something new daily. Second, I love that I get to work on projects that I have interest in. For example, the groundwater monitoring project was very interesting because I got to apply knowledge, I learned from some of my Environmental Technology and Management classes. Lastly, my responsibilities and tasks are balanced very well. I get to work some in an office setting and I get to work outside, which I really enjoy.
Going forward career wise, I am partially open to pursuing a career in water quality or in water treatment, but I would prefer a management position. However, I am more interested in the areas of environmental compliance, environmental consulting/assessment, and hazardous waste management. Ultimately, I will strongly pursue a career in the mentioned fields, but I am open to all reasonable career options.
Looking at the bigger picture, I have gained a better perspective of my professional life since I have been working this internship. For one, I know that I would prefer to work for a private company or a municipality. Also, I like to have a balanced work environment of working outside but also maybe working in an office setting to collaborate with coworkers and other people. Lastly, I feel that I know what I want in a career and as of right now I am continuing to plan for it. My hope is that I will be in a career path of my choice within the next five years, especially after obtaining my degree upon graduating from North Carolina State University.