Audrey Benton: Uncovering the Wonders of Our Coasts
Imagine waking up, stepping outside, and seeing dolphins swimming right in your backyard. That's what I did this summer at the North Carolina Coastal Federation in Wrightsville Beach, North Carolina. The foundation has five main objectives consisting of clean water, oyster nourishment, marine debris removal, living shorelines, and coastal management. As a Coastal Education and Outreach Intern at this organization, I worked to advance these goals by implementing coastal education and engagement activities. I gained environmental stewardship experience by building an oyster reef, planting marsh grasses in a living shoreline project, removing marine debris at Carolina Beach State Park, and working with the public to maintain and upkeep previous living shoreline projects. While working with a team of four other interns, we safely collected small marine creatures from the intracoastal waterway nearby every Monday in preparation for our recurring Touch Tank Tuesday events, after which we would release the creatures back to their natural habitats. Touch Tank Tuesday was the central focus of my internship. During these events, I built connections and informed locals and visitors about the importance of our ecosystem through demonstrations and educational games. One of my favorite touch tank memories was when a group from EMPOWER Camp Wilmington visited us. EMPOWER is a summer recreation camp for individuals with disabilities, varying in ages from kindergarten to high school. When they came in for Touch Tank Tuesday, their faces lit up so bright. You could tell how excited they were and how much they loved seeing all of the sea creatures. It was really special talking with them because they were so enthusiastic and meaningful in the connections they formed with us. Everyone left that day smiling and feeling so incredibly wholesome. Our foundation also interacted with another local nonprofit, DREAMS of Wilmington, which is an organization that fosters creativity and community in youths in underserved communities. In our partnership, we helped teach and engage the children in different activities relating to the foundation's main goals. One activity that the kids loved was the stormwater runoff interactive demonstration called the Enviroscape.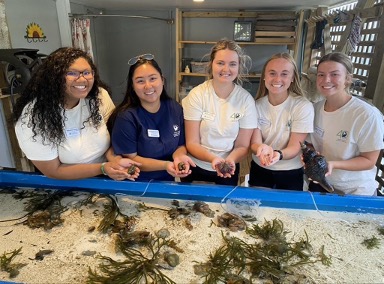 I couldn't have asked for a better summer internship experience here at the North Carolina Coastal Federation. During my time in Wrightsville, I gained some valuable skills that I can take into future endeavors. Time management was a necessary skill that I had to work on. We had to time our Monday collections around low tide, so some mornings we had to be in by 5:00 or 6:00 AM. On Tuesdays, we set up all the educational stations before Touch Tank Tuesday began at 8:00 AM. By the end of the summer, we became so efficient at setup and cleanup that we wouldn't even need half of the scheduled time. Public speaking and communication were probably the biggest assets I obtained. Before my time here, public speaking always made me pretty anxious, but now I have developed stronger communication skills and have more confidence in the area. We had to be able to speak to large groups of up to 40 people every Tuesday in a sometimes hectic environment. We explained the goals of the federation, presented various sea creatures that we caught, demonstrated the effects of stormwater runoff and methods to reduce it, and discussed various shells and microscopic organisms found along the coast. At the end of the summer, we presented and discussed the aforementioned internship experiences that we completed over three months.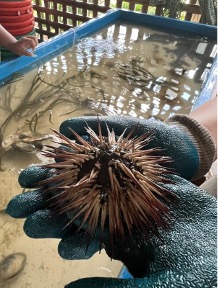 I am thankful that I was able to use my education and previous experiences to succeed in this position. Last spring semester, I took a course on animal phylogeny and diversity. In this course, we learned about the major animal phyla and specific facts and differences between them. Most of the course focused on marine invertebrates, which covers a majority of the organisms that we worked with this summer. It gave me a solid background knowledge of the animals and helped me to educate the public when discussing animals at the touch tank. Another experience that helped to prepare me for collections was my course at CMAST in Morehead City last summer. That was the first time I used a seine net or dip net to catch sea creatures like that. I also grew up watching my grandpa throw the cast net, so learning how to use them this summer was really special.
I appreciated many of the experiences that we got to have this summer. If I never came down, I wouldn't have been able to meet such an amazing group of people and formed some of the greatest friendships yet. That was probably my favorite aspect of the internship. I created strong connections with people that I hope to keep for a long time. I am also appreciative to be able to see how different local nonprofits support each other and work together in their various missions, such as through our interactions with DREAMS of Wilmington. I really appreciated the boat trip to Money Island and Masonboro during the last full week of the program. We took the boat to Money Island as a scouting trip for future living shoreline projects, but we also were able to bond as a team and explore the islands together. Growing up, my grandpa would always take us out on the water on his skiff and these experiences brought me back home in a way and reminded me of that.
I never thought that I would be interested in an education position before, but this internship position exposed me to another side of the marine science world that I could see myself as a part of in the future. Seeing the children tell their friends about the different creatures and lessons we taught them was especially fulfilling. It is so important to provide the younger generations with knowledge and useful environmental skills as the climate crisis grows more and more prominent.