Military Students Choose MGIST for Career Training in Geospatial Intelligence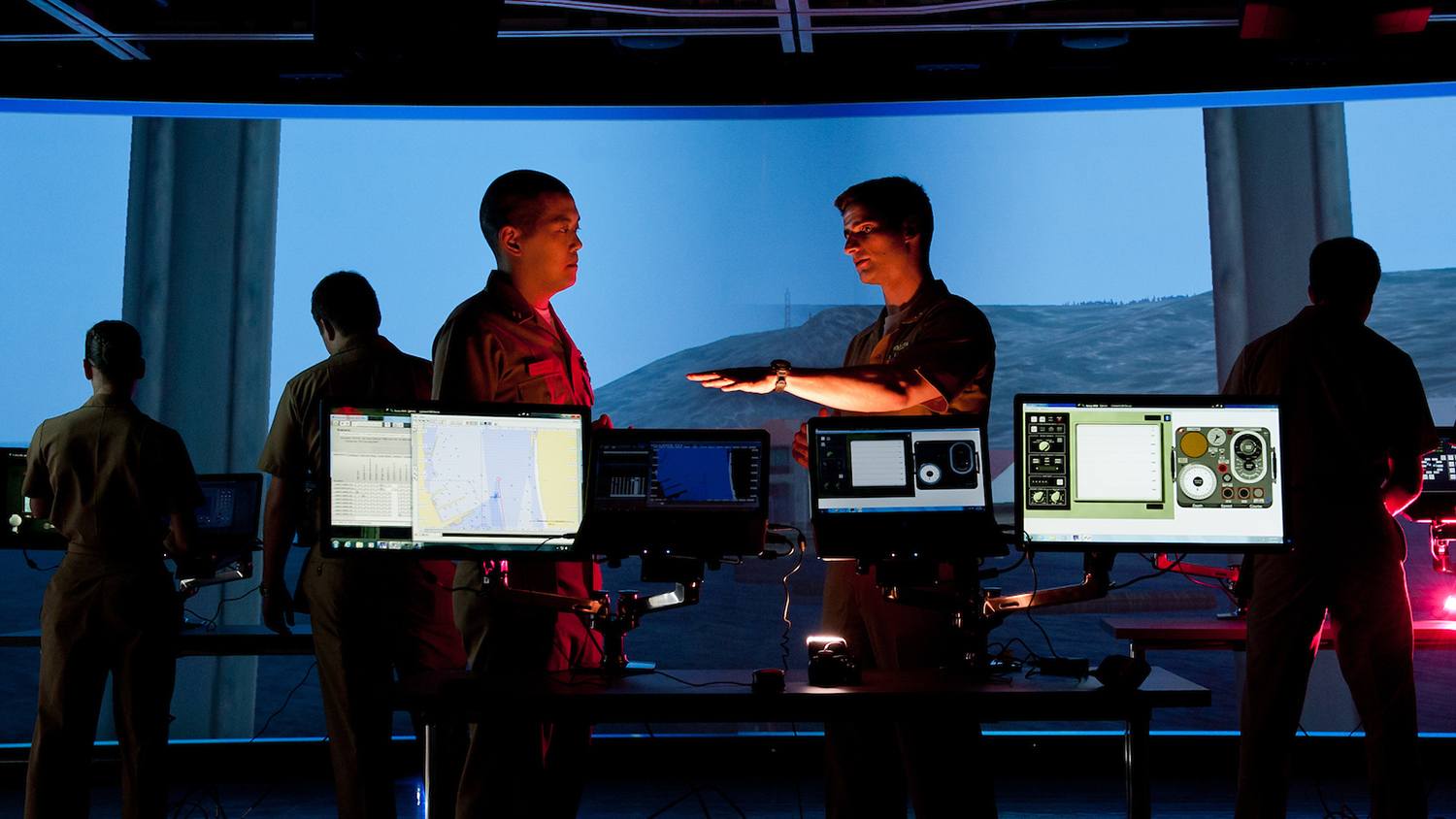 As a top-ranked military friendly school, North Carolina State University is committed to supporting active duty and veteran students and helping them reach their professional goals. For many military students, those goals include a successful career in geospatial intelligence, and the Center for Geospatial Analytics' professional master's degree in Geospatial Information Science and Technology (MGIST) helps them get there.
"About twenty-five percent of MGIST students are military-affiliated," says Eric Money, the center's associate director of professional education and director of graduate programs for the MGIST. In fact, the MGIST ranks second only to NC State's MBA as the graduate program with the most military enrollment across the university. Both active duty and veteran students number among the MGIST's many alumni and current enrollees, and the program's popularity speaks to its flexible online curriculum and its connections with real-world problem-solving.
"Geospatial intelligence as a field emerged out of the defense community," Dr. Money explains, "but it has grown and the definition is still expanding. More broadly, geospatial intelligence encompasses understanding the world through geospatial data. Our program provides well-rounded expertise in both the theory and technical applications of geospatial science, with the flexibility for students to explore their specific interests. Some students also bring in their own knowledge of geospatial intelligence, and benefit from learning from others in the field."
US Army Captain Dan Oberrender, new to the program this semester, is an intelligence officer and applauds the MGIST faculty for their approach to learning. "They're not just giving me the fish; they're teaching me how to fish," he says. Oberrender views his MGIST training as an opportunity to discover new ways to leverage geospatial technology and strengthen his abilities to find geospatial information, perform analyses and inform decision-making. With fourteen years of active duty experience, Oberrender plans on a career within the military, but he also sees the MGIST as preparation for other opportunities after he retires.
Providing an education relevant to changing industry needs means keeping up with national trends, and so the MGIST program maintains connections with the National Geospatial-Intelligence Agency (NGA) for professional development and research, and is seeking accreditation through the US Geospatial Intelligence Foundation (USGIF). "Being accredited by USGIF would acknowledge that our program meets their educational requirements to prepare students for a geospatial intelligence career," Dr. Money explains, "and it provides access to technology, job opportunities, conferences and networking." Currently only sixteen schools are accredited nationwide.
The MGIST program also maintains an extensive alumni network and regularly collaborates with military partners for capstone service-learning projects. "The MGIST program compels students to think critically about geospatial problems," Dr. Money says, "particularly in the capstone, which requires students to build a project from the ground up." Students have worked alongside, for example, personnel at Fort Bragg and the North Carolina National Guard to create solutions using GIS technologies. Current students and alumni have also been recognized nationally for their talents. US Air Force officer and current MGIST student Joshua Turner won the 2018 Ken Miller Scholarship for Advanced Remote Sensing Applications, a $10,000 prize awarded to one master's degree student each year. US Army veteran and 2016 MGIST graduate Greg White was hired by the NGA as a branch chief.
Military students who enroll in the MGIST program come from a range of backgrounds and often have a strong interest in broadening their understanding of the utility of GIS both within and outside of military service. Alex Reinwald, currently a member of the Army National Guard, began his MGIST program in 2017 while on active duty as an Army captain at Fort Wainwright in Alaska. Trained as a military intelligence officer, he is skilled in pulling together diverse datasets and performing custom mapping to develop shared understanding for operations. "I have used GIS throughout my career," he says, but his decision to pursue a graduate degree stemmed from an interest in expanding his expertise on the "research side" of GIS and learning to "build geospatial research techniques." In particular, he credits the MGIST program with providing a "better understanding of the geospatial tools at your disposal and how they fit together." In August 2018, Reinwald began a new career as a geospatial data analyst at Growers in Garner, North Carolina, creating custom reports and using agricultural and soil data to "help partner farmers make evidence-based decisions about their operations." He works alongside another MGIST alum at the company while still earning his own degree part-time. With GIS, "you're going to be in front of a computer anyway," he says. "GIS lends itself to online learning." And "instructors were flexible with my [military] training schedule and made sure that I kept up with the pace of classes."
So, what advice do our current students have for prospective applicants?
"I do not have a computer science background, coding, scripting. And that was a big concern" before applying, Oberrender explains. But he soon learned that he needn't have worried. "People without a computer science background, fear not! The program is intuitive and step-by-step. You will be taught how to code. Don't let that be the reason you don't apply." He also points out that military students can face more paperwork to enroll in graduate programs, and so he urges interested students to start the process as soon as they can.
Reinwald also suggests getting a head start on your program by contacting students and faculty before classes start. "The faculty are there," he says. "Reach out to them ahead of time and know your goals going into the program." Students can tailor their experience to what they're interested in, he explains, because the MGIST offers so many different electives. New students should feel free to contact faculty, and even other students, to get an idea of what to expect in the different classes. "GIS is such a holistic science and technology," he says, that there will be many other people in the program and alumni network whose interests will overlap with yours and who can give you good advice.