"I Use Geospatial Analytics To…" Part IV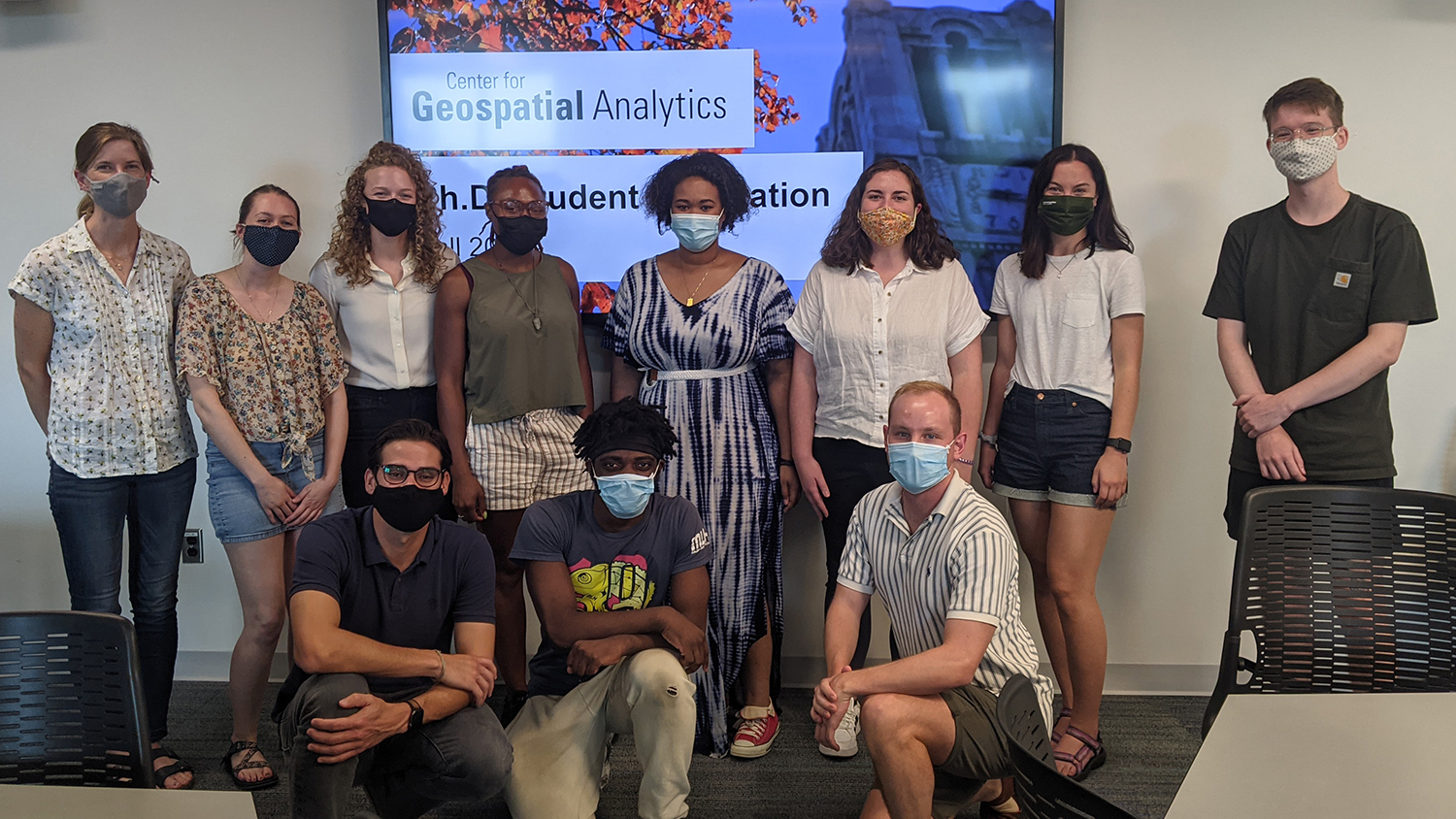 In Fall 2021, the Center for Geospatial Analytics welcomed its fourth cohort of Geospatial Analytics Ph.D. students. Geospatial analytics is a branch of data science that spans myriad disciplines, and our students' research interests are just as varied!
Curious about what our newest students will work on for their dissertations? Check out how they will use geospatial analytics for research, as they join our first, second and third cohorts of students on their academic journeys.
"I use geospatial analytics to…"
"…leverage remote sensing to analyze environmental change as it relates to water cycles and freshwater availability."
Jenna Abrahamson
Advisor: Josh Gray
"…analyze satellite remote sensing data to better understand sweet potato production trends and bring in a rich perspective of on-the-ground challenges."
Randi Butler
Advisor: Natalie Nelson
Our students are funded by a mix of program support and external grants from NASA, NSF, The Nature Conservancy, USDA and more. And all of our Geospatial Analytics Ph.D. students are fully funded for four years.
"I use geospatial analytics to…"
"…analyze how people participate in physical activity."
Christopher Dunstan
Co-advisors: Aaron Hipp and Laura Tateosian

"…examine urban development and displacement of human populations under varying climate change scenarios, specifically focusing on flood events."
Margaret Lawrimore
Advisor: Ross Meentemeyer
The Faculty Fellows advising our students have academic homes in the Departments of Biological and Agricultural Engineering; Civil, Construction and Environmental Engineering; Computer Science; Forestry and Environmental Resources; Marine, Earth and Atmospheric Sciences; Parks, Recreation and Tourism Management; Population Health and Pathobiology; and more! In total, the Center for Geospatial Analytics' Faculty Fellows program unites experts from over a dozen academic departments and seven colleges across NC State.
"I use geospatial analytics to…"
"…study hydro-ecological systems to better understand the benefits of different forest management strategies."
Shannon McAvoy
Advisor: Katie Martin
"…develop tools and analyses used in pesticide risk assessments for threatened wildlife species, particularly pollinators and amphibians."
Annie Paulukonis
Co-advisors: Tom Purucker (US EPA) and Helena Mitasova
Although they have varied research interests, all new Geospatial Analytics Ph.D. students share a set of core courses that unite them in their academic journey, beginning with GIS 710: Geospatial Analytics for Grand Challenges.
"I use geospatial analytics to…"
"…identify spatial patterns in citizen science participation to engage underserved communities in environmental monitoring."
Deja Perkins
Advisor: Caren Cooper
"…transform our understanding of how environmental factors and social influences interact with human health."
Stacie Reckling
Advisor: Helena Mitasova
As they move through their program, Geospatial Analytics Ph.D. students enjoy a shared learning journey with their cohort, as well as engage with other students in the program and benefit from the support of the Geospatial Graduate Student Organization.
"I use geospatial analytics to…"
"…investigate spatial, temporal and spatiotemporal disease dynamics in livestock animals."
Felipe Sanchez
Advisor: Gustavo Machado
"…examine landscape change, assess management practices and model ecosystem dynamics in forested environments."
Andrew Shannon
Advisor: Robert Scheller
"…efficiently compute and analyze global land use and food security."
Owen Smith
Advisor: Josh Gray
Interested in joining this talented group? The application deadline for our Ph.D. program in Geospatial Analytics is February 1! Contact our Graduate Services Coordinator, Rachel Kasten, with any questions or to connect with a potential advisor.