Leveraging GIS Know-How for Custom Problem-Solving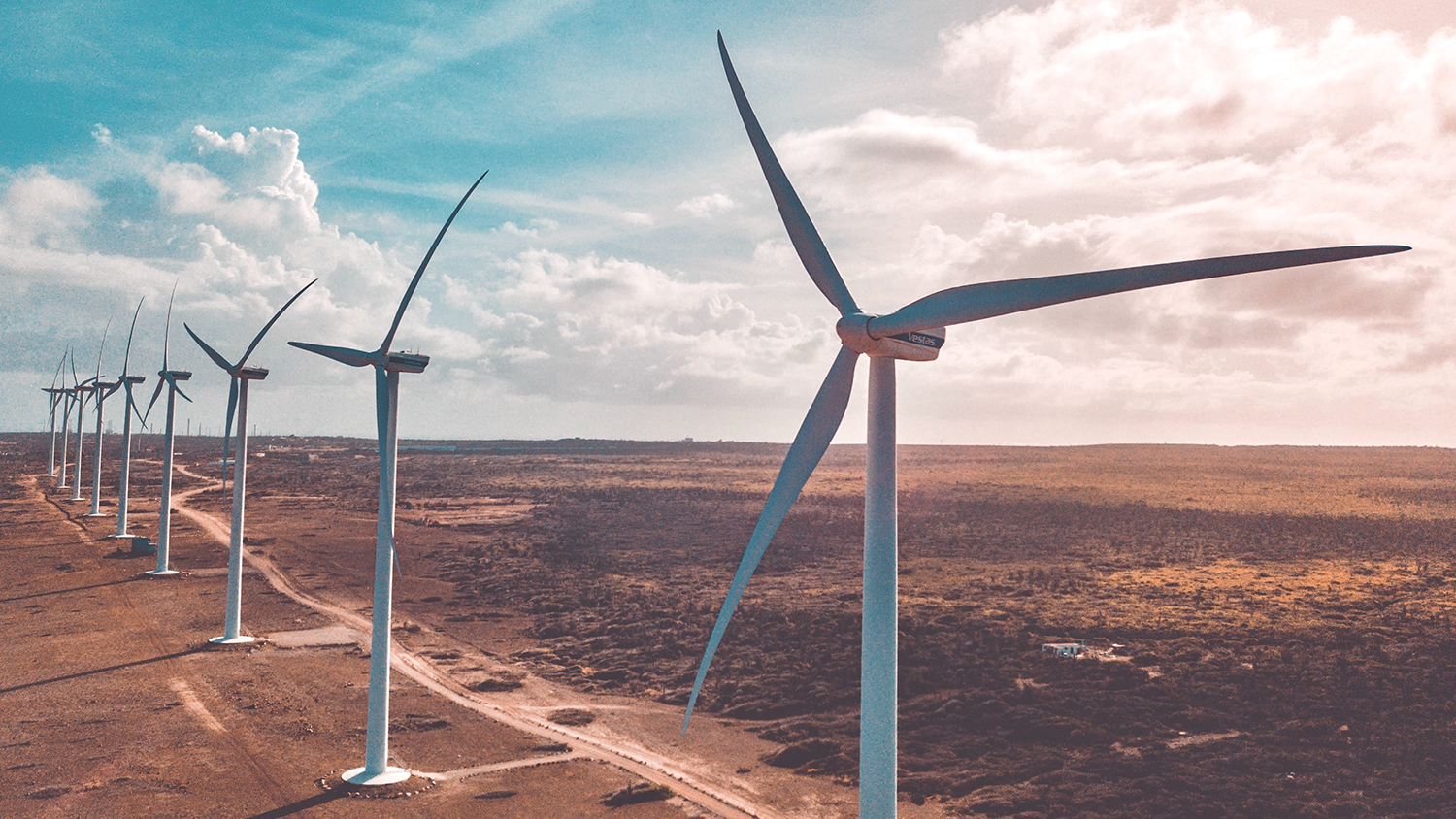 Before graduating, each student in the Center for Geospatial Analytics' professional master's program in Geospatial Information Science and Technology (MGIST) applies their knowledge and skills to a client-supplied problem in a service-learning capstone project.
Industry, academic, government and nonprofit partners work closely with our students to address a challenge using custom GIS applications and geospatial analysis. This semester, our professional master's students developed solutions for advancing environmental equity, agricultural sustainability, public safety, national defense and more!
Advancing Environmental Equity
Improving environmental quality and ensuring equitable outcomes takes planning. Several MGIST students this semester worked with nonprofits and city governments to help them better understand the implications of clean energy development, park pricing, greenway siting and urban heat islands.
Solar and wind energy development are important components of a clean energy future, but they must also be sensitive to impacts on surrounding communities. Elizabeth Rutkowski Gonzalez partnered with The Nature Conservancy "to determine if there are certain types of communities experiencing disproportionate energy development," she explains. The web mapping application she developed assesses population demographics near wind turbines and solar panels and displays the locations from which a tall turbine can be seen. Her analysis revealed that clean energy development does not disproportionately impact underprivileged areas in North Carolina. Going forward, Rutkowski Gonzalez says she hopes her work will "open up discussion on clean energy."
Chad Leftwich worked with Center for Geospatial Analytics associate teaching professor Stacy Supak to examine public use of state parks, amenities they offer (e.g., kayak rentals, overnight lodging) and pricing. "The goal is to find new pricing structures that will help [state parks] make enough money to keep up maintenance and add new amenities," Leftwich explains, while also ensuring that they remain affordable and accessible. The web mapping application he created permits exploring data about population demographics and state parks in five Southeast states.
Katie Kolcusky partnered with the City of Roxboro's Planning and Development Department to identify ideal locations for new greenways and trails. Using a variety of data about slope, proximity to utilities, water bodies and other features, the web mapping application Kolcusky created "allows the city to bring public value to parcels that are not appropriate for private sector development, and it also allows for environmental protection of land," she explains. Kolcusky is the winner of this semester's MGIST poster competition.
Last year, the City of Raleigh partnered with multiple organizations to map urban heat islands across the city. The project used satellite data and temperature readings reported by volunteers to create a comprehensive picture of morning, afternoon and evening temperature extremes for one snapshot in time. To help the City continue to monitor heat islands and work to mitigate them, Brian Van Wyk developed a computer model that can be easily updated with new data as the area changes; the web mapping application he developed also includes information about demographics to identify the impacts of heat islands on vulnerable populations. With this new tool, Raleigh ultimately can "see whether their heat island mitigation projects are working," he says.
Improving the Sustainability of Farming Practices
MGIST student Scott Hill worked with Durham-based precision agriculture tech company GROWERS to "calculate and measure the various ways [North Carolina] farmers are contributing to sustainability…[and] the impacts of management practices," he explains. The web mapping application he developed permits comparing yields and fertilizer amounts across crop fields, enabling GROWERS and its clients to visualize the effectiveness of crop management plans that aim to boost harvest while minimizing fertilizer use.
Nationwide, excess nitrogen from agricultural runoff is a big problem, contributing to oxygen-poor "dead zones" downstream. Russell Hill partnered with the Environmental Defense Fund to build on a Spring 2021 capstone project focused on water quality and reducing fertilizer runoff to US waterways. Examining a large expanse of Illinois farmland, Hill developed a web mapping application that could identify watersheds "where a small increase in natural infrastructure [like streamside vegetation or wetlands] can make a big difference" to water quality.
Protecting Public Safety
MGIST student Trey Hinton worked with Geographic Technologies Group, an NC-based GIS consulting firm, to develop a data-driven tool that can help the City of Johns Creek, Georgia, determine where to allocate firefighting resources. The web mapping application Hinton created uses proximity to existing fire stations and fire hydrants, as well as other factors, to identify the locations most and least vulnerable to fire emergencies. His work will "provide a foundation," he says, "for future fire data analysis."
Risk management is "all about the preparation phase, making sure we're ready if an emergency occurs," explains MGIST student Bill Herzig. In collaboration with NC Emergency Management's Risk Management Office, he developed a web mapping application that enables efficiently updating the NC Building Footprint Database and quickly determining the locations of buildings in potential flood zones.
Supporting Defense and Intelligence Operations
Intelligence agencies like the National Geospatial Intelligence Agency (NGA) have "a growing interest in environmental security" and the impacts of global environmental changes, explains MGIST student Amy Gelletich. In partnership with NGA, Gelletich examined shifts in the number and latitude of wildfires in Russia over time. The storymap she created explains that in recent years a greater number of wildfires have occurred in the Arctic Circle, a region that is warming much faster than the global average. "Hopefully this project is going to help define future NGA projects in Arctic environmental security," Gelletich says.
Eric Adams partnered with General Dynamics Information Technology, a service provider for the US Army Geospatial Center, to develop a web mapping application that can support off-road operations for military Humvees. Adams' project aimed to "streamline and mostly automate a cumbersome geospatial workflow that produces an off-road mobility analysis," he explains, cutting down workloads from days to minutes to classify off-road areas as "go," "slow go" or "no go" for military vehicles.
And More!
Cody Garcia worked with Globalstratos to meet its needs for "a geospatial platform to host multi-dimensional datasets and visualize project areas." Garcia developed a suite of open source tools and a web mapping application to support the organizations' international efforts in economic development.
Aaron Jones partnered with Esri to "generate geospatial products that support off-the-shelf lesson plans for educators at the high school and undergraduate levels," he explains. The web mapping applications he developed "are intended to support classroom discussion, and be used as heavily or as minimally as the educator who's using the lesson plan chooses."
Ben Van Wagener partnered with the NC Pandemic Recovery Office (NCPRO) to follow up on a capstone project from last semester analyzing the locations and characteristics of businesses that received Economic Injury Disaster Loans and Payment Protection Program Loans during the COVID-19 pandemic. The web mapping application he developed allows NCPRO to dive deeply into the data, identifying hotspots and cold spots of business loan distributions across the state, places with the most new or closed businesses, and demographics of neighborhoods around those businesses.
Thank you to all of our capstone partners, and congratulations to all of our graduating MGIST students on their success!