Student Travel
Presenting Urban Forest Fragmentation Research at the Ecological Society of America Meeting in Portland, OR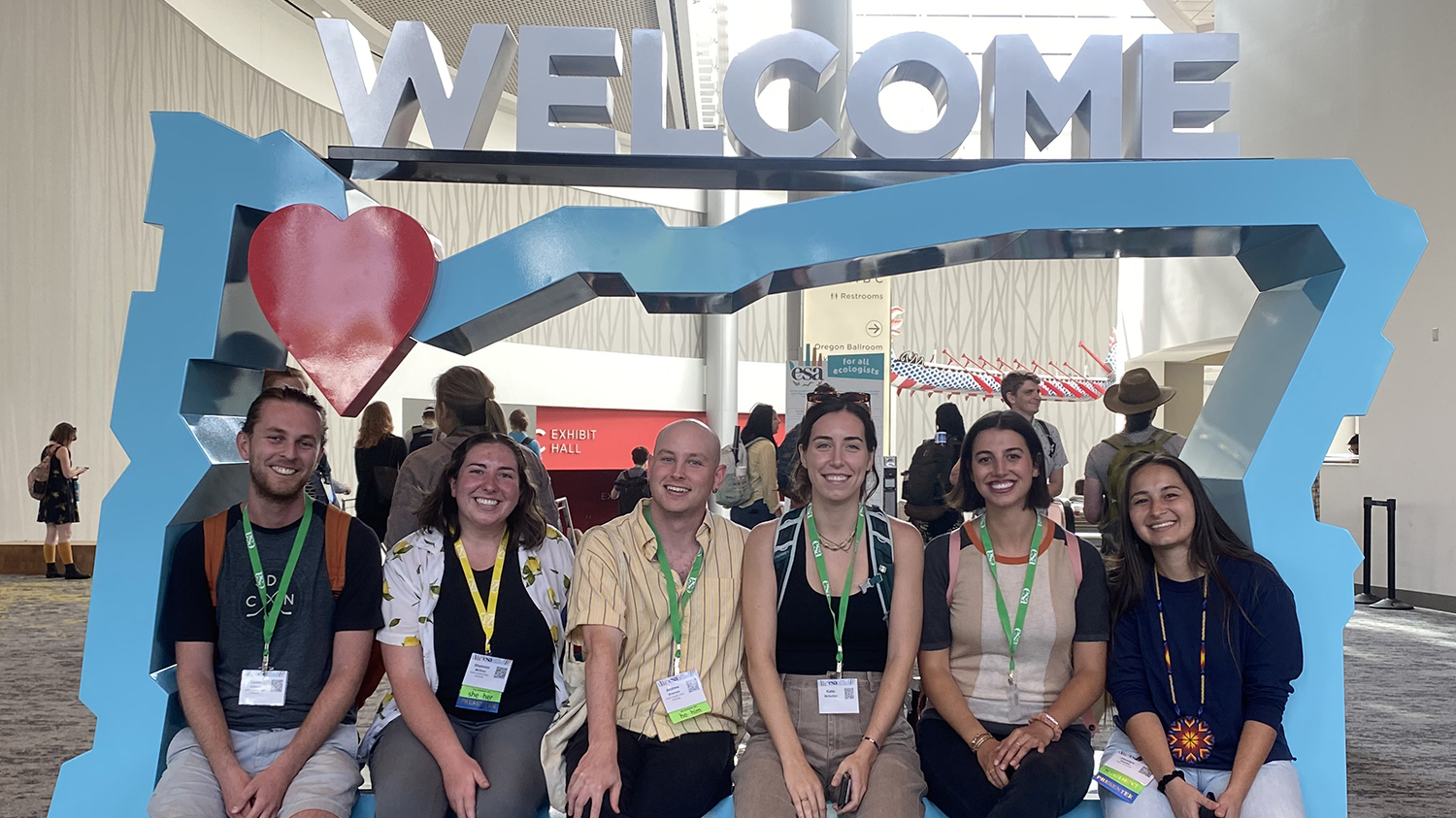 Editor's note: Each semester, students in the Geospatial Analytics Ph.D. program can apply for a Geospatial Analytics Travel Award that supports research travel or presentations at conferences. The following is a guest post by travel award winner Shannon McAvoy as part of the Student Travel series.
The theme for this year's Ecological Society of America Conference was "For All Ecologists," meaning that there was an emphasis on rethinking what it means to be a traditional ecologist. Bridging the gaps between academic, public and private sectors at all levels of expertise is essential for creating a diverse and inclusive scientific field. I was fortunate to be able to attend this meeting with other Center for Geospatial Analytics Ph.D. students as well as my faculty advisor, Katherine Martin. This was a great opportunity to present my dissertation research, as this was my first oral presentation at a conference.
My research is focused on urban forest fragmentation patterns and how that can affect the surrounding communities. Urban forests provide many ecosystem services, improving air quality, decreasing stormwater runoff and helping residents experience less anxiety and depression. We used GIS analysis to uncover how ecosystem services and socioeconomic disadvantages are spatially connected, then created a risk matrix based on social vulnerability and forest fragmentation metrics. We found that census tracts in more densely populated urban areas are more likely to have disconnected, isolated patches of forest land and high social vulnerability. These high-risk areas were literal hot spots, where warm season land surface temperatures were approximately 4.0° C hotter than low-risk areas. Our framework can be used to focus community aid and improve land management practices in the areas that need it most. This is significant because increasing forested land connectivity through urban centers may be one avenue to begin alleviating disparities in access to the benefits provided by urban trees, such as cooler land temperatures.
Being able to present this research allowed me to connect with other scientists in the field of urban ecology who look at entire socio-ecological systems. The conference had many sessions that were directly related to my research, which allowed me to explore what other experts around the country were working on. I also had time to sit in on talks that were more distant but still incredibly interesting. For example, some memorable presentations from the week were from researchers focused on calculating rainfall interception based on how fast a tree sways in the wind, incorporating virtual reality into scientific communication products, and rethinking which public and private lands can be targets for conservation. Being able to hear from so many different perspectives is so valuable for continuing education and sparking curiosity as a Ph.D. student. I learned a lot during our week in Portland, and the city itself was an amazing place to explore. This was a wonderful opportunity to learn from experts in the field of ecology and gain experience presenting my own research from the Center for Geospatial Analytics.