Student Travel
When in Rome: Presenting at the GeoVet 2023 Conference in Italy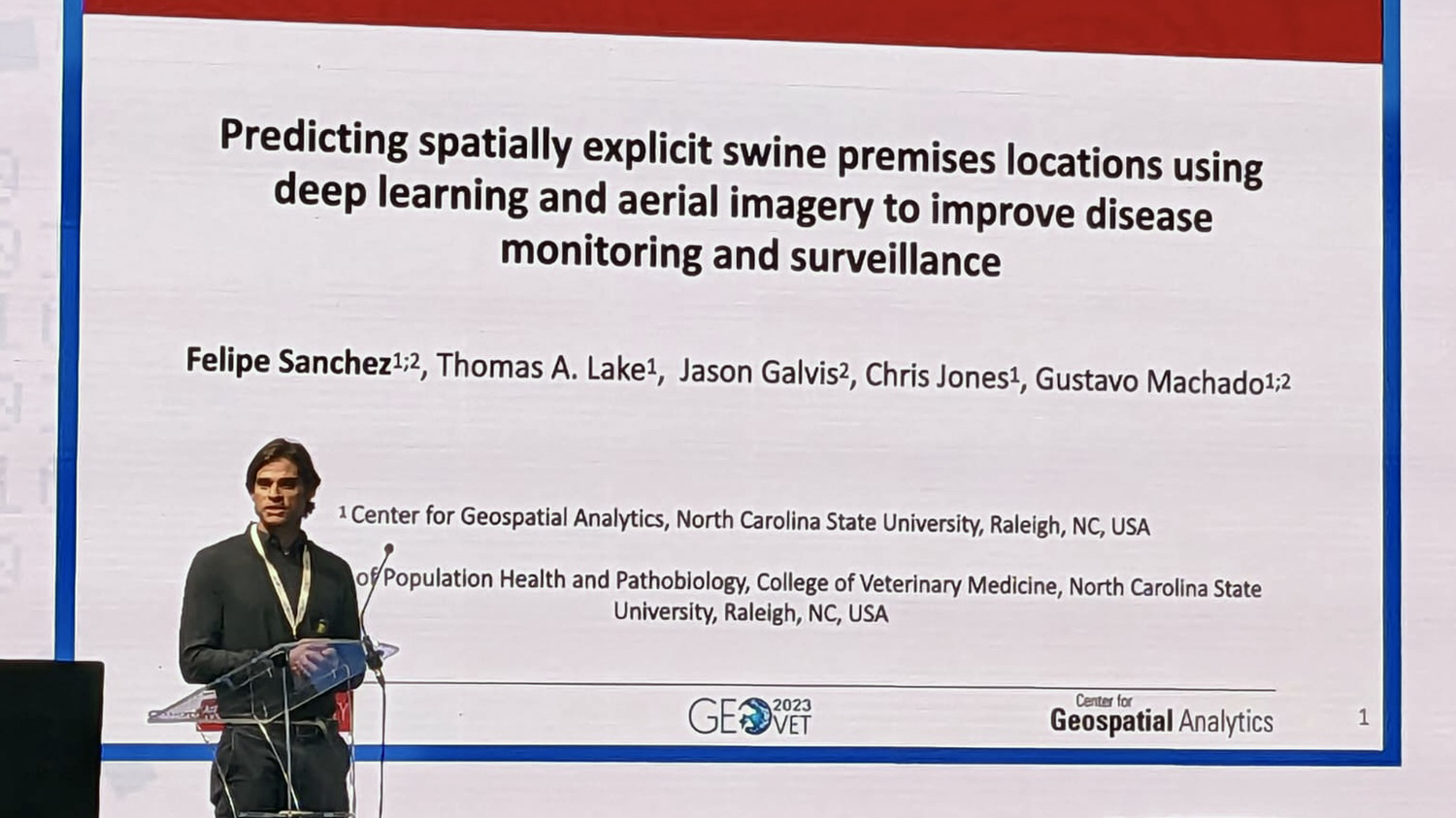 Editor's note: Each semester, students in the Geospatial Analytics Ph.D. program can apply for a Geospatial Analytics Travel Award that supports research travel or presentations at conferences. The following is a guest post by travel award winner Felipe Sanchez as part of the Student Travel series.
I have had my eye on the GeoVet conference since I started my doctoral program at the Center for Geospatial Analytics in the Fall of 2021. When I heard that the GeoVet 2023 conference was to be held in Silvi Marina, Teramo, Italy, I knew that I couldn't pass up this opportunity. The Geovet conference, held every three years, brings together a diverse group of international experts in spatial epidemiology, spatial statistics and geographic information systems (GIS) applied to animal health, public health and food safety. I am incredibly grateful to the Center for Geospatial Analytics, the College of Veterinary Medicine and the Comparative Medicine Institute, division of Emerging and Infectious Diseases at NC State for providing the funding and support to participate in this unique conference.
During my participation in the GeoVet 2023 conference, I had the privilege of contributing to the "Artificial Intelligence for One Health" session, where I presented my current research on predicting spatially explicit swine farm locations using deep learning and aerial imagery to improve disease monitoring and surveillance. Accurate farm geolocations are essential for disease outbreak surveillance and monitoring, and for developing spatial epidemiological models that evaluate distance-dependent transmission processes across different production types. Farm geolocation data is often unavailable, which leads to assumptions or simplifications about the spatial distribution of livestock, potentially resulting in over- or underestimation of transmission patterns and impacting disease simulation model outcomes. My research is aimed at addressing this gap by developing a convolutional neural network trained to predict the geolocations of swine barns, their production type and demographic information that can be essential for developing accurate spatial epidemiological models.
Participating in the GeoVet conference allowed me to engage in stimulating discussions with fellow researchers in academia, government and the private sector from around the world. It was an excellent opportunity to exchange ideas, gather valuable feedback and explore collaborative possibilities in the field of spatial epidemiology and AI-driven solutions for One Health, an approach that considers and attempts to balance human, animal and environmental health. Many thanks to the GeoVet 2023 organizing committee for putting together such an excellent conference, and for allowing me to experience the wonderful Italian hospitality and food.