Think and Do the Extraordinary
With your help, we're moving NC State and the College of Natural Resources toward a brighter and bolder future.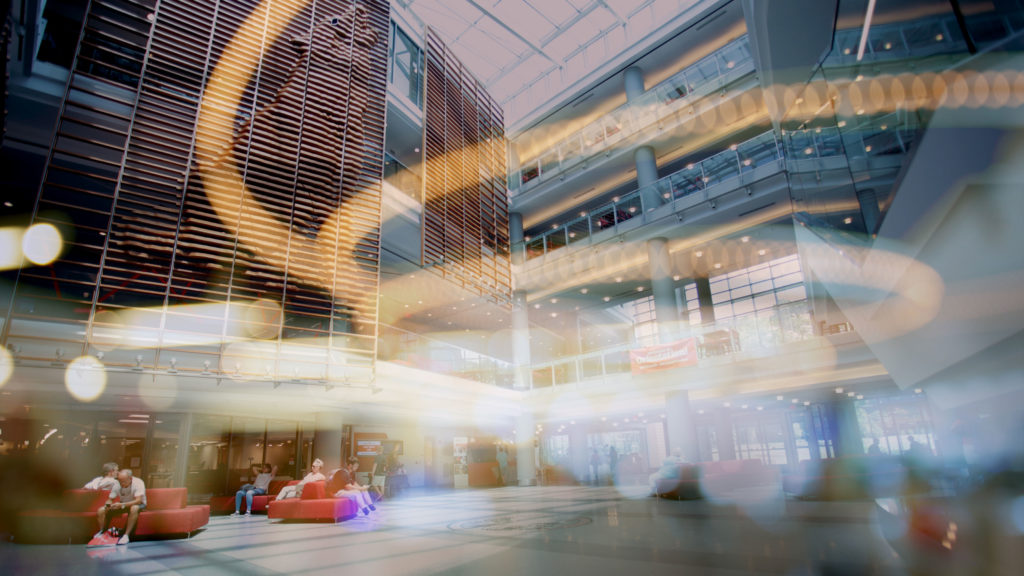 About the Campaign
The Think and Do the Extraordinary Campaign is NC State's most ambitious fundraising effort ever, with a goal of raising $1.6 billion in private support by the end of 2021. Throughout the campaign, the College of Natural Resources aims to raise $35 million to support key areas of growth for our college.
We've mapped out a bold plan to increase the number of scholarships, graduate fellowships and professorships within our college. We seek to fund more experiential opportunities for our students and grow our diversity initiatives to create an inclusive and engaged academic environment and future workforce. We strive to support greater innovation by funding research start-up costs for faulty with big ideas.
We often say, state funding makes us good, but private philanthropy is what makes us great. Our students and faculty are changing the world every day. But we believe we can do more. The vision of our generous alumni and friends helps propel us forward to greater levels of achievement. With your support we can make our college — and the world — a better place.
Our Priorities
A transformational endeavor requires bold goals. We're focusing on these key areas.
Extraordinary Opportunity
We want every student to have access to a superior education and hands-on experience that help them leave a lasting influence on a global society.
Graduate Fellowships: Graduate students are a key part of our college, working alongside our faculty on groundbreaking research and education. Offering strong financial to these students is vital to the college's ability to attract great minds and empower them to pursue their future as industry leaders.
Undergraduate Scholarships: We want every student to dream big and have the resources, guidance and financial support necessary to make those dreams come true. A scholarship is an opportunity to reward hardworking students with the valuable gift of an NC State education.
Extraordinary Purpose
Every day, our faculty and researchers collaborate across disciplines and with industry, government and nonprofit partners on work that has a real impact on our planet.
Endowed Professorships: For the college to attract and retain high-quality faculty who renew and enhance our research and education, we need to offer competitive endowed professorships. These funds allow top faculty the freedom to test new ideas, fund students' work and improve instructional programs.
Natural Resources Catalyst Fund: The Natural Resources Catalyst Fund offers innovative faculty seed money to pursue interdisciplinary research and take risks on new ideas, without being bound by the constraints of grants or industry funding.
Extraordinary Experience
Our students don't just learn in classrooms. We want them all to have access to experiences that expand their perspectives and fuel their personal and professional growth.
Student Leadership Programs and High-Impact Experiences: All of our students graduate with valuable hands-on experience that prepares them for success in their field. Financial support helps ensure every student can take advantage of internships, co-ops, summer programs, study abroad and leadership development initiatives.
Diversity Initiatives: We seek to champion diversity and inclusion and engage the perspectives of all people. This includes introducing underrepresented populations in middle and high school to the fields of natural resources and increasing cultural competency within our college through lectures, special cultural events, counseling and resources, trainings and other methods.
Extraordinary Leadership
To tackle society's grand challenges and create prosperity for all, we need exemplary leadership and vision — and the resources to support these areas.
Annual Giving: It is important that the college be nimble enough to take advantage of opportunities as they arise. Unrestricted funds the college receives help us not only seize opportunity but also address critical needs that we cannot foresee.
Extraordinary Places
Well-equipped, inviting spaces for learning and collaboration are key to life in our college. Investments in our physical spaces give our students and faculty greater opportunity to pursue cutting-edge research, collaborate and exchange knowledge.
Get in Touch
Contact Lara Brown de Fuenmayor, assistant dean for college advancement, to find out how you can support the Think and Do the Extraordinary campaign.