Windows Virtual Desktop (WVD)
Starting in the Fall 2020 semester, NC State University is providing Virtual Lab Environments for Windows-based applications. This use of Windows Virtual Desktop (WVD) technology provides a new method which students can access software that they need for teaching and research.
Why the change from VCL to WVD?
A change in Microsoft licensing has made it prohibitively expensive to properly license Windows such that students are allowed to connect to NCSU-owned computers from their personal computers. (See the Microsoft VDI FAQ for more info.) Traditional VCL resources are run on NCSU-owned servers. However, this extra cost does not apply to resources hosted in MS Azure, as the WVD environment is. 
Cloud technology has developed rapidly in recent years, and is now at the point where it can provide the performance required for teaching and research. IT groups across campus have been testing this technology for a couple of years. Though we would have been ready to start a more gradual rollout this fall, the MS licensing change and the distance learning challenges brought on by covid-19 factored into the timing of this transition.
How is WVD different from traditional VCL?
In VCL, users would usually access one program at a time. For example, you could make a VCL reservation for ArcGIS, and when you connected, you saw a basic Windows installation with just ArcGIS installed. With WVD, you get an environment that is more like a lab, with various software available. Some VCL environments were set up with custom software installations.
In VCL, you would connect via a Remote Desktop client. In WVD, you connect through your web browser, requiring no additional software.
The performance in WVD is better than VCL, largely due to the use of newer technology and the resources available with cloud technology.
How do I access WVD?
OIT provides instructions to help onboard with WVD. As in the past, you begin at the VCL Login Page and "make a reservation" for your desired environment.
The NCSU environment is available to the entire NCSU community.
When viewing the list, you will see the environments you have access to, which end in "(WVD)".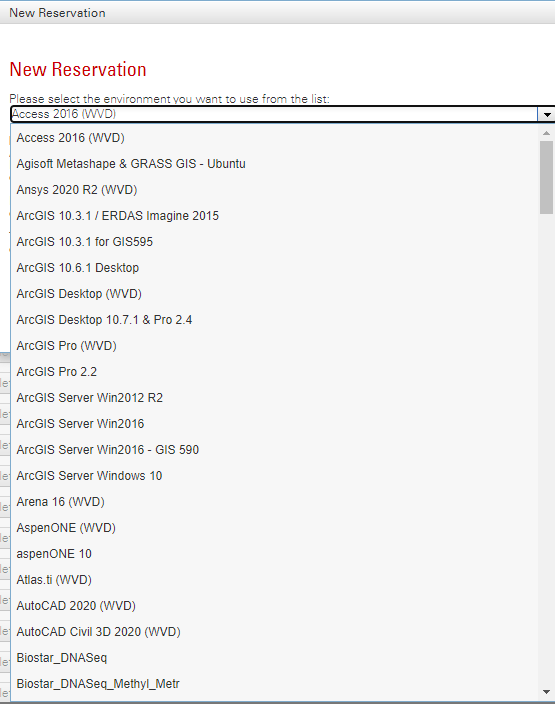 Once selected, the instructions should guide you through the rest of the reservation process. When you arrive at a screen like the one below, you will see all the WVD environments that you have access to: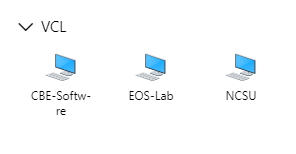 What software is available in WVD?
Below is a list of software packaged with each WVD environment that was created by OIT. This is a current list (9/22/2020) and will be updated as time passes.
Tested and working:
Access 2016
ArcGIS Desktop
ArcGIS Pro
AutoCAD 2020
DosBox
ENVI 5.6
Google Earth Pro
Java
JMP 14
MATLAB R2019b
Maple 2019
Mathematica
Microsoft Office 2016
MySQL and MySQL Workbench
PI Process Book 2015*
Publisher 2016
PuTTY
Python 3.7
QGIS
R 4.0.2
RStudio
SAS 9.4
SPSS/AMOS 26
SUCCESS – IEPM*
Tableau 2020.2
Virtual EEG
Visual Studio 2019
*By request/approval only
Installed but not currently working:
Will VCL still be used at all?
After August 31, 2020, most Windows-based VCL resources will be retired due to the MS licensing change. However, VCL will still exist for various purposes:
The VCL web site will be a front-end for access to WVD. This is how users will access WVD (see "How do I access WVD" above).
Linux resources will be available via VCL, as they are not affected by the MS licensing.
Some Windows-based VCL images will remain available for certain reasons. In all such cases, the requesting department/college will need to work with VCL staff to ensure they have purchased VDI licenses for student access. Some example cases include:

Certain software is difficult or impossible to run in WVD for technical reasons
Some VCL images contain older versions of software which faculty need to retain access to for teaching
Customized VCL environments needed for the Fall semester may take additional time to test and re-create in WVD
If you have any issues or have questions, please email cnr_help@ncsu.edu.