How do I add the CNR Faculty and Staff Calendar to my Google Calendar view?
Step 1. Open Google Calendar, in the upper left area click on the "+" next to the "Add a coworker's calendar." Select the option "From URL."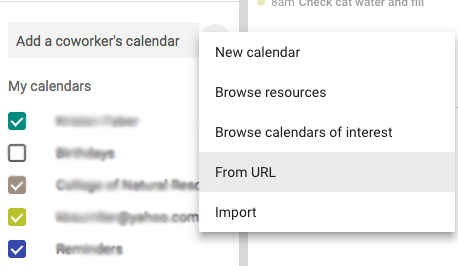 Step 2. When the Add by URL window opens,  paste this address into the "URL of calendar" field: https://calendar.google.com/calendar/ical/ncsu.edu_opfn4e0k0prnkr3aipon6joi7o%40group.calendar.google.com/public/basic.ics into the 

Step 3. Click on the Add Calendar button.
The calendar will now show as a calendar that you can view on your calendar.
Viewing the Calendar Outside of your Google Calendar
You can view the calendar in two locations:
View in Google Calendar here and all events are shown
View on Internal Resources site here and events for the next three upcoming months are shown