Spotlight on Natural Resources Student and Goodnight Scholar Megan Owens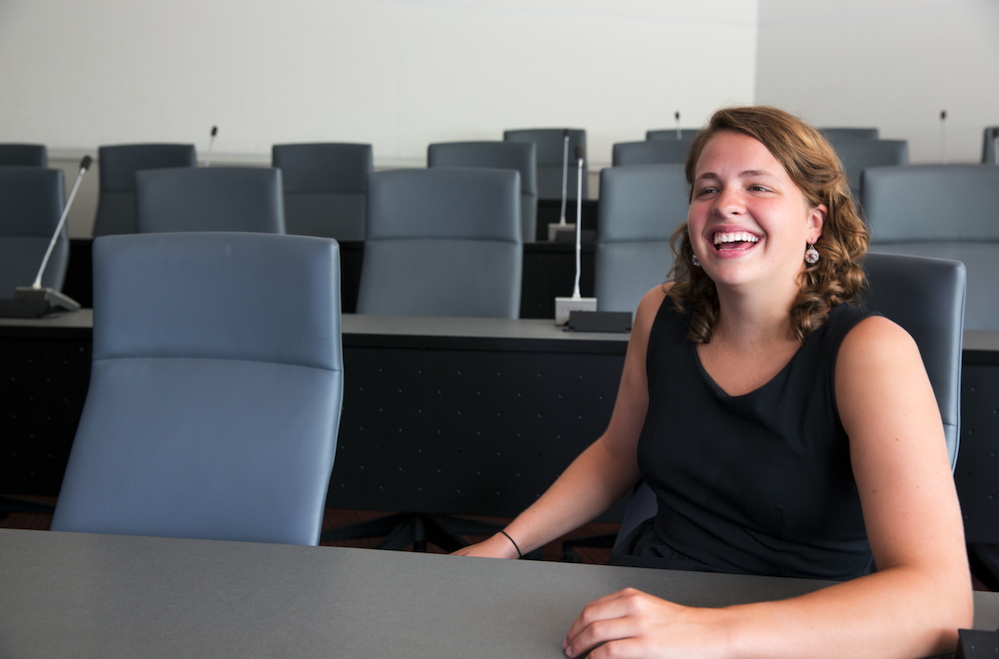 By Jason Perry
Megan Owens' '18 affable personality is nothing short of infectious. Need a laugh after a tough day? Look for Megan. Chances are you will find her rock climbing out in the mountains or windsurfing in the Atlantic. The youngest child of her family, Megan's obsession with the outdoors has brought her to NC State where she's majoring in conservation biology with minors in environmental sciences and outdoor leadership. Settled in after an exciting first-year at NC State, Megan is spreading her love for the environment across the globe as a co-leader for the Goodnight Scholars Alternative Service Break trip to the Republic of Trinidad and Tobago and through her capstone project for the GREEN Program in Iceland.
NC State Record Holder
"My family currently holds the record for longest line of lineage to go to NC State. If you want proof, go on the Memorial Bellower tour with Dr. Tom Stafford. At the end of the tour, Dr. Stafford will hold up a picture of my family. I'm the one on the right with the purple sweater and large shoulders. And everybody asks, so I might as well answer what you are thinking. Yes, my parents would have allowed me to go to Chapel Hill. They just wouldn't have been very happy about it."
Caribbean Livin'
"The program that has affected me most was definitely the Alternative Service Break trip to Trinidad and Tobago sponsored by the Goodnight Scholars Program. During this trip, 14 students spent spring break in Trinidad for a service-learning and cultural experience. The service work we completed was through the Asa Wright Nature Centre. We restored trails and taught children about ecotourism. The environmental goal of the trip very closely matched my passion for the environment, therefore it felt fulfilling to work on this project."
Culture Shock
"One of my favorite parts of the Trinidad and Tobago trip was the evening reflections. During these reflections, we would attempt to process our new surroundings because most of us did experience the initial culture shock. I enjoyed these conversations — they pushed us to think about things with a sociological imagination. I felt that these profound conversations changed the way I thought about aspects of life once I returned home. I was able to think about others perspectives more easily."
A Severe Case of the Travel Bug
"I am excited to participate in the GREEN Program at the end of summer 2015. The GREEN Program is a 10-day educational trip abroad in Iceland where students learn about renewable energy. During this time, students from around the world participating in this trip will complete capstone projects, tour different renewable energy plants, take classes concerning renewable energy, and explore the beautiful land of Iceland."
Community Matters
"Being a Goodnight Scholar means being part of a community. A community of diverse and passionate people. We are given all the resources necessary to be successful, but with the freedom to pursue our own interests. Through the openness of this community, I feel as if I have matured and developed into a more passionate person, and I hope to continue this for my final three years at NC State."
Article originally appeared in the Goodnight Scholar Annual Report. For more information on the Goodnight Scholars Program, please visit their website.