Insect Snacks on the Brickyard?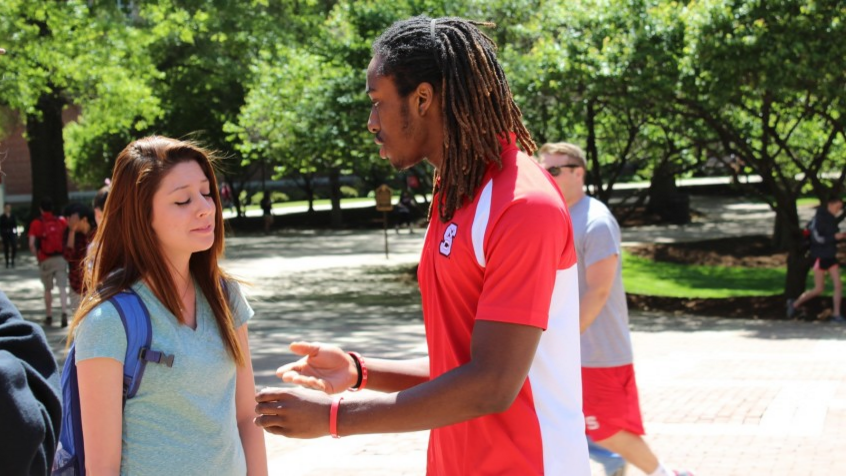 Written by: Natalie Hampton 
This post was provided by The Graduate School. 
Steve Grodsky is a Ph.D. student in Wildlife Ecology. He is working with Dr. Chris Mooreman on understanding the impacts of renewable energy on wildlife.
Grad Student Instructor Challenges Class to Communicate Science
As instructor last spring for the class "Insects and People," graduate student Steve Grodsky wanted to give his students a real experience with science communication. So in May, the class tried an unusual outreach effort – asking fellow students on NC State's Brickyard to try insect-infused snacks.
The Rice Cricket Treats and Chocolate-Covered Crickets that Grodsky prepared were received by students more readily than he expected – only one student refused to try the bug treats. What impressed him was the persuasion that his students used to convince others to try a bug snack.
"Some talked about the environmental impacts of eating meat vs. eating insects," Grodsky said. "Others shared culinary aspects of eating insects in other cultures."
Grodsky's teaching experience came with support and training from the Graduate School's Preparing the Professoriate program (PTP). It gave him the opportunity to work on his teaching skills as instructor of record, under the mentorship of revered entomology professor Dr. Clyde Sorenson.
"Insects and People" is a freshman course, geared toward a general audience. Grodsky wanted to incorporate science communication into the course in the form of a written research paper, an oral presentation and a class outreach project, all on entomophagy – eating bugs. 

The outreach project was held on the Brickyard in April, and Grodsky said the students in his class "did really well with it." Combined with the paper and presentation, Grodsky feels like his students learned valuable lessons on how to communicate science.
This semester, Grodsky is working on his dissertation, and he will graduate in December. He feels like the support that he received through PTP will help him get the type of faculty position that he wants.
"I have a keen interest in teaching, in addition to research," Grodsky said. "I think a big part of being a good professor entails being a good researcher and a good teacher – being well-rounded."
The Graduate School's PTP program is highly competitive, open to no more than 20 Fellows each year. The year-long program for doctoral students includes weekly workshops and a mentoring relationship with a faculty member. At the conclusion, each Fellow completes a teaching portfolio of his or her work. Students are selected for the program each spring.
Grodsky said he learned about PTP from fellow graduate students who had participated in the program. He really benefitted from the program – especially the "Institutional Fit" workshop. "It really guided me in terms of thinking where do I want to work?" he said.
Grodsky earned his bachelor's degree from Rutgers University and a master's degree from the University of Wisconsin-Madison. He taught briefly at the University of Wisconsin-Richland, a two-year institution, before coming to NC State for his doctoral program.
His research program at NC State, under Dr. Chris Moorman in fisheries, wildlife, and conservation biology, involves studying the impact of woody biomass harvests on wildlife. Wood pellets, a form of woody biomass, can be used in a variety of renewable energy technologies to produce heat, electricity or liquid biofuels.
Currently, Grodsky's dream job would be an assistant professorship at a land-grant research university or at a university with more of a teaching focus, though he still wants to do research. He'd like to be a "classic college professor – like where teaching and research are equally valued." Mentoring graduate students would also be a fulfilling experience," he said.
"In my field, I've heard that folks are getting hired because they've been in the PTP program, which is good for me, I hope," Grodsky said. "I think universities recognize that a person (who participated in PTP) has definitely put a lot of time into teaching."