Professor Vicki Arroyo on How to Prepare for Our New Climate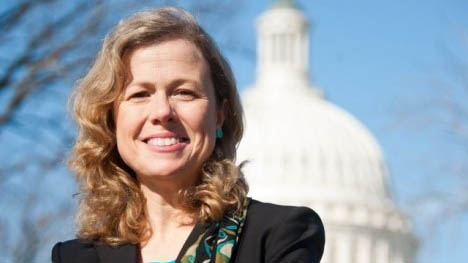 Last week, the College of Natural Resources was honored to welcome Vicki Arroyo J.D., executive director of the Georgetown University Climate Center, for a special seminar to discuss climate change and how we can best prepare.
Professor Arroyo uses her environmental law degree and her background in biology and ecology to help prepare for global climate change.
"Vicki Arroyo's influence is felt in the highest levels of climate change policy, and having her here, to interact with our students, was a great opportunity. I'm delighted that more than 500 NC State students had a chance to learn from her," Dr. Larry Nielsen, professor of natural resources and organizer of the event, said. 
Professor Arroyo's work focuses on how we can address the uncertainty associated with climate change and make meaningful strides towards preparing our homes and cities for the changes ahead.
"Vicki Arroyo gets past the rhetoric of climate change and focuses on today's real issues — how people must adapt to the changing climate, and how our institutions need to help them do so," Dr. Nielsen said.
She suggests doing three main things to prepare: adapting to violent storms and floods, preparing for heat and drought, and adapting to the rising seas by rebuilding and restructuring.
Professor Arroyo urges everyone to "look at homes, communities, vulnerabilities and exposures at risk, and find ways to not just survive but thrive."
If you missed the seminar last week, be sure to check out Professor Arroyo's popular TED talk on preparing for climate change, which has amassed almost one million views.