Turning NC State Athletics Green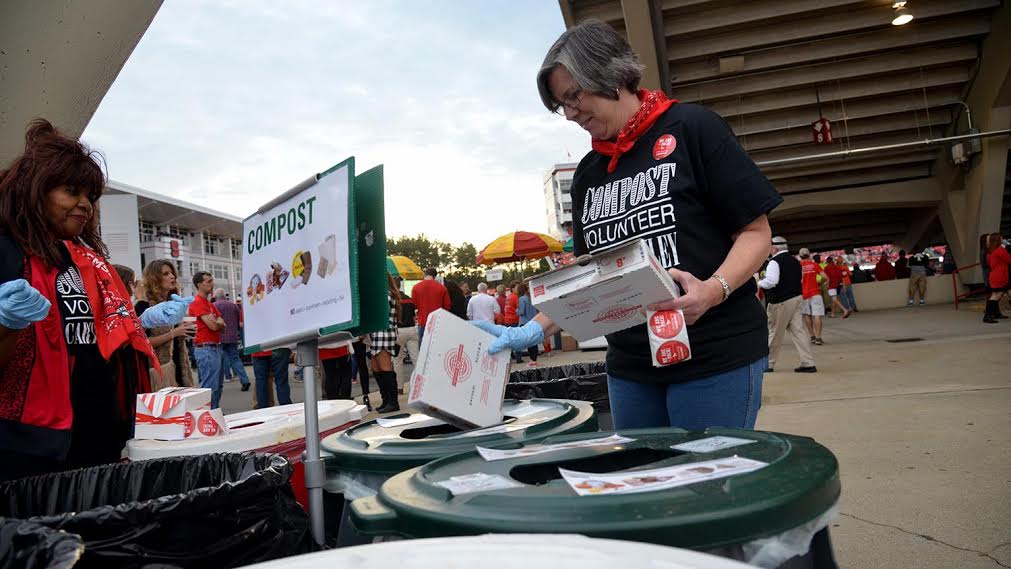 Six home games. More than 70 volunteers. Nearly 320 bags of compost diverted from landfills. That's what happens when partners from across campus came together to aim for the first zero-waste season of NC State football.
Jonathan Casper of the College of Natural Resources, Wolfpack Athletics, the University Sustainability Office, Campus Enterprises and University Dining, Wolfpack Sports Properties, and Waste Reduction and Recycling came together to initiate more sustainable practices in athletics.
What began several years ago with a few green events, including soccer and baseball games, has become something much bigger. Volunteers at 22 composting bins throughout Carter-Finley Stadium collect discarded food-related products and food waste itself.
On Monday mornings, that refuse gets combined with waste from campus residence halls and dining facilities and recycled into compost, a nutrient-rich soil amendment that helps trees and plants grow.
Sustainability at the Stadium — and at Home
The zero-waste effort has goals beyond making Wolfpack football games greener. Organizers hope fans leave the stadium with a better sense of how to incorporate sustainability into their own lives.
For Casper, Carter-Finley has been a living lab for measuring and shaping fan perceptions around environmental practices. Fan research conducted by Casper indicates that participants felt strongly that college athletic departments have a responsibility to promote environmentally friendly practices into their operations.
Casper also found that sustainability themes had a significant impact on influencing behavior at the games and in everyday life. Fans reported that the environmental education exposure at the games was more effective than non-sport influences. Because of their affinity for the university and football team, fans may be more open to ideas about living more sustainably.
A dozen student volunteers are acting on that insight. Before and during every home game, they roam the stadium, educating NC State fans about composting and recycling.
"As fans transition to more sustainable practices in the stadium, they may be more likely to implement similar practices outside the stadium, which will lead to less trash in landfills," Casper said.
Next Steps: Measuring Air Quality
Across the country, more than 50 million people attend college football games every year. Most of them arrive in cars or busses and many spend hours tailgating beforehand. Faculty from the colleges of engineering and natural resources are working together to see how those activities affect air quality around stadiums.
Casper and parks, recreation and tourism management colleague Kyle Bunds are collaborating with civil engineer Chris Frey to measure the ozone, carbon monoxide, carbon dioxide, fine particulate matter, temperature, and relative humidity at Carter-Finley and surrounding tailgating lots before, during and after NC State home football games.
"While tailgating and walking through the areas around the stadium, you are inundated with fumes from diesel exhaust, gasoline exhaust, generator exhaust, and other air pollutant sources," Casper said. "Currently we do not know the levels of exposure or health effects from it."