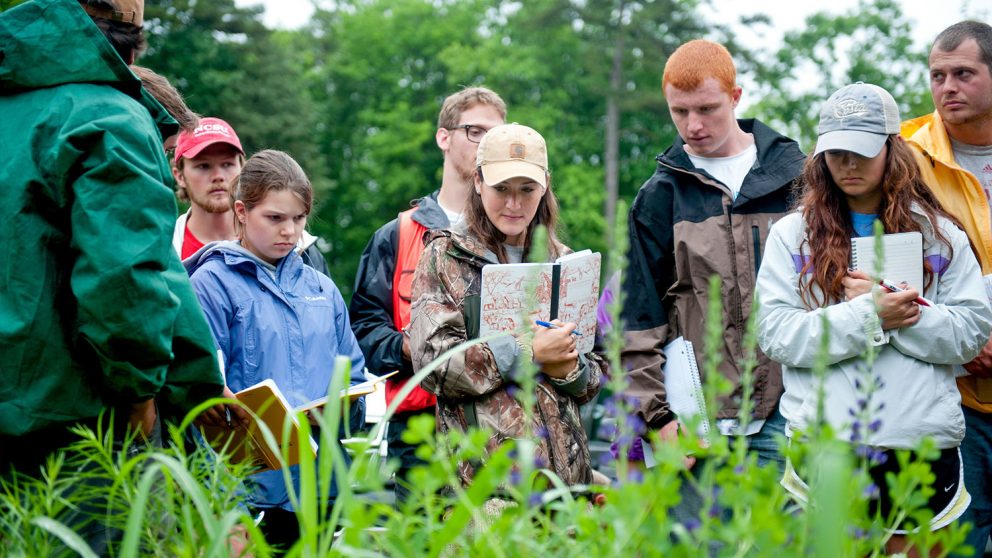 Here at the College of Natural Resources, we welcome and encourage prospective students to explore the many ways in which our college is unique.
From specialized majors and small classroom sizes to knowledgable faculty and unparalleled research opportunities, our college attracts a diverse group of students with a wide range of interests.
Beyond the classroom, our college prides itself on fostering a tight-knit community of passionate students, faculty and staff who work together to grow academically and pioneer research to solve some of the world's greatest natural resource challenges.
Want to know more about our college? We've asked some of our current students to share a bit of advice for prospective students who are considering applying to or enrolling in the College of Natural Resources:
"If you're looking for your home away from home, then the College of Natural Resources is your match! There are a variety of programs to choose from and there are endless opportunities for everyone to get involved. So don't sit back and watch, dive in head first and immerse yourself in all that the college has to offer." -McKenzie Livengood, Parks, Recreation, and Tourism Management, '16
"If you want encouragement AND a challenge, this is your place." – Emily McNamar, Geospatial Information Science and Techonology, Graduate Student
"I would suggest having future students contact some of the current students or faculty in the College of Natural Resources to learn about their experiences. Our majors offer really great opportunities for students interested in anything related to environmental sciences and natural resources. Plus the college offers individualized support to help you succeed academically and professionally." -Hayley Lohr, Natural Resources Policy & Administration, '17
"The College of Natural Resources is the best place to be at NC State because there is a limitless amount of opportunities to develop both academically and professionally. The sense of community is something really special and makes you feel right at home!" -Kat Santoro, Paper Science & Engineering, '19
"If you are looking to gain both the knowledge and hands-on experiences necessary to join the next generation of conservation professionals, this is the college for you!" -Alex Loflin, Natural Resources Ecosystem Assessment, '17
"It's a smaller college, but nowhere on campus have I met faculty more involved with the students. Choose the College of Natural Resources if you want to achieve a high quality education while forming individual connections with students and professors." -Patrick Seebold, Environmental Technology and Management, '19
"The College of Natural Resources has the best of everything; cutting edge technology, knowledgeable professors, unique internship and career opportunities, and passionate students." -Ryan Barns, Paper Science & Engineering, '16
"It doesn't matter if you're a freshman, transfer student or non-traditional student, the College of Natural Resources is a place where you can take your college experience as far as you are willing to go." -Darren Stebbins, Forest Management, '17