5 Questions With Dr. Cat Warren, Author of 'What the Dog Knows'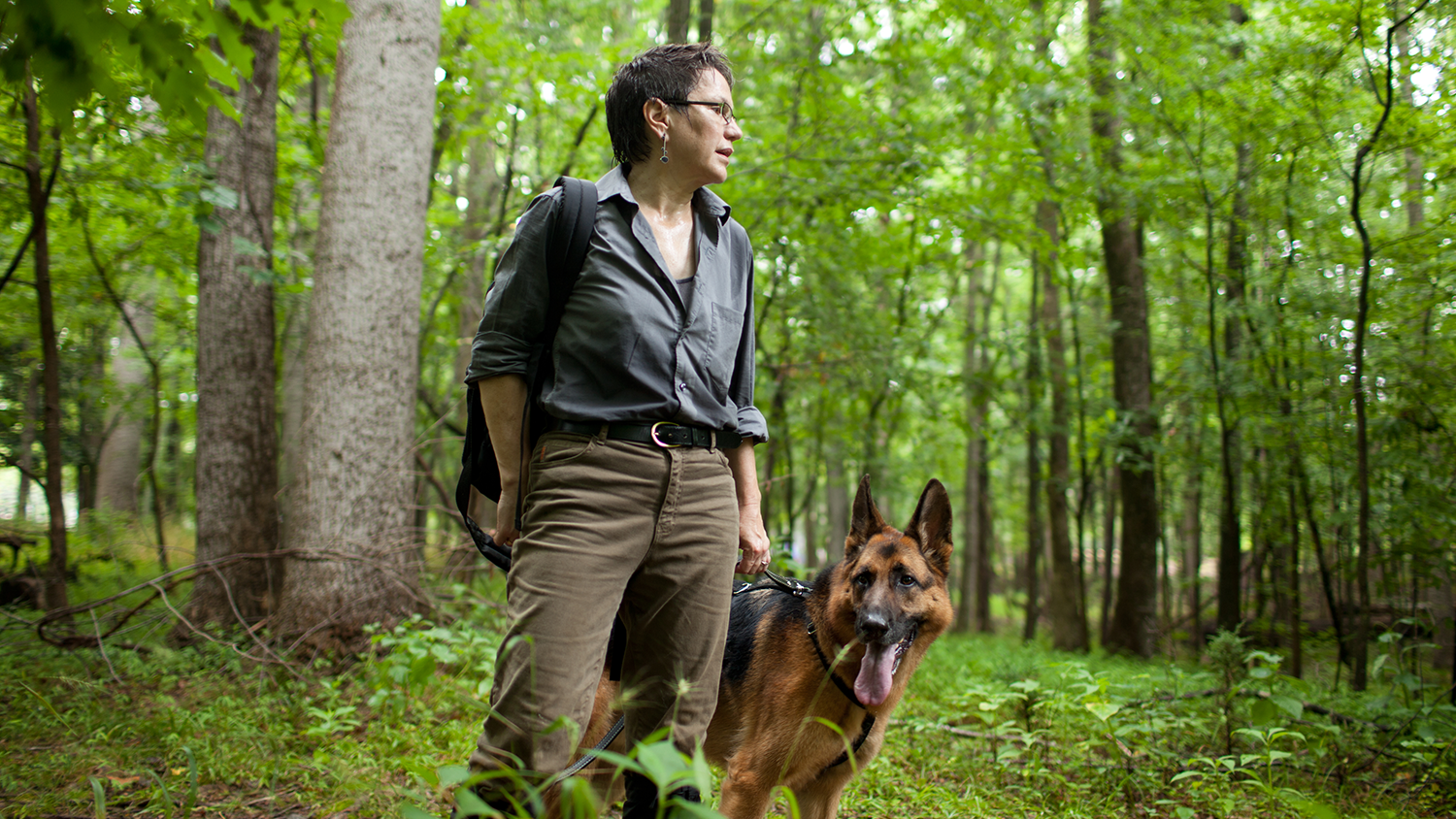 Dr. Cat Warren is a professor of English at NC State and is our next speaker in the Great Animal Semester of Seminars.
Last year, Dr. Warren wrote the book, What the Dog Knows: Scent, Science, and the Amazing Ways Dogs Perceive the World, an exploration of the extraordinary talents of "working dogs"– canines who can sniff out drugs, find explosives, and even locate the dead. Since its release, the book has been on the New York Times nonfiction paperback bestseller list, the New York Times science book bestseller list, and the animal book bestseller list.
Read more about Dr. Warren and her book below. Hear her speak on February 15 as part of the Great Animal Semester of Seminars.
1. What are some of the biggest challenges associated with training a cadaver dog?
Dr. Cat Warren (CW): The biggest challenges involve having a different relationship with the cadaver dog than you might with a companion dog. And usually, it means having a different kind of dog entirely.
It's not that cadaver dogs aren't your companions (our dogs live in our house with us), but these working dogs can be demanding, have different needs, and certainly have different training systems. You can throw the idea of a calm and submissive dog out the window. That's not the kind of dog who can work for hours under challenging conditions.
It also takes time, dedication, and patience to be a good cadaver dog handler. Though I started in 2004, I consider myself still new to this world and have much to learn. I make mistakes. When I watch good handlers work, here's what I see: They have great timing, so that they are rewarding their dogs at the exact moment necessary. Too soon or too late on the reward, and the dog doesn't understand what it just did correctly. Good handlers are able to push their dogs by challenging them to learn more and do better, but not so much that their dogs lose their confidence. In other words, it's a delicate balance to create independence and expertise in working dogs without throwing too much at them at once. Good handlers are always setting up increasingly difficult puzzles in training. When I see good handlers and trainers work with detection dogs, it's thrilling.
2. Can you talk about the culture surrounding working dog trainers and handlers?
CW: The world of working canines and their handlers and trainers is huge and complex. So there's not one culture; there are dozens of them, which is what makes it so fascinating to me.
I've been fortunate to be able to train alongside law enforcement, search and rescue canine handlers, trainers working with drug dogs, bomb dogs, street dogs and disaster dogs, and even conservation dogs. What unites each of them is the relationship between the dog and the partner. Dogs are not just good friends, but irreplaceable extensions of their human partners: smelling and hearing things their human handlers cannot, going places most people are reluctant to go.
As I note in the book's introduction, the epiphany for me over the past decade is not that working dogs are miraculous—because I falsely assumed that, even when I shouldn't have—but how inextricably linked working dogs' success is to the quality of their handlers, and the trainers who train them. Fine handlers and trainers are the epicenter of teaching dogs to reliably distinguish particular scents and to communicate their discovery clearly and consistently to work under all sorts of adverse conditions. These are the dog people whose lives and careers are so interwoven with working canines that it can be difficult sometimes to see where the person ends and the dog begins; they complete each other.
3. What are some best practices you could recommend for aspiring writers?
CW: Write every day. I don't always, and I should (I don't count email, Facebook, and Twitter). Writers write. It's that simple. Set a schedule and stick to it. I'm enormously undisciplined about when and how I sit down and work.
Read. Widely and often. With abandon. Bad literature and good literature and fiction and nonfiction and journalism and history and poetry. Read because if you don't read, you won't know how to write.
Research. Then do more research. Expect that 95 percent of what you discover may never make into your finished written product. But that's okay. It's still there, as a kind of invisible backbone to your writing. I love this stage of work, when I'm interviewing people, reading articles and books, clipping bits and pieces of data, throwing them into a huge database, and making connections between seemingly unrelated concepts. It's invigorating.
I also think that it's important to let the mind wander at the same time you try to discipline it. Get away from the computer and the mobile app several hours a day. You'll look up and see a fascinating, troubled, interesting world out there.
4. How were you expecting individuals to respond to your book?
CW: I had absolutely no idea how people would respond. I had many sleepless nights prior to publication. I've been thrilled with the response. Lots of books are absolutely wonderful and don't sell in great numbers, but this book has sold well and steadily, and much of that has been through word of mouth. It's a hybrid that combines memoir, history, science and crime — with lots of dogs and dog people thrown in. A few readers find it's got too much science and not enough of all warm fuzzy dog. It's not Marley and Me, though dogs are the central characters. A few readers want many more concrete details about criminal cases I've worked on, but this isn't a true crime book.
The vast majority of readers and other writers I hear from have been wonderful in their reaction. They've opened new world that I didn't know existed — people who write to say that they see their dogs differently, or started training their dogs as search and rescue dogs. Getting correspondence from men and women in law enforcement or the military who love the book, or from people who have lost a loved one to violence or murder? Those are especially meaningful.
5. Are there any more books on the horizon for you?
CW: I feel incredibly fortunate that Solo, my German shepherd and first cadaver dog, was the impetus for my launching into writing nonfiction books. I do have two book projects I've started. One of them involves scent detection dogs, and it will be targeted for a young adult audience. I'm working closely with a wonderful artist on that project, which pleases me a great deal because I love collaborating. But I'm a slow researcher and writer, and it's going to be a little while.