Igniting a Passion for Fire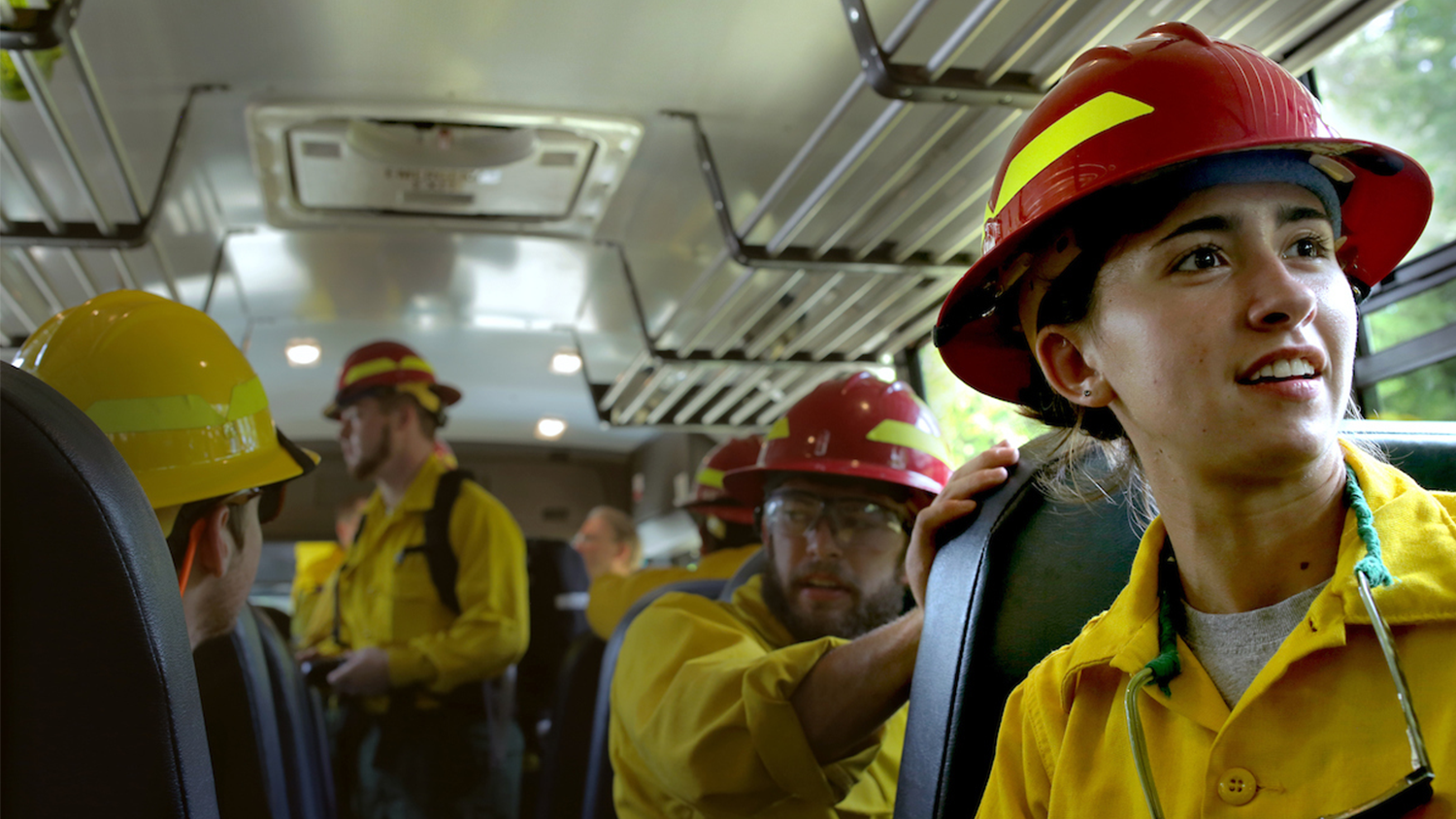 Burn Bosses usually have a burning passion for fire. As the person in charge of a prescribed burn, he or she oversees all aspects of the burn, including planning, executing and managing the wildland fire crew. For some, like Elizabeth Snider, a 2005 Master of Forestry alumna and current Liaison Silviculturist for the College of Natural Resources Forest Operations, it was more of a slow burn. For others, like Matthew Haunsperger, a 2014 alumnus with a BS in Forest Management and a current Master of Science in Forest Management student studying the effects of prescribed fire on water quality, water quantity, and fuel loads, it was love at first flame.
Both Haunsperger and Snider are excited to be back at Summer Camp this year for Fire Week and another prescribed burn. Check out their Camp experiences and reflections: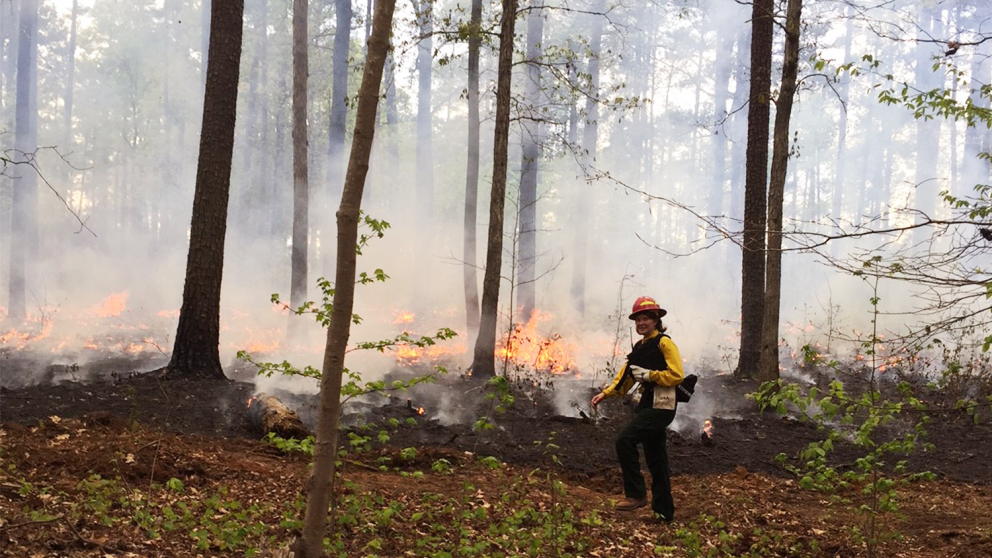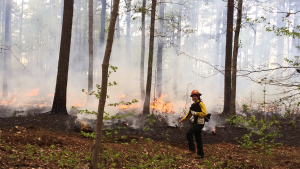 Tell us about your Summer Camp experience.
ES: I was a student the summer of 2001 and transferred directly into the Summer Camp program, where I immediately found my place. This summer I'll be acquiring my NC Burn Boss Certification.
MH: I attended Summer Camp as a student in 2012, a Teaching Assistant in 2013 and 2014, and as a teacher of Forest Systems Mapping and Mensuration (FOR 273) in 2015 and 2016. During the 2014 and 2015 summers, I coordinated the prescribed fires during Fire Week as a Burn Boss.
Do you have a favorite Summer Camp memory?
ES: I learned to drive the bulldozer at Summer Camp and plowed the fireline for our prescribed burn. I was the only student operator at that point.
MH: I have too many to have one favorite, but I would say getting to know my forestry classmates that I would eventually graduate with.
Why is Fire Week important to you?
ES: It is such a strong experience. Students learn so much and many are motivated to continue with fire management into their careers or as volunteers.
MH: Many plant and animal communities rely on fire and it is a great natural tool to use in forest management. My future goals are to implement prescribed fires for Longleaf Pine ecosystem restoration.
How do you feel Summer Camp prepared you for life after graduation?
ES: I believe summer camp helped immensely with my education and made me stand out to potential employers.
MH: Hands-on field work, taking knowledge from books and using/seeing it in the field and professionalism.
What was the most important thing you learned while at NC State?
ES: I learned to talk. I was extremely timid, but became passionate about advocating for our industry and educating the public on managing forests.
MH: Networking, getting to know people in the industry.
Tell us about some of your internship, co-op or work-study experiences?
ES: First, I worked for the West Virginia Division of Forestry as a Logging Sediment Control Officer, where I went through a modified boot camp and enforced logging regulations pertaining to certification and licensing, water quality, and erosion control. Then I became a business owner and ran a 90-acre farm as a family campground and event venue, where I tried my hand at small-scale landscaping projects, all while raising my young son. Several things I would have never seen myself doing!
MH: CNR Work Crew scholarship, Assistant Interim Forest Manager at NC State, Teaching Assistant for 16 courses, teacher for 2 courses, CNR Equipment Room Supervisor for 2 years, and CNR Vehicle Motorpool Supervisor for 2 years.
Do you have a favorite CNR moment or a really impactful college experience?
ES: I was lucky enough to attend a study abroad trip to Costa Rica looking at envirotourism and agrotourism. It opened up my eyes to the world of possibilities in our field of forestry.
MH: I have too many to select just one. My entire career in CNR has been a great experience.
Why would you recommend Forestry Management to incoming students?
ES: There are so many directions to go, surely you will find your niche; keep an open mind and conversations going.
MH: Great opportunities for jobs and meeting fantastic people.
Any advice for incoming students?
ES: Talk to people. Get to know your classmates, your professors, and any other professionals you can meet along the way.
MH: Do not rush through your college experience. Take the time to find out what it is you want to accomplish. There will be plenty of time for work in your career.