Not Your Average Internship: Mussel Memory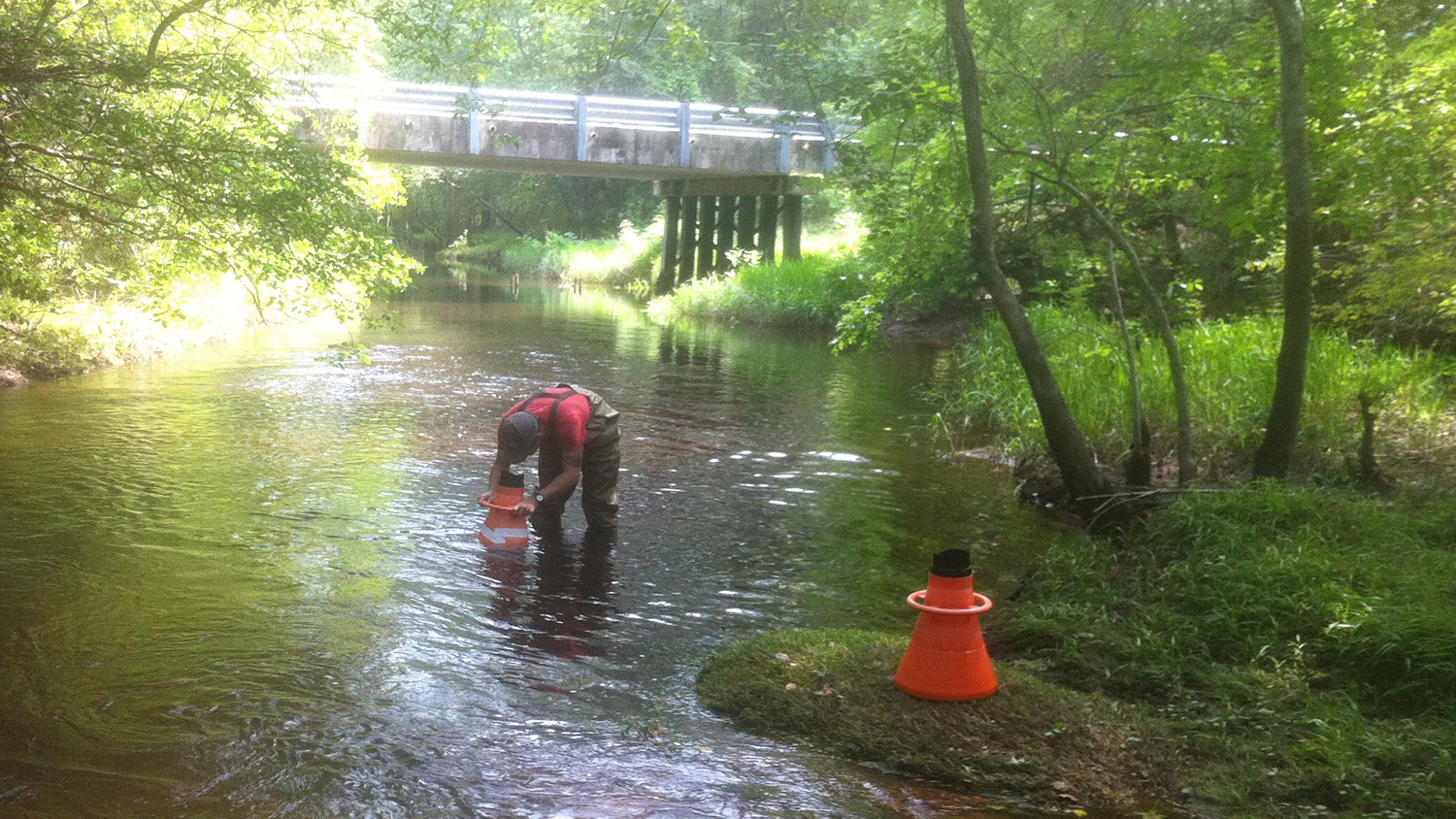 A summer on the Broad, Congaree and Little rivers sounds ideal to Fisheries, Wildlife and Conservation Biology major Nicholas Oberle. As a Freshwater Mussel Field and Laboratory Technician working with Drs. Jay Levine and Chris Eads in the Aquatic Epidemiology and Conservation Laboratory at NC State, he's supporting research on the propagation of Yellow Lance and Tar River Spiny mussels, two of North Carolina's six federally endangered mussel species. Oberle's hands-on internship, made possible by the Camp Younts Foundation, which partially funds 8-10 Fisheries, Wildlife, and Conservation Biology internships each summer, involves everything from snorkeling in the rivers to maintaining lab equipment.
Tell us about your internship experience. My job is to assist in the propagation and augmentation of threatened and endangered freshwater mussels. Fortunately, I am involved in several stages of development that these little critters go through. The larvae (glochidia) are obligate parasites, so not only must we care for the mussels but also their particular host fish. We coordinate with the US Fish and Wildlife Service, the NC Wildlife Commission and the College of Veterinary Medicine (CVM) to maintain the mussels' highest level of fitness.
My time is spent half in the field and half in the lab. Since I started working, we have netted and electrofished, done host fish trials, snorkeled, fed, treated and identified fish and mussels, infested fish with glochidia, monitored and counted thousands of juveniles under the dissecting scope.
Freshwater mussels are filter feeders and remove algae, bacteria, and viruses from the water column. They reduce turbidity, contribute to nutrient cycling and after they die they leave behind a wonderful shell for other flora and fauna to utilize. I thought it would be an excellent opportunity to work with these water cleaners and it has completely lived up to its hype.
What have you enjoyed most about your internship? Getting to share what I have learned with others has been my favorite part. For instance, during the CVM Open House, I interacted with many, many children and parents. It was great to see how excited and interested they were to learn about our unionids [mussels].
Would you recommend your internship to other students? I definitely would recommend this internship. The success of our goals here at the "mussel barn" depends on good timing, attention to detail, and patience. This internship provides an opportunity to practice all that you learn in college. Chemistry, biology, math, wildlife management, human dimensions, natural history and ecology have all helped me make this a great experience,
Have you learned anything interesting or cool you'd like to share? I've learned a lot about plumbing, actually. Much of the equipment has been engineered in house. Understanding water pressure and plumbing design is essential in keeping the mussels and fish alive.
Why would you recommend your major to incoming students? An undergraduate degree in Fisheries, Wildlife and Conservation Biology bridges the gap between wanting and having the practical skills to save this beautiful world. If you truly want to learn from the best in the field and then take those skills to contribute to solving the problems in nature and wildlife management, then choose this major.
 Any advice to incoming students in this major? The Department of Forestry and Environmental Resources is practically a family. The staff, instructors and TA's want nothing more than to see you succeed. Communicate with them…often.
Why do you feel CNR has prepared you for life after graduation? CNR's main emphasis has been on practical skills and valid experiences. The classes keep you involved in real world through case studies, teaching children, and participation in research just to name a few. CNR has panel discussions with professionals in our field. Also, due to the college providing so many opportunities and having a community feel you end up with this amalgam of students sharing with one another. This in turn helps CNR students know what to expect and prepare for graduation.