Not Your Average TA: Dillon Dunn
Forest Management 2016 graduate and soon to be Master's student, Dillon Dunn is currently a teaching assistant (TA) at the College of Natural Resources Summer Camp. As a TA during Fire Week, he prepares all of the tools and equipment for each class, provides insights from his experiences working with prescribed fires and helps guest speakers with presentations. He will also lead the pack test students must pass to receive their fire fighter type II certification, which includes a 3 mile course with a 45-pound pack that must be completed in 45 minutes.
After Summer Camp, Dunn will pursue a Master of Science in Forestry under Dr. Robert Jetton, with a focus on forest health. He will also begin a CNR assistantship in August, supervising motor pool and the College equipment room. As an alumnus of the program, Dunn shares his experiences both as an undergraduate student and now a TA: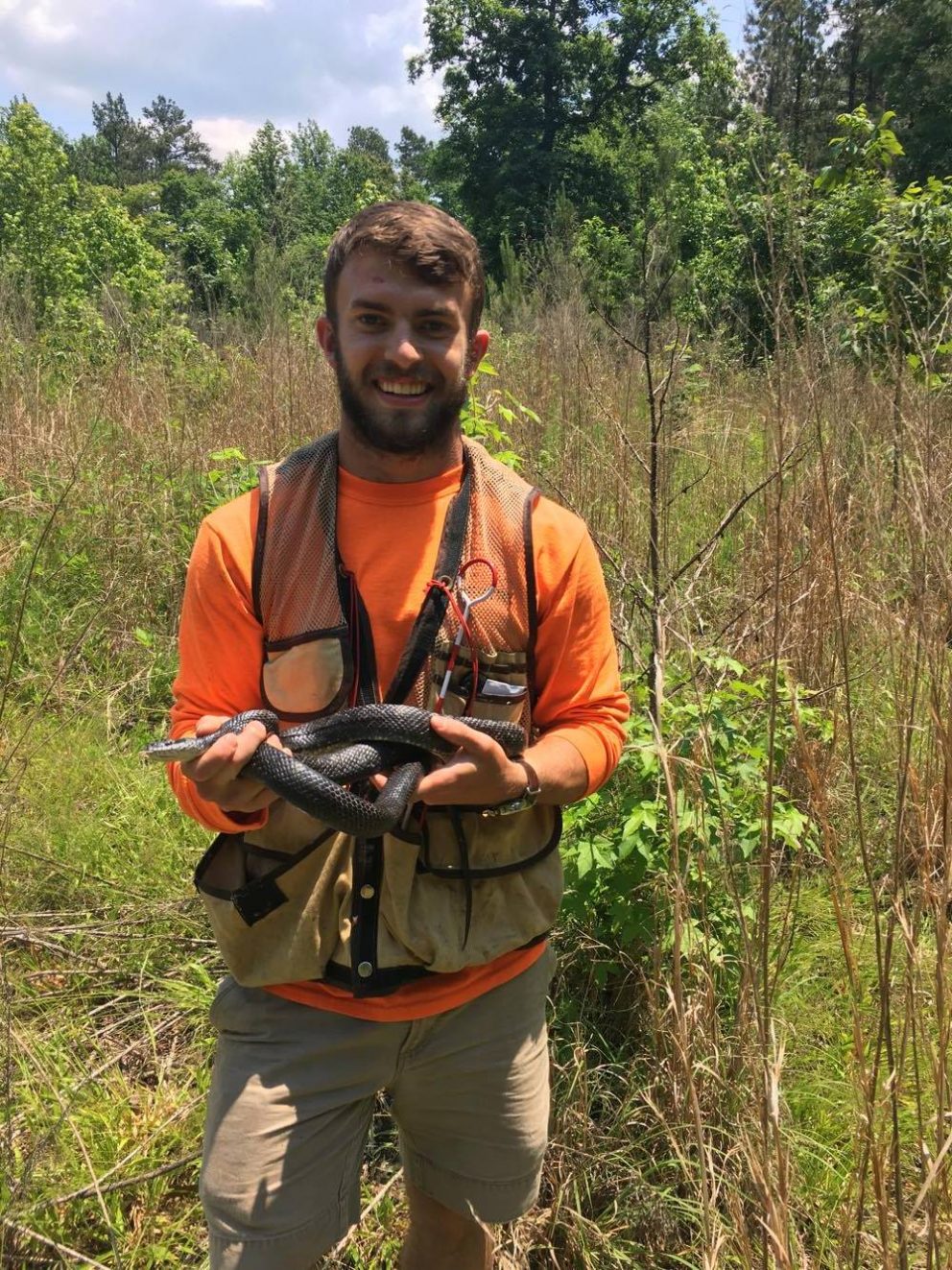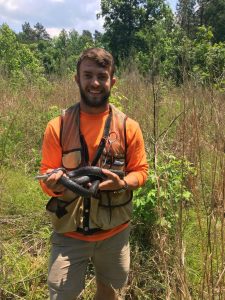 Tell us about your Summer Camp experience. I went to Summer Camp as a student in 2014. We had a large class of 24 students, two of which were football players from Michigan Tech. Summer Camp was one of the greatest summers I have ever had. I really love learning about the forest and hanging out with others who share my interests. I got to know everyone in my class, and I made lots of friends. My favorite trips were to the coastal plain and to the mountains with Dr. Richard Braham. Fire Week was another great week, it is always invigorating to burn the forest, and our class burned 16 acres of pine plantation during the week. Since finishing Summer Camp as a student I have spent the last two summers as a Teaching Assistant at Camp.
What did you learn during Fire Week or Summer Camp? In order to make good fire prescriptions that are safe and effective, a fire practitioner must understand the science of prescribed burning. During Fire Week, I learned so many tips and tricks about all different aspects of fire science. These tips and tricks were from the professionals who work in fire every day. Fire Week covers all aspects of fire ecology and science from fire behavior and its influences (weather, climate, topography, fuels, etc.). The course also covers topics involving safety things like proper PPE, tool maintenance and use, how to use a fire shelter, etc. I learned so much about fire during fire week—it was an essential week for my education. Our native ecosystems in North Carolina (and the rest of the southeast) were directly influenced by humans using fire. To maintain and create native habitats, fire must be present on the landscape, therefore land managers must have a working knowledge of fire to manage these landscapes effectively.
How do you feel Summer Camp prepared you for life after graduation? Summer Camp is the best way to introduce students into the culture that is Forest Management. Camp is fast paced and rigorous land managers must be able to juggle many unforeseen constraints or problems while adhering to a guiding set of principles. Summer Camp gives the students 9 weeks of practice at that. Without Summer Camp I would not be the same quality student, teacher or forester.
What was the most important thing you learned while at NC State? I learned that success in life does not fall into your lap, but must be gained through hard work and perseverance both in the classroom and in the field. I learned that people are better at some things and worse at others, and having a diversity of backgrounds and interests in a team is a good thing. Diversity in skills and interests allows for dividing the work up to showcase each individual's talents and will thus yield a better final product.
Tell us about some of your internship, co-op or work-study experiences? I worked on the Piedmont Forest Work Crew for three years, while on work crew I learned how to navigate around the school's forests. I helped with prescribed fires (over 200 acres), tree planting, timber harvest boundaries and maintenance around Camp Slocum. I also learned how to run a chainsaw and drive a bulldozer while I was on work crew.
Why would you recommend Forestry Management to incoming students? Forestry is a necessity, this profession has been around for thousands of years and will continue to expand into the future. The world's consumption of wood and paper products will only increase in time. This increase in consumption will put a greater burden on the natural landscape. The additional wood that will satisfy this consumption will come from better managed forest plantations. For these reasons and many more, the world is in need young, intelligent forestry professionals. It is the future foresters who will solve the problems we have yet to face, and in that respect, I think forestry is a wholesome and worthwhile way to spend a life.
Anything else you'd like to say about Summer Camp? Our Summer Camp program is one of the last full-length forestry summer camps still around. Students who attend Summer Camp learn so much about forestry. The lessons are realistic and practical and much of the work is applied in the field. Students who make it through Summer Camp will be ready to get a job or internship as a forest technician the following school year or summer.