Professional Golf Management (PGM) major Ryan Foll is building a mini mall this summer for the Professional Golfers Association of America (PGA). As a Merchandise Operations intern, he helps turn an empty 35,000 square foot tent into shopping HQ for the 2016 PGA Championship (July 25-31) at Baltustrol Golf Club in Springfield, NJ. From managing construction to vendors, he's thinking, doing, building and creating merch magic in the field at his hands-on summer internship. Check out his experiences: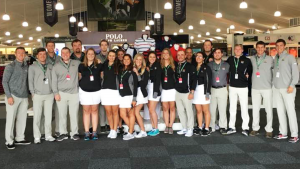 Tell us about your internship experience. I am part of a team of interns and staff that put together the Championship Shop merchandise tent. Our team starts from scratch with just the tent and plywood under our feet. We lay the carpet and we put together all of the walls and all of the fixtures for each company selling there. We also coordinate with the clothing companies to help them display and sell their merchandise to customers.
What have you enjoyed most about your internship? I like dealing with vendors the best. I also enjoy starting the operation from nothing and building an indoor mini mall.
Would you recommend your internship to other students? I would recommend my internship for anyone interested in merchandising or retail sales because it is a great experience. It's also a very good networking internship because of all of the people we meet and work with daily.
Why would you recommend your major to incoming students? I would recommend the PGM major because it is a close knit group of people in a large university.  We also play lots of golf and tournaments and have a great time.
Any advice to incoming students thinking about your major? My advice for incoming students would be to hit the ground running. It will help you in the long run since nothing is handed to you in terms of careers or internships. You have to work hard and make sure you can meet as many people as possible.
What do you plan to do after graduation? After graduation I plan on becoming a PGA professional and entering the golf business at a golf course or in the field of merchandise. My internship made me realize how much I love the merchandise side of the business and that is most likely what I would like to do when I graduate.
Why do you feel CNR has prepared you for life after graduation? I think CNR is great. Without the CNR and PGM staff, I would not be where I am today.