We are excited to welcome all of the Environmental Sciences majors to the College of Natural Resources this month. Students like Stacy Partin, Environmental Sciences 2019, will join the Department of Forestry and Environmental Resources, which encourages students to spend the summer in the field interning and gaining hands-on experiences. Check out Partin's summer internship experience in Morehead City, N.C. with CMAST.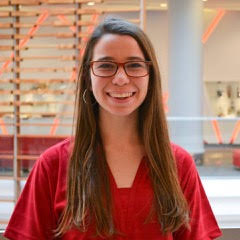 Tell us about your internship experiences. I am currently an intern for Dr. Vicky Thayer, NC Division of Marine Fisheries Marine Mammal Stranding Coordinator for the NC Central Coast working with NC State's Center for Marine Science and Technology (CMAST) in Morehead City, N.C. I have been doing many different things in my short time at CMAST, for example, I have spent time dissecting bottlenose dolphin stomachs and identifying the consumed organisms by the remaining otoliths found. Additionally, I was taken on a trip to identify dolphins based on their dorsal fins. I also extracted the teeth out of a stranded dolphin stomach on Piney Island, painted dolphin bones with book-binder glue for preservation, and observed a sea turtle necropsy.
Why would you recommend Environmental Sciences to incoming students? There is a ton of flexibility in terms of your degree audit. I feel like I have a huge chunk of control when it comes to what I choose to study thanks to the "focal area" aspect of the program. At first this was terrifying, but overall, college is about choosing what you want to learn, and ES truly allows you to choose you own education. Also, the major is not that large, so there are many opportunities to connect within the community.
Any advice to incoming students or students thinking about your Environmental Sciences? This may sound like a relatively obscure piece of advice, but just do things. Get your hands wet in the field. Be bold and email your professors. Try to work in a lab. Ask people questions. Join clubs. Allow yourself to mess up. In my experience, experience has taught me more about what I want from my education than anything else.
What organizations or student groups are you involved in? I am an NC State Steward (Education and Outreach Project Group), Environmental Science Ambassador, Fossil Free Club Member, and an Orientation Leader! I am also involved with the College Democrats of North Carolina, serving as the State Council Vice Chair and Environmental Caucus Chair.
What do you plan to do after graduation? This answer is still a work in progress. I have found I love working in labs, so I could see myself working as a lab technician before furthering my education. I also really love politics and policy, so who knows!
Why do you feel Environmental Sciences has prepared you for life after graduation? Although I'm only a year into my education, I feel as though my courses have prepared me to think critically and rationally when encountering complex problems.
Anything else you'd like to say about Environmental Sciences or your experiences? One of my favorite aspects of my program is the community! Shout out to NC State ES '19!!!
Interested in attending this program yourself? Learn more here!