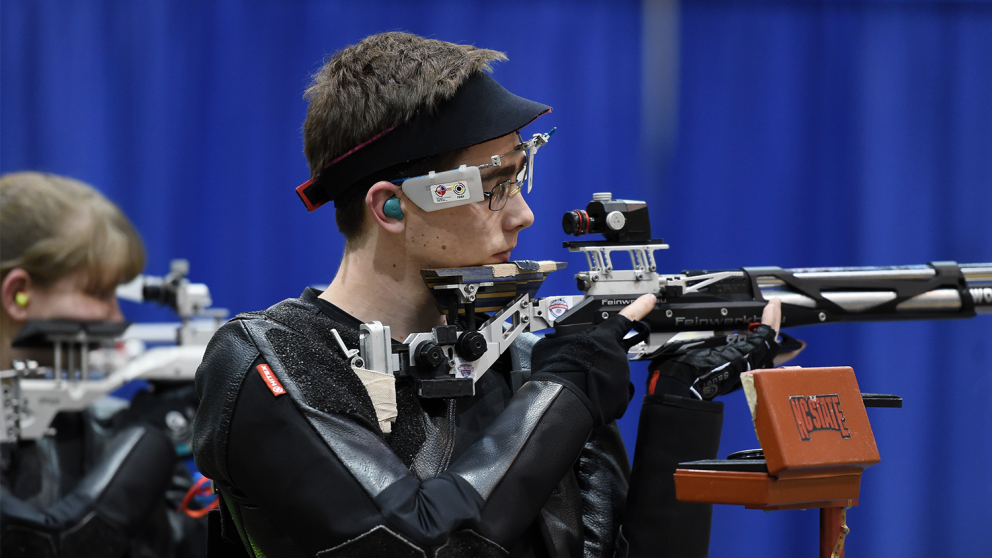 Sport Management major Lucas Kozeniesky is not only interning with NC State Athletics as a Facilities Operations intern this summer, he's also training for the Rio Olympics. He will face the best athletes in the world for the Men's 10-meter Air Rifle competition in August, where he'll be just one of two men representing the United States for the sport.
Quiet and unassuming, Kozeniesky is humble about his accomplishments, which include leading the NC State Rifle Team in both the air rifle and smallbore disciplines the past three years, breaking the program record last year for aggregate total score, and finishing first in the men's air rifle Olympic trials competition in Ohio.
With no real background in shooting and only seven years of experience with the sport, he attributes his success to a great team, coach and mental management. Kozeniesky picked up his first air rifle his freshman year of high school after moving back to the US from Norway. His dad encouraged him to go out and find something to do in his new Virginia school. Even though he was the worst shooter on the team that year, Kozeniesky thought the sport was "neat" and diligently worked to improve his skills.
Now he's shooting at the highest level in the US and can't wait to represent the Wolfpack, his team and his country in Rio.
"It's really not about self-glory," Kozeniesky said. "Even though I've had a bit of success, my success is really contributed to the success of our team. I just set myself up for success and then let it happen. It's no different than what Michael Phelps does."
To set himself up, Kozeniesky focuses on simple, positive thinking. This is essential in a mental sport, where athletes compete as much against themselves as each other.
"I don't really worry about the outcome," he said. "I list a goal and I list how I'm going to do it and the things I'm going to achieve while getting there. I use the rules of psychology, like positive reinforcement, and let muscle memory take over. Five positive thoughts can overpower one negative one. I'm very scatterbrained, so I check off all the boxes while I'm setting up, before I pull the trigger."
Mental mastery is also what drew Kozeniesky to Sport Management, where he enjoys the logistical aspects of the major. "I like working with people and I like to organize and make things happen," he said. "Sport Management really fits that bubble for me."
In his internship with NC State Athletics, he's puts all those logistical skills into action by updating evacuation standards and protocols for Carter-Finley stadium and contributing to facilities planning for the Reynolds Coliseum renovation and Case Commons residence hall construction. "It's lots of calling real people and doing real things and applying everything from the classroom in the internship," he said.
Kozeniesky also enjoys the community service aspect of Sport Management. His favorite event was the College Bound Day at Bugg Elementary, where he mentored students. "The school is full of positivity and really sets up the kids for success," he said. "I got to shadow two kids for the day and it was really cool. I lived all over the place growing up with a dad in the military and never really got that kind of attention." He hopes to inspire other students to find their own success in the future.
Right now the future is uncertain for Kozeniesky, especially post-graduation. Currently, as a rising senior, he wants to move to Colorado and work in the Olympic Training Center with either pro or collegiate teams. But that could all change in Rio. For now, he's taking one day at a time, spending 8 hours at an internship, 4 hours training in the basement of Broughton High School and a few hours of down time with his roommates playing Call of Duty.
Catch Kozeniesky in Rio, August 7-9, on NBC networks or online. Check out the NC State Rifle team, including fellow Sport Management major Daniel Cliff, online, on Twitter and on Facebook.