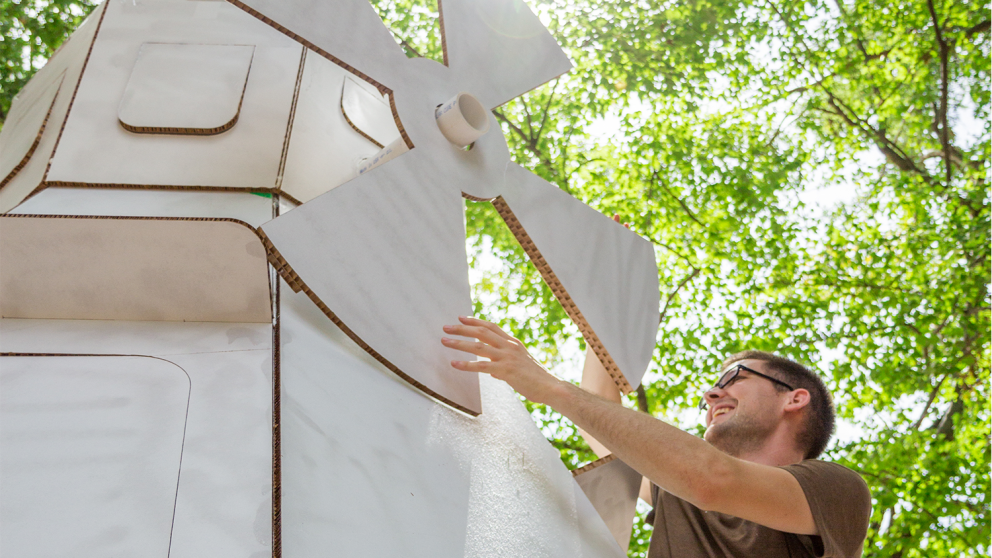 As the reigning champion of Shack-A-Thon for the past two years with a log cabin shack and a bamboo shack, the College of Natural Resources continued their winning streak by thinking outside the box with a cardboard windmill-shaped shack provided by the Packaging Corporation of America. The student team raised $4,486, putting the College 4th place overall, and received the 'Most Sustainable Shack' Award. Last year, the College of Natural Resources student team set an all time record and raised more than $14,000. This year, the Shack-A-Thon competition helped raise $65,000 for the Wake County Habitat for Humanity Build-A-Block campaign, which will build 11 townhomes on Lake Wheeler Road instead of the usual single home.
"We are not only excited about our unique shack design, but also about the sustainability of the shack materials, and feel that we have constructed a shack that reflects the strong sense of innovation and environmental stewardship present within the College of Natural Resources,"said Kat Santoro, Paper Science and Engineering major and CNR Shack-A-Thon Fundraising Chair. "We want to say a big thank you to everyone who donated and helped volunteer at the shack; it was a great team effort, and we can't wait for next year! A special thanks to our wonderful corporate sponsor, Packaging Corporation of America for donating the shack materials!"
For nearly 20 years, the annual campus-wide Shack-A-Thon community fundraiser has raised awareness around affordable housing and donated more than $340,000. Each year, more than 1,500 students spend their week living in the shacks 24-hours a day. Two students man the shack during the day, encouraging fellow students, faculty and staff to donate to their organization's goal, and one student spends the night on the Brickyard in the 12′ by 12′ by 10′ shack.
"It is truly amazing to see students with different interests and ideas come together to benefit a worthwhile cause," Santoro said.
This year, more than 40 Colleges and student organizations built 26 shacks. So far, they have endured a long week of heavy rain and inclement weather. Even though the College of Natural Resources shack is made out of cardboard, it's still standing and our dedicated team of students are still fundraising.
Congratulate the College of Natural Resources Shack-A-Thon team:
James Bernash,Parks Recreation and Tourism Management, 

Shack

-a-Thon Coordinator
Will Tulloss, Forest Management, 

Shack

-a-Thon Build Coordinator
Kat Santoro, Paper Science and Engineering, Fundraising Chair
Brandon Smith, Sport Management, Volunteer Coordinator
Support College of Natural Resources students at Shack-A-Thon.
Check out Technician coverage of College of Natural Resources students at Shack-A-Thon