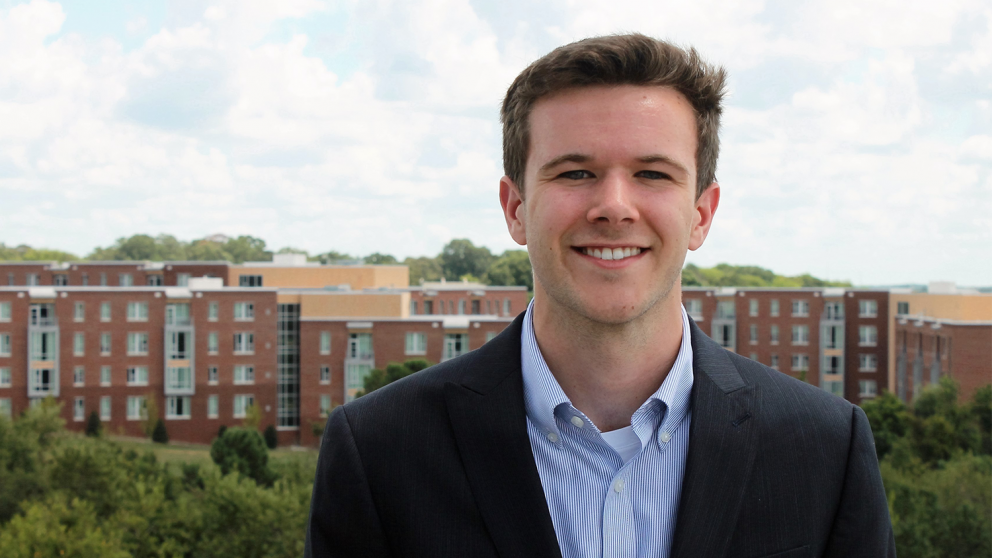 David Lovato, a junior Paper Science and Chemical Engineering double major, recently received the William L. Cullison Scholarship from the Technical Association of the Pulp and Paper Industry (TAPPI). He joins a long line of College of Natural Resources Paper Science and Engineering students who have received the national scholarship by demonstrating outstanding leadership abilities and significant interest in the pulp and paper industry through rigorous internships. An NC State student has received this premier award for 16 of the past 17 years, since the inception of the scholarship.
Not only does Lovato take on leadership roles during his internships, he's also an active student leader on campus. He recently served at the TAPPI E-Council chair and works as a Resident Adviser in Syme Hall. He's involved in the American Institute of Chemical Engineers (AICHE) and the service fraternity Alpha Phi Omega. Lovato is also the recipient of the Recycled Paperboard Technical Association (RPTA) Scholarship for 2016. Check out why the TAPPI is so important to him and his student experience.
What does the William L. Cullison Scholarship mean to you. This scholarship meant a lot to me because I finally felt rewarded for all the hard work I put in as a student and as an intern at International Paper. The biggest impact was that I was able to completely pay for school by myself using the scholarship money from this award, my co-op and being a Resident Adviser, meaning I didn't have to take out any loans this year. Given how expensive college is nowadays for the average student, even in-state, I thought that was a pretty significant achievement.
Have you completed any internships, undergraduate research, study abroad or other hands-on experiences? I did a six-month long "super co-op" (summer and fall) after my freshman year, as well as an internship this past summer, with International Paper in Campti, Louisiana. I learned so much about how a paper mill works and I gained great work experience with the projects I was given. While I was there, I got to experience the mill's "annual outage," where they shut down all the equipment for a couple weeks, giving me a great opportunity to climb inside tanks and boilers and learn all that I can. Overall, I learned a lot about the mill, got good work experience, and gained valuable insight to what I might want to do after I graduate, and I highly recommend getting an internship to every student for those reasons.
What do you enjoy most about your experience as a College of Natural Resources student? I really enjoy how well networked and close to industry the College of Natural Resources is, especially the Paper Science program. It's pretty cool that companies come to NC State wanting to hire our students. Being able to get internships after my freshman year was something that I never thought I could have done coming into college.  Also, our college is a very tight-knit group and I've met a lot of people through the Paper Science program.
Would you recommend your major to incoming students? I would recommend anyone thinking about majoring in Chemical Engineering check out the dual degree with Paper Science. The Paper Science program is extremely well-networked and big companies like International Paper and Georgia-Pacific are willing to give you a co-op or internship even after your freshman year. The program is incredibly focused on getting real-world experience and they help you do that by setting up interviews and their own career fair in the fall. This emphasis on work experience, coupled with the public-speaking and presentation skills you learn early on in the curriculum, really set you apart as a student when it comes to having to compete with other Chemical Engineering students across campus, as well as the nation. If that doesn't sell you, they also offer lots of scholarships, which have helped me completely pay for school via scholarships for Paper Science students.
Any advice to incoming students thinking about your major? For those thinking about joining Paper Science and Engineering, you don't really have anything to lose by going for the dual degree as a Chemical Engineering student. There is so much to gain by joining the program, whether it is the professional development or scholarships. My only advice is that it's one of the harder paths you can take here at NC State so be prepared to work hard.
Do you feel prepared for life after graduation? Between the work experience I've gained and the rigorous engineering coursework, I feel very prepared for a full-time engineering role after graduation.