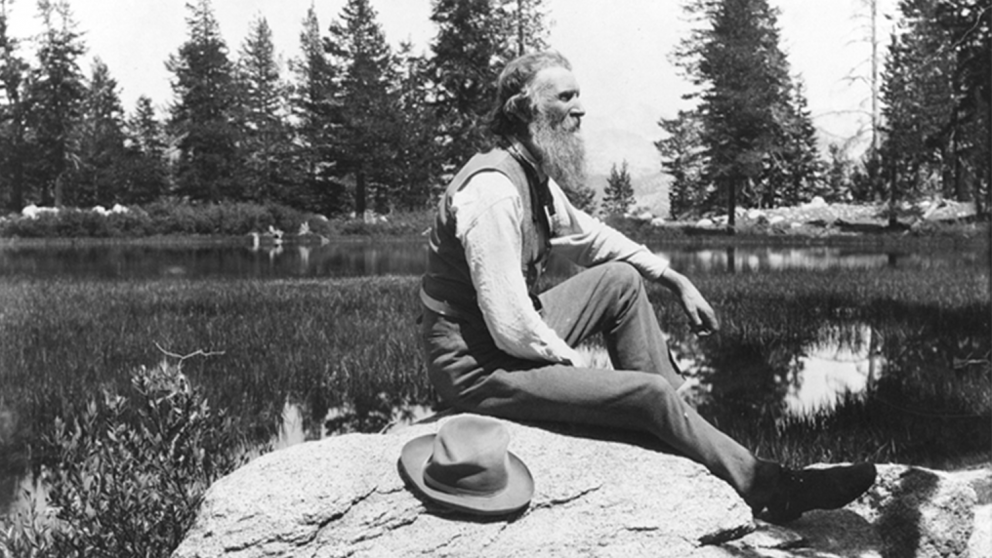 In his new book Nature's Allies, Dr. Larry Nielsen, Professor of Natural Resources in the Department of Forestry and Environmental Resources, not only follows the life and legacy of John Muir, he shares the impact of seven other influential conservationists.
"Without question, John Muir is the most prominent figure in the history of American Conservation." Nielsen writes. "His name lives on in parks, trails, and forested groves across the western United States, and his image graces the reverse of California's commemorative quarter. The organization that he started and dedicated himself to – the Sierra Club – stands today as one of the world's most influential conservation groups."
Nielsen had to write about Muir. He's the most famous and the easiest entry into a conversation about conservation. But Nielsen isn't interested in Muir the myth and legend. He's interested in Muir the man.
"Muir is a complex mix of qualities," Nielsen said. "That's why I'm interested in him. He's not the person most people think he is. He chose to be a tramp, but he could have been an entrepreneurial millionaire."
Even though he led a life of oxymorons, including believing in a higher power but despising organized religion; wielding technology and innovation to become a successful entrepreneur but rebelling against a life influenced by work and money; loving individual people but hating groups of them; becoming a devoted family man and life of the party but seeking a life of solitude traipsing through nature; and countless others, this citizen of the universe managed to become the president of the Sierra Club and establish the Yosemite National Park.
"The most enduring aspect of his personality, however, was his deep understanding of what we need from nature," Nielsen writes. "Nature provides the raw materials of survival – food, wood, water- and the sustainable use of nature's products did not trouble Muir. But nature also provides recreation, solitude, stress release, and spiritual renewal. Muir knew we needed this from nature also, and to assure its availability, we need to set aside lands-preserve them- as parks for all the people, not just the wealthy. And as the crush of population and development threatened to envelop the entire landscape, Muir set himself out to speak for the preservation of the best of the natural world."
Muir is the Father of US National Parks and the first major conservationist. He gave a voice to a burgeoning movement that is still around today. His writing not only influenced presidents and congressional policy, it impacted the life of everyday Americans, who continue to use the national and state park systems, including North Carolina State Parks, which are celebrating their centennial birthday this year.
Nielsen follows the history of the conservation movement from protecting land to the coexistence of people in the built and natural environments through sustainable practices and use of resources through seven other conservationists, including Rachel Carson, Aldo Leopold, Wangari Maathai, Chico Mendes, J.N. Ding Darling, Billy Frank, Jr. and Gro Harlem Brundtland.
"Half of the book is about the idea of protecting land as conservation and half is about living collaboratively with nature and the idea of sustainability where humans and nature are living together, now and in the future," he said. "The question of what we are doing to the Earth is more recent. Rachel Carson discovered that humans have a huge and lasting impact on our world. The movement from World War II to peace time influenced our resource uses and consumption and created a huge change. But, you can live sustainably with resources."
However, sustainable living isn't the most important takeaway from Nature's Allies. The moral of these eight insightful vignettes is that anyone, anywhere can have an impact on the world around them. Almost all of the conservationists profiled were not professionals working in environmental fields. They were cartoonists and rubber tappers. They were fishermen and tramps. They were ordinary individuals with exceptional passion and perseverance. They knew that impact takes time, dedication and determination.
Order your conservation change-agent inspiration from Island Press.