Sport Management Degree Takes Young Alumna to the Super Bowl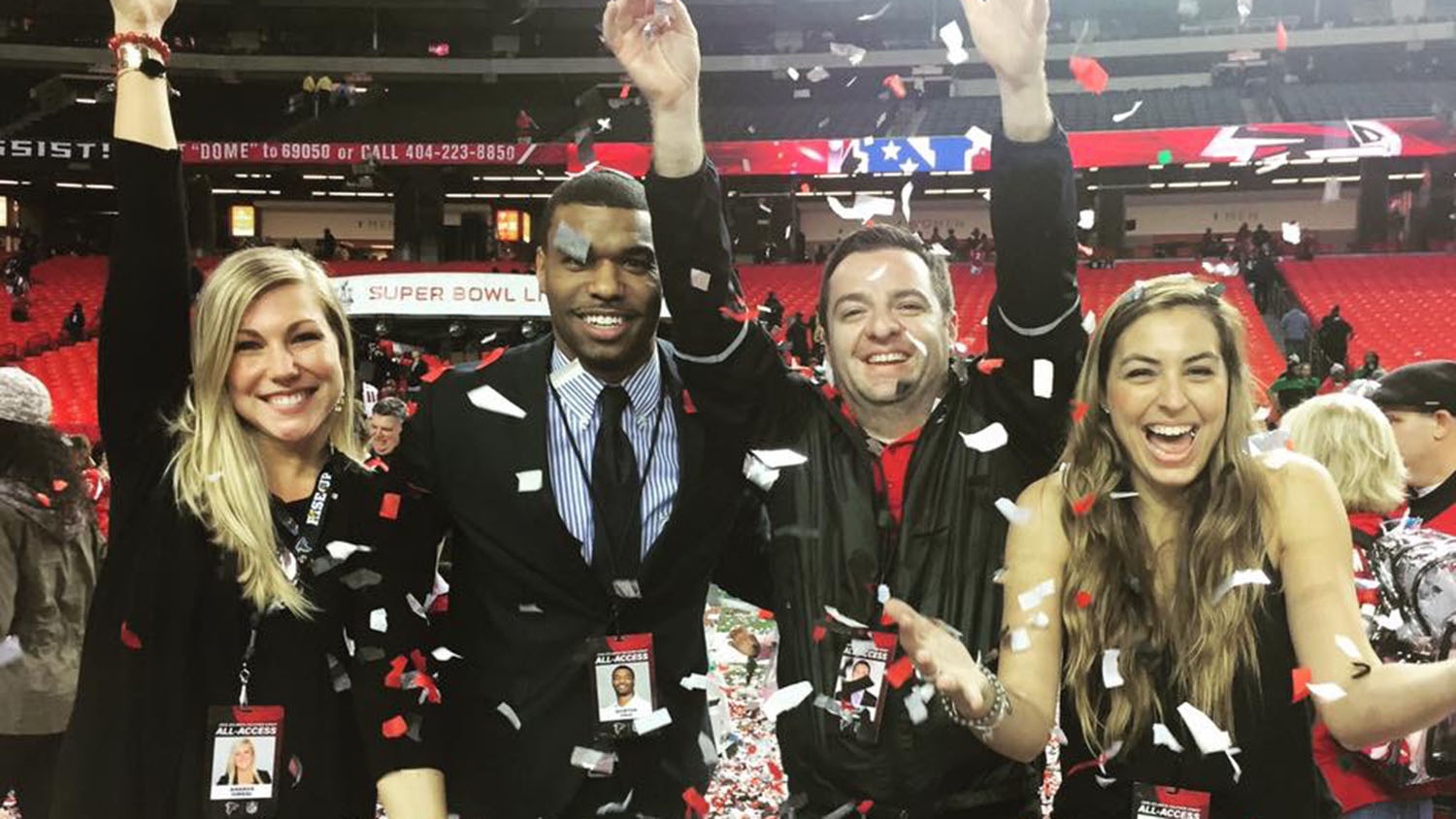 Amanda Dinkel graduated from the College of Natural Resources with a degree in sport management in 2013. Three and a half years later, she went to the Super Bowl with the Atlanta Falcons.
Please describe your current job.
I am a Community Relations Coordinator with the Atlanta Falcons. My role is to help bridge our team with the community through a variety of events, programs and initiatives. The ultimate goal of my job is to make as large of a positive impact as possible in our community by using our platform. More specifically, I focus many of my efforts on youth football. I coordinate various events that aim to introduce youth to football fundamentals, educate parents on football player safety and empower youth and high school coaches to be better coaches. In addition to my youth football focus, I also plan other events throughout the year, such as player visits to local hospitals, events that help underprivileged families during the holidays, and player visits to local schools.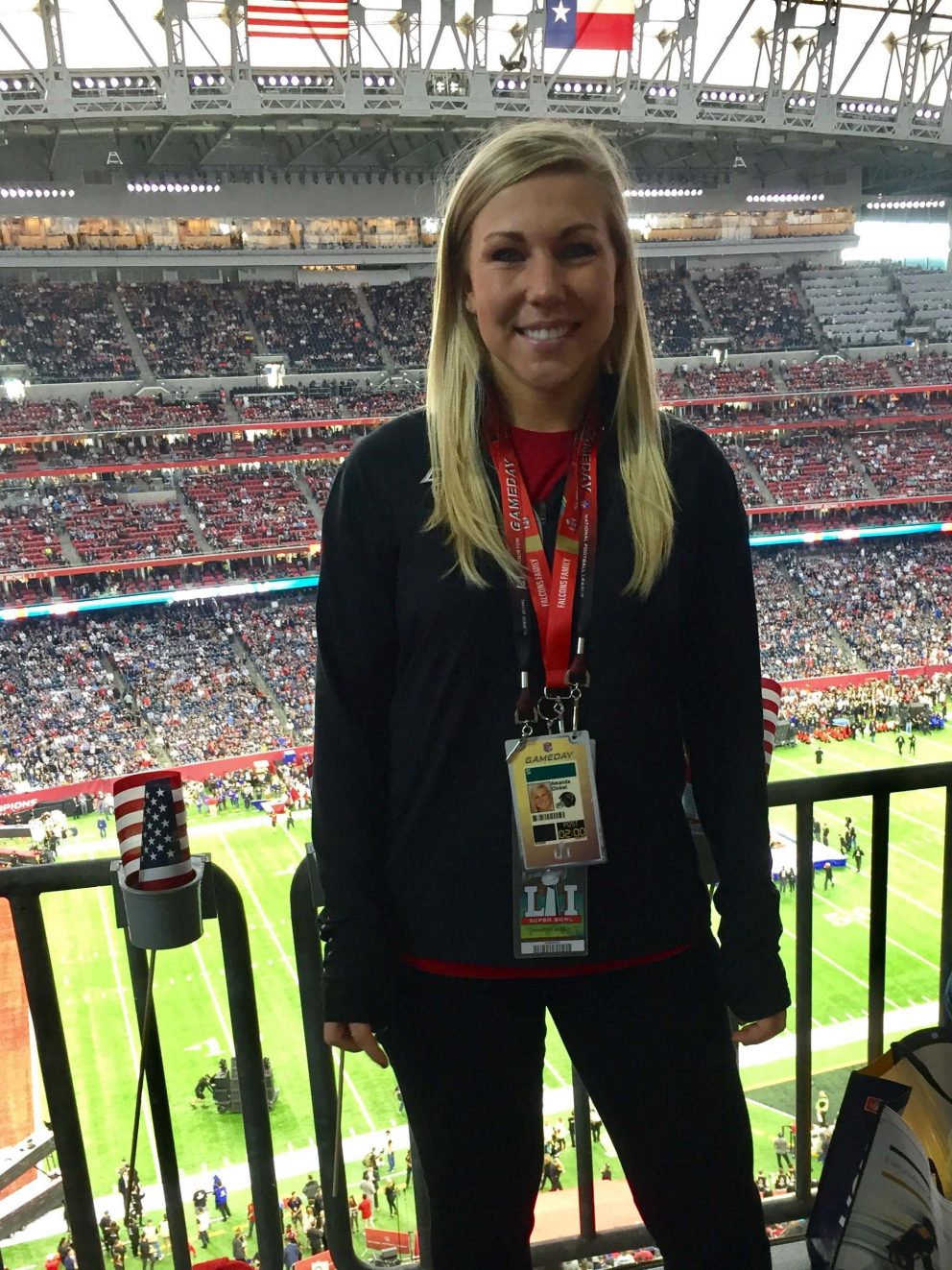 What is your favorite part of your job?
My favorite part of the job is seeing firsthand the difference that our platform is capable of making. Through this line of work, I'm so lucky to witness the positive impact a sports team can bring throughout a community. I get to see that sports really can make a difference in people's lives. Another great part of my job is that no day is the same. Whether we're driving three hours to put on a youth football clinic, hosting high school football coaches to a coaching clinic, bringing players to visit a local military base, or just spending the day in the office planning for our next event, every day is different, and I love that.
How did earning your sports management degree at NC State prepare you for your career?
I firmly believe that earning my sports management degree at NC State led me to where I am here with the Atlanta Falcons. The variety of courses I took at NC State were very helpful in preparing me for this career, especially with all the projects we had to do. I know we all moaned and groaned when we had to do a project in class, but those projects ended up helping me more than I ever thought they would. I kept all my projects I worked on while in sport management and showcased them during my interview process to show my interviewers the skills I had learned. I also had amazing professors that did a great job preparing me, and I had so many great opportunities while I was in school that helped me build a solid resume. My professors and advisors were always supportive and helpful during my time in school, especially with career advice. I also learned while getting my degree that experience is key. I did multiple internships during my time at NC State, which was just the right start to my career.
Most students don't realize this, but there is so much you can do with a sport management career!
Why would you recommend earning a sports management degree at NC State to incoming students? Why?
I would recommend earning a sport management degree at NC State because the skills and lessons students learn are invaluable and will really help prepare them for a career. Each course I took was very interactive and hands-on. It wasn't just sitting in the back of the room listening to a lecture. Also, the professors are relatable and really want to help students grow in their careers. I had so many professors that went the extra mile to look over my resume, give me advice on a job interview or even just explain things I didn't understand from class. Also, most students don't realize this, but there is so much you can do with a sport management career! The opportunities are endless – whether it is youth, high school, college or professional sports to marketing, community relations, communications, etc. – there are so many avenues one can take working in the sport industry. Not to mention, NC State is such an incredible university and I loved every second I was there. If I could go back and time and relive it all over again, I would!
What has it been like to be part of a Super Bowl-bound team?
It has been an absolutely amazing experience being a part of this season with the team. Although the outcome wasn't what he hoped for, the journey to get there was incredible. To see the city of Atlanta come together and support the team the way it did was something I'll never forget. Also, some of the skills I learned from helping plan logistics for the Super Bowl was invaluable. Our department helped orchestrate getting the families of our players and coaches to Houston. It was crazy to see all the little details that go into transporting a large group of people to another city for the Super Bowl! But overall, the trip to Houston was an unforgettable experience. This Atlanta Falcons team was truly special this year, and I was lucky to be a small part of it.
What was your favorite experience as a student in the College of Natural Resources?
I had so many great experiences being a student at NC State and the College of Natural Resources. My favorite experience though was being the student speaker at our college commencement ceremony. It meant a lot to me to be able to address my classmates and professors and reflect on the amazing experience we all had together during our time in CNR. It was a surreal moment of accomplishment for me, but also a feeling of gratitude for all that CNR and NC State had done for me over the four years I was a student.