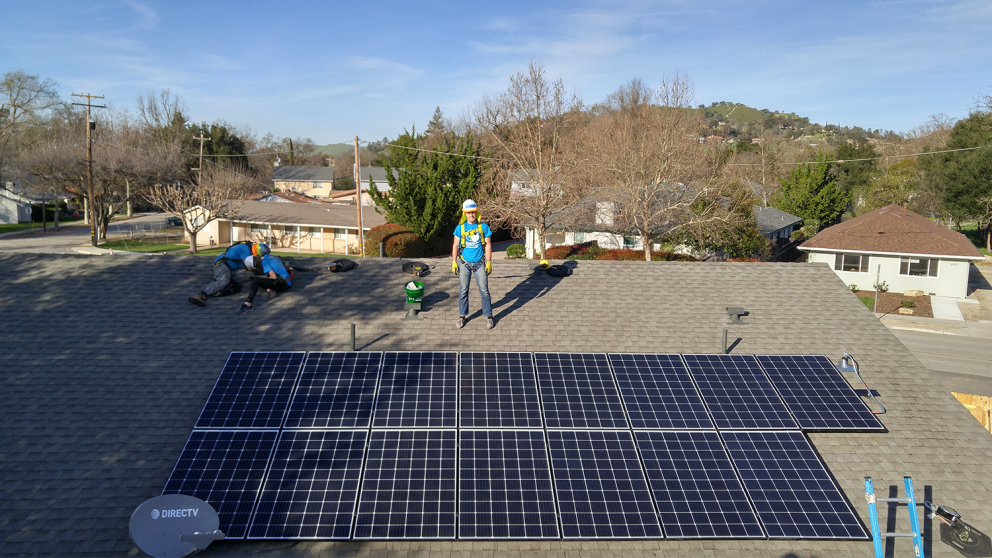 While many spring break trips revolve around the sun, not all of them are spent at sandy beaches. Environmental Technology and Management major Chad Kibbe spent his week away from classes helping low-income families harness the power of the sun to power their homes on the first ever Solar Spring Break. Kibbe, supported by the College of Natural Resources Student Assistance and Enrichment Fund, was able to pay it forward on his first Alternative Service Break (ASB) trip.
Tell us about your hands-on experience. I was one of ten students selected to participate in NC State's first ever Solar Spring Break through the Alternative Service Break program. Our group travelled to Atascadero, California to partner with a non-profit company, Generating Renewable Ideas for Development (GRID) Alternatives, to install solar panels on the homes of two low-income homeowners. They really focused their efforts in the solar industry because of the stipends they receive from the California state government. Our group partnered with them to be a part of the solar in California. During our stay, we participated in a full installation, which involved surveying the roofs and landscapes to make sure they were suitable for solar panels, installing the mounting systems on the roofs, fixating the solar panels to the mounts, laying the electrical arrays to transfer the generated power, and connecting the electrical arrays to the breaker boxes. It was such a fulfilling experience to work with GRID Alternatives to help deliver clean, renewable energy to much-deserving homeowners.
How as this opportunity prepared you for your future career? I am currently a junior in the Environmental Technology and Management program, and although I am not 100 percent sure of the direction I want to pursue post-graduation, this experience provided me some clarity on where I want to be. Getting the chance to work hands-on, right next to certified solar-installers gave me the opportunity to ask a lot of questions. I gained thorough knowledge on the solar energy and the renewable energy industries. I now know that at some point in my future career, I want to be involved in the renewable energy industry in some capacity.
How has this opportunity enhanced your experience as a CNR student? When I first learned about the College of Natural Resources at NC State, one of the most attractive aspects was the hands-on nature of the majors, especially the one I am pursuing, Environmental Technology and Management. As a CNR student, I am constantly engaged through participation in hands-on activities, from testing water quality at Rocky Branch Creek and testing air quality at residential houses, to learning about the solar energy industry and the science behind solar panels. This Alternative Spring Break trip gave me the opportunity to step out of the classroom and apply everything that I have learned in a real-world setting. My experience as a CNR student was drastically enhanced by this opportunity because I could apply everything I have learned to help others and to help the environment. There comes a point when sitting in a lecture hall and learning about an idea comes to a halt, even for just a week, and you need to go out in the real world and try out everything you are taught, and this Alternative Spring Break trip was exactly that opportunity for me.
Why was participating in this experience important to you? Ever since I was a young child, I have been involved in community service projects in some manner. It all began when I was in Boy Scouts and we helped each other on Eagle Scout projects, or we performed community service throughout the years. During these years as a child, I mostly participated because I had to. Since going away to college, I participate because I want to. I am fortunate enough to live a privileged lifestyle compared to a lot of individuals, so performing community service is something I look forward to. When I heard about this trip and the opportunity to help low-income homeowners lower their electric bills while helping the environment, I jumped all over it. This experience was important to me because it perfectly aligns with my personal values of helping others and helping the planet. I just could not pass it up.
What did you enjoy most about your experience? During two of our days on the trip, we were up on the roofs of people's homes installing solar panels. This was, by far, the most enjoyable aspect of my trip. Not only did I enjoy the construction aspect of installing solar panels, but the fact that the work we were doing was helping two very deserving homeowners by lowering their electric bills by more than 90 percent. The service aspect was, without a doubt, the most enjoyable and most rewarding aspect of my experience.
Why would you recommend this experience to other students? I can honestly say that this trip was one of the most rewarding experiences I have ever been involved in. I cannot speak highly enough about this program and the work that this non-profit is doing. An opportunity to be involved in Solar Spring Break is an opportunity to actively help others, actively help the environment, and grow into a well-rounded, knowledgeable citizen. I would recommend this experience, and any Alternative Service Break experience for that matter, because you will actively see yourself grow as person throughout the entirety of the week. Alternative Spring Break is unlike any other spring break experience and it is not typical when you think of college spring break trips, but I can guarantee that an ASB trip will leave you with some of the best memories and help you grow into a well-rounded citizen and student.
What else are you involved in on campus? I am currently in the Engaging Leaders Program in the College of Natural Resources, which is a leadership program designed for first-year CNR students to help them develop their leadership, communication, and cultural-awareness skills. One of the largest aspects of the program is to work in a 4-6 person committee to design some type of event that benefits the college, university, or city of Raleigh. I am part of the committee that planned Environmental Exploration Day for high school students to explore the majors in CNR by engaging in hands-on activities representative of all our majors. As the project manager, the lessons I learned and the skills I obtained will be incredible assets in my personal and professional growth. My involvement in this program during my first year at NC State has overwhelmingly fulfilled my personal goal of not only getting involved in my college, but also continuing to develop my leadership and communication skills.
 Anything else you would like to say about your experience? For as long as I can remember, I have always heard the saying, "you get out what you put in," for so many different situations. Now that I am a little bit older, I can see the truth in that statement and the value of applying it. Your college experience is truly up to you and what you want to make of it. You will get out of it exactly what you put into it. You can choose to just go to class and then graduate after four years, or you can make the choice to get involved in organizations and opportunities that enhance your experience, maximize your time, and help you grow personally and professionally. There are countless ways to do this and the opportunities are simply waiting for you to apply. Alternative Spring Break was just one of those opportunities that I chose to apply to because I was aware of the overwhelming impact it would have on me and the value of this type of opportunity. I made it a personal goal of mine when entering college to take advantage of opportunities and experiences that challenge me to step outside my comfort zone, that stretch me just enough to realize the importance of self-development, and that require me to interact in team settings. I challenge whoever is reading this to do the same.