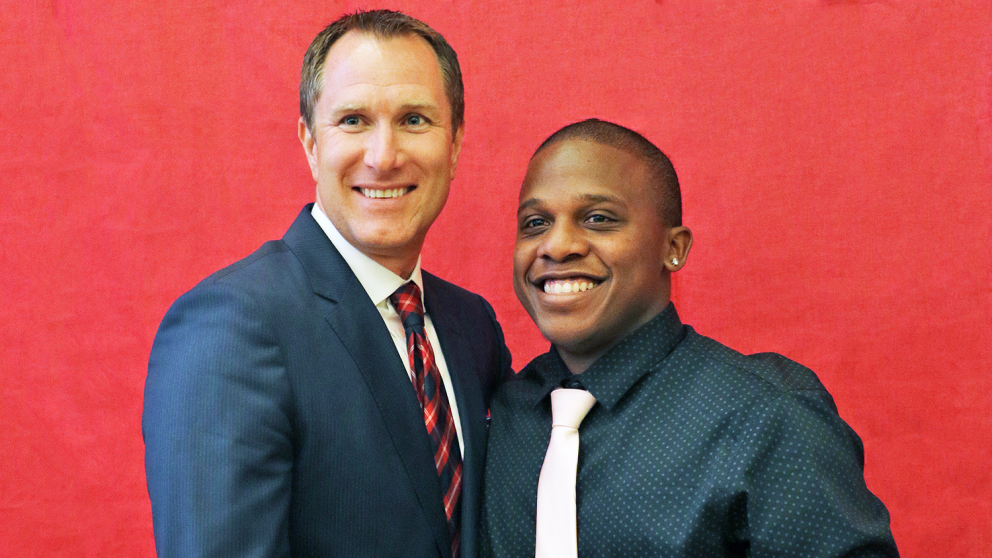 Sport Management major Brandon Smith received the 2016-2017 John F. Miller Award from University Recreation at an award reception in April. The John F. Miller Award is the highest honor a student can receive from University Recreation and is named after the first Department Head of Physical Education and Athletics and the creator of the first Intramural Sports program at NC State. This award recognizes an exceptional student Program Assistant within University Recreation who demonstrates leadership, professionalism, teamwork, a commitment to healthy, active lifestyles, and a positive representation of University Recreation.
"Brandon epitomizes what a Program Assistant at University Recreation should be," said Sports Programs Program Assistant Justin Hall, who nominated Smith for the award. "He's hard working, dedicated, and passionate about not only our programming area, but the entire department."
Smith, also a Sports Programs Program Assistant, is one of only three College of Natural Resources students to receive the award since its inception in 2011. He follows Parks, recreation and Tourism Management major Zach Melenbacher, a Competitive Sports Program Assistant, and Sport Management major Justin Mumford, a Facility Operations and Member Services Program Assistant.
"What separates this award winner from the rest?" asked Eric Hawkes, Director of University Recreation, at the award reception. "It's his willingness to sacrifice a Saturday, unasked and on short notice, to drive three hours away simply to ensure a premier experience for our participants. He's a vital cog in the department. Just a few examples from the past few years include developing the Special Olympics Unified Sports program at NC State, enhancing the training, quality, and experience of Intramural Sports Soccer Officials, and cross-training to help out in Facilities and New Student Orientation. He gets it.
Holding a GPA of 3.966 and maintaining strong involvement within his major, Brandon exemplifies the words 'student employee. He has taken every opportunity to grow personally and professionally, whether it's attending a college-level basketball officiating camp, leading hiring committees, or attending a national conference. His incredibly high expectations of himself, and University Recreation, push our programs to be premier. Establishing new sport rules, diffusing conflict management situations, and implementing new special events have provided him opportunities to showcase his impressive critical thinking abilities and the ownership he takes in the department. A constant ambassador of University Recreation, Brandon emphasizes healthy, active lifestyles in his daily life. His passion for competition on the court and field is almost as obvious as his passion for making University Recreation the best it can possible be."
Smith, a University Recreation student employee since his freshman year, started out as a basketball and soccer official. Since then, he's worked as a both a Sports Programs Supervisor and a Sports Programs Program Assistant, where he manages, leads and supervises a team of student employees to maintain all sports programs at University Recreation. "Brandon has made a lasting impact on many of the 150+ student employees we employ within our program by his ability to train, inspire, implement policy, and be a leader to many of his fellow student co-workers," said Nelson Santiago, Sports Programs Coordinator.
Smith will graduate this May with a Bachelor of Science in Sports Management from the College of Natural Resources.