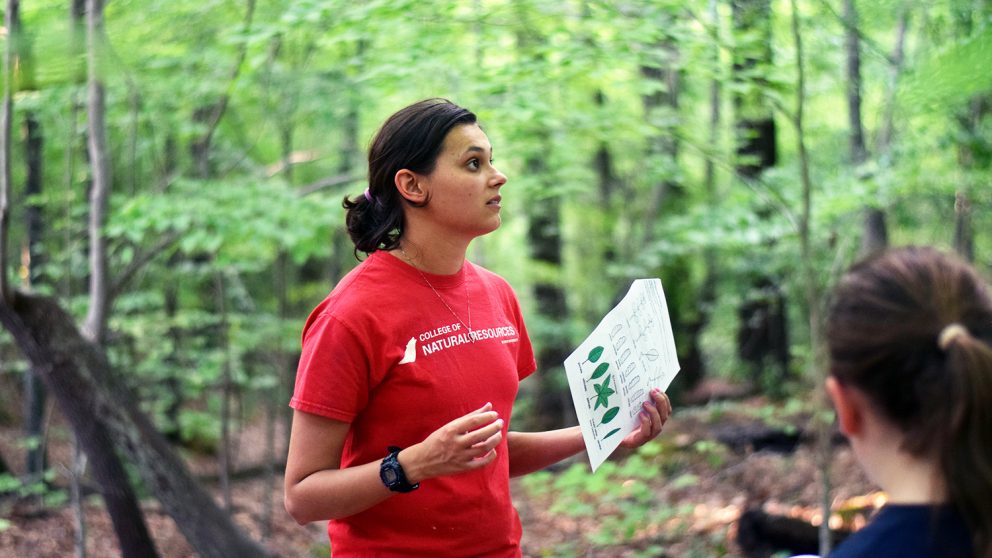 Sylvia Ann Weir is graduating with a Bachelor's of Science in Forest Management. She'll start her job as a Pre-Sale Forester for the USDA Forest Service at Kisatchie National Forest near Pineville, La., almost right away. In her new role, she will prepare sale units for timber harvests by laying out sale unit boundaries, mapping those boundaries using GPS and GIS technology, marking stream buffers, and assisting in timber marking. Even though Weir knows exactly what she'll be doing in her new role after graduation, her path to get here was a little uncertain in the beginning.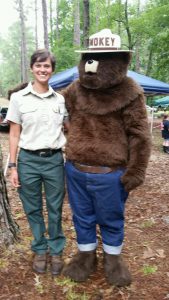 "When I entered my major as a freshman, I did not understand what forest management was or anything," she said. "I used to see a clearcut harvest and immediately think of deforestation and destruction. However, through my classes and field experiences, I now understand the benefits forest management provides to the landscape and I feel empowered that I have real knowledge and understanding of practices to improve and protect forest health."
Those hands-on field experiences in classes and internships with industry professionals were essential to shaping Weir's future career path. She spent two summers interning for the USDA Forest Service at Uwharrie National Forest and at Kisatchie National Forest as a forest technician intern. She also assisted AnneMargaret Braham, Research Specialist, in the Christmas Tree Genetics Program and Liz Snider, Silviculturalist, as a Work Crew Scholar.
"Sylvia was in my Introduction to Fire Science class," said Dr. Joseph Roise, Professor in Forestry and Environmental Resources. "This is where I learned about her work ethic. She not only was a hard worker, but she really wanted to know correct technique and her own personal comfort was never an issue. I watched her taking interior fire ignition instructions from Kenny Griffin, the NC District 2 Ranger. It was about 96 degrees ambient temperature, in the middle of a wild land fire, and there she was trudging through the forest with a drip torch dragging fire behind her. She kept going all day. At the end of the day, Griffin was ready to hire her on the spot."
It's Weir's passion and persistence that helped her turn her internships into full-time positions. She's also always ready for anything, which is something that makes her not only a great student, but an outstanding forester.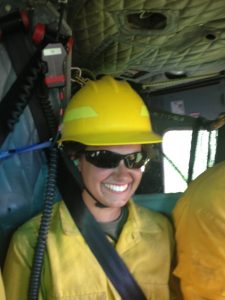 "At the SAF National Convention in Baton Rouge, the most memorable thing, from my perspective, was a hiring manager from the USDA Forest Service stopping by and asking if Sylvia had her resume ready," Roise said. "She did. They went for an interview and next thing I knew she was hired for the summer. This lead to her being hired as a permanent employee starting after graduation. She was prepared and she took advantage of opportunity. Opportunities don't happen all the time, so you must be ready to take advantage when they do happen. I expect her to be Chief of the Forest Service one day, and maybe more."
Reflecting back on her time as a student, Weir attributes her classmates and professors with helping build her confidence and find her calling.
"I came to NC State terrified," she said. "I didn't talk to anyone. But, I followed some classmates to a Forestry Club meeting. When I showed up at Schenck Forest, everyone welcomed me with such enthusiasm that I couldn't help but be swept in. That's when I discovered how much fun axe-throwing is and what a stress relief it could be. I credit my classmates, who have become my friends, with loosening me up these four years. I am thankful for that camaraderie both in and out of the woods."
Not only was Weir an integral member of the Forestry Club and the NC State Chapter of the Society of American Foresters (SAF), she was also part a member of the Xi Sigma Pi honor society and the Catholic Campus Ministry.
"I am excited to use the skills and knowledge that I have been given here in the College of Natural Resources to protect and improve forest resources on the landscape in a real way" she said. "I'd also like to say thank you to all my professors and classmates for such an impactful and fun four years. I will miss this place very much!"