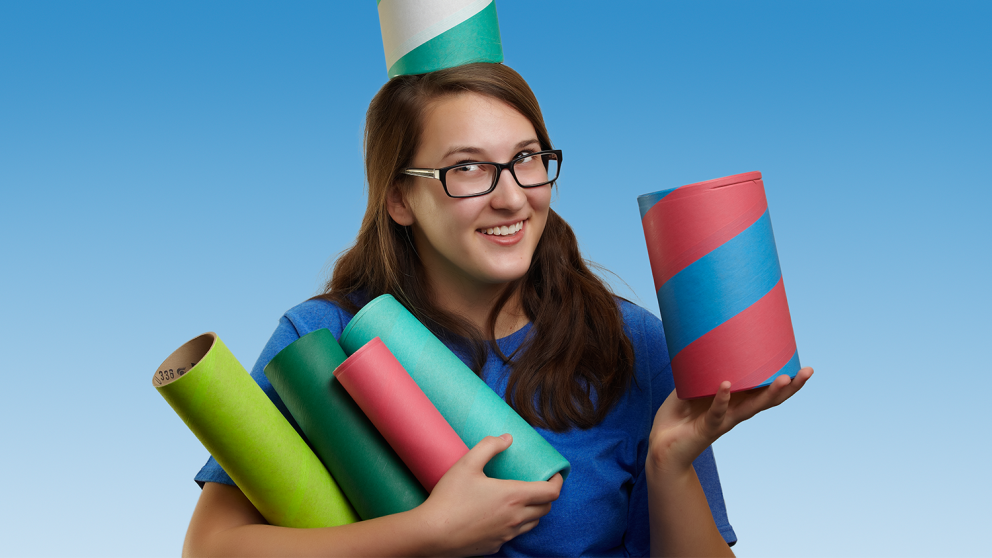 Sarah Sassorossi is graduating this May with a Bachelor of Science in Paper Science and Engineering. She'll start her job as a Process Engineer in Holyoke, Mass., for Sonoco Products Company, a $5 billion packaging solutions company, almost right away. In her new role, Sassorossi will be responsible for completing projects to continually improve the production and safety of the plant where she works. Projects could range from decreasing water use to monitoring humidity and heat during the summer to ensure the safety of operators in the facility to designing a system to extend the life of pieces of equipment so that the plant can shut-down the machine for maintenance. Check out Sassorossi's experience and her career path, which was partially supported through the Robert Carpenter Scholarship from the from the Pulp and Paper Foundation.

What are you most excited about for your job? I am most excited to take everything I learned in classes and student organizations and finally put it to work. This year I took the Senior Design class, a huge two-semester experience that every Paper Science and Engineering student must complete before graduation, and I learned so much about critically thinking through technical problems. I know this skill will be directly applicable to my work, where I will be asked to think of creative solutions to problems that the facility faces. I've learned through Senior Design that I really like this kind of work and that I have a knack for it!

How do you feel the College of Natural Resources prepared you for life after graduation? The College of Natural Resources helped prepare me for life after graduation through participation in services and student organizations. I have gone to Business Etiquette Dinners and practiced speaking and networking with professionals during a formal meal. I attended a Financial Planning workshop that covered things like budgeting and saving for retirement. The CNR Ladies community really made me proud to be a woman in engineering, and I feel strong and ready to be one of two women in my 70-person facility upon graduation.
My Paper Science and Engineering faculty, and the interest that they took in my life, also really helped me brainstorm about my career path. Not long ago, I had a meeting with a professor about some class material that turned into a discussion about the benefits of getting an MBA and the timeline he suggested I start that process. I didn't come in asking for career advice, but he asked about my plans after graduation and wanted to help me. This happens time and time again, and through these conversations I've learned about career paths that I didn't even know existed.

Did you complete any hands-on learning experiences? I completed four internships with Sonoco. My first two summers, I worked in their largest paper mill in Hartsville, S.C. Then I interned in Holyoke, Mass. Last summer, I was in Newport, Tenn. I also completed a semester-long co-op in Ashdown, Ark., with Domtar. During all of these work experiences, I worked both with process engineers and independently on projects similar to what I will be completing at my permanent position.

What organizations are you a part of at NC State? I was a CNR Ambassador since the spring of my freshman year.  It's an amazing opportunity to get to know a lot of students in the college through running events like Environmental Exploration Day and Shack-A-Thon. I was also involved with the Engaging Leaders Program since my freshman year. I served on the Engaging Leaders Advisory Board for two years and served as the Coordinator of the program last year. I fully credit Engaging Leaders for most of my professional development in college, and helping to run the program gave me a lot of hands-on experience with project management.
Any advice for students thinking about your major? Paper Science and Engineering (PSE) has a diverse group of students, with a lot of different strengths and interests that all help them be successful. However,  some things that I think most of us have in common are we like to solve problems and puzzles; we are hard workers; and we take pride in getting our hands dirty to learn and contribute to our lab or work.  If that sounds like you, I think you'll have a great time in a major that has become my family.

Do you have a memorable moment you'd like to share from your experiences as a CNR student? One of my favorite memories as a CNR student was when I was the Fundraising Coordinator of Shack-A-Thon in 2014. Shack-A-Thon is a fundraising competition benefitting Habitat for Humanity, where student organizations and colleges build small shacks on the Brickyard and to be continually inhabited by students for a week. CNR had never won before, and we were committed to build an awesome shack and raise the most money for Habitat for Humanity. Our Forest Management students got together, and with help from volunteers from across CNR, we built a log cabin from Virginia Pine on the Brickyard. To honor the hundreds of hours of work our Forest Management students put in, I helped lead a group of CNR students to raise $12,000 for Habitat for Humanity, breaking the previous record by more than $4,000. It was a huge effort from the college and I am so proud of every volunteer and donor that helped us build an awesome shack and raise money to help build homes for people in need.

Anything else you would like to say about your time as a CNR Student or any of your experiences? The College of Natural Resources has truly become my family during my time here. I've become close with so many people: from my organization's advisors, to undergraduates in other majors, to my Department Head. Even Dean Watzin greets me by name when I see her in the halls, and that is an experience I think is much harder to get in other colleges. I am going to miss walking the halls of Biltmore with all of my heart, but I know that CNR will welcome me back whenever I want to visit.