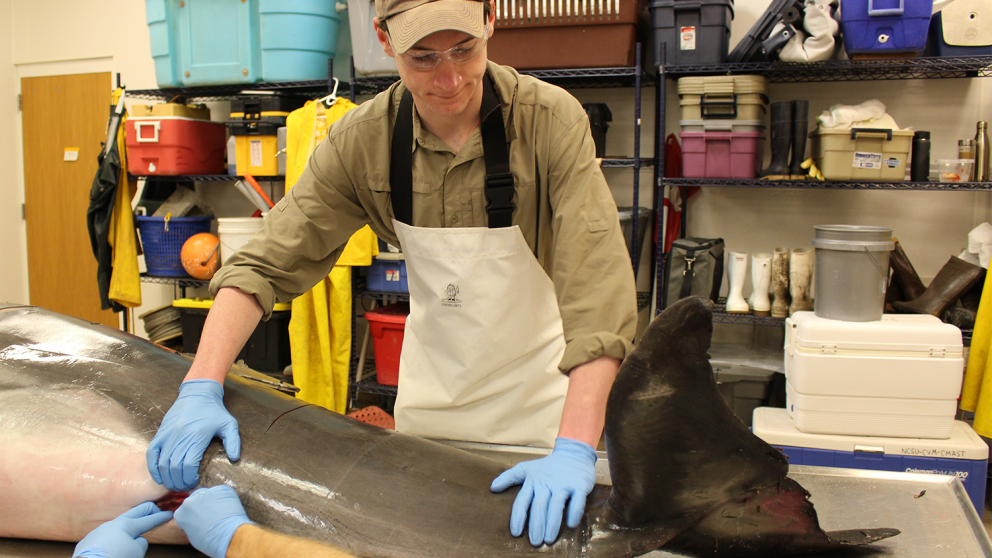 Kenneth Erickson, a Fisheries, Wildlife and Conservation Biology major and Hollings Scholar, spent his spring semester at the Center for Marine Science and Technology (CMAST) in Morehead City, N.C., studying marine biology and marine fisheries through the Semester @ CMAST program. The S@C allowed Erickson to literally get his feet wet in the field while gaining critical industry experience.
"The Semester @ CMAST program is very hands-on and unique," Erickson said. "You have lots of access and opportunities to interact with professionals from lots of different institutions who are doing real research and paying attention to the fisheries or marine mammals and the issues surrounding them."
Erickson spent the majority of his time at CMAST interning with Dr. Louis Daniel, a former Director of the NC Division Marine Fisheries and current Atlantic State Marine Fisheries Commission (ASMFC) Fishery Management Plan Coordinator, developing a coast-wide fishery management plan for cobia that addresses the socioeconomic impacts of fishery closures and overfishing. In 2016 and 2017, the National Marine Fisheries Service (NMFS) closed the cobia fishery to help prevent overfishing. However, the federal closure quickly became unpopular because of the negative economic impacts to states, like North Carolina. Erickson helped the ASMFC on their current cobia management plan suggesting the fish quota be split or managed cooperatively between states, so each state could regulate fisheries more efficiently and plan ahead for recreational fishing seasons.
"The big thing I've taken away from my time at CMAST is that as a future fisheries manager, I need to prepare to think about different aspects and perspectives," Erickson said. "This was a good opportunity to build on my essential skills, like biology, ecology and math, and learn about the other aspects essential to management."
Erickson plans to continue his hands-on fisheries education this summer at his internship with the Pacific Island Fisheries Science Center in Honolulu, Hawaii, where he'll work with researchers to determine if the life history variables, like fish mortality and age of maturity, play a role in the stock assessment of coral reef fish. His internship is supported through the National Oceanic and Atmospheric Administration (NOAA) Ernest F. Hollings Undergraduate Scholarship. The scholarship for 120 students each year provides assistance for two academic years and a full-time internship at any NOAA facility.
"As a political science minor, I've gained professional experience in policy and PR through my internships with CMAST, the Boy Scouts of America and the NC Lieutenant Governor's office my freshman year," Erickson said. "However, this summer internship is a great opportunity to dive in and work with marine fish and learn more about fish biology. I'm very excited to learn about new fish species and what management factors are important to the Hawaii area. I'm interested to see the similarities and differences from North Carolina."
A natural student leader, Erickson has also put his policy skills to use as the President of the student Wolfpack Club and the Student Director of Athletics for the Student Government Association (SGA). He is also a University Scholar and a member of the Student Fisheries Society.
"I'm very thankful for the College of Natural Resources community," he said. "Even when I visited before committing to NC State, you could always tell that the community factor is real here. The Fisheries, Wildlife and Conservation Biology faculty played a large part in my success as a student and pursuing all these great opportunities and experiences. I feel so lucky to have professors that want to see students succeed."